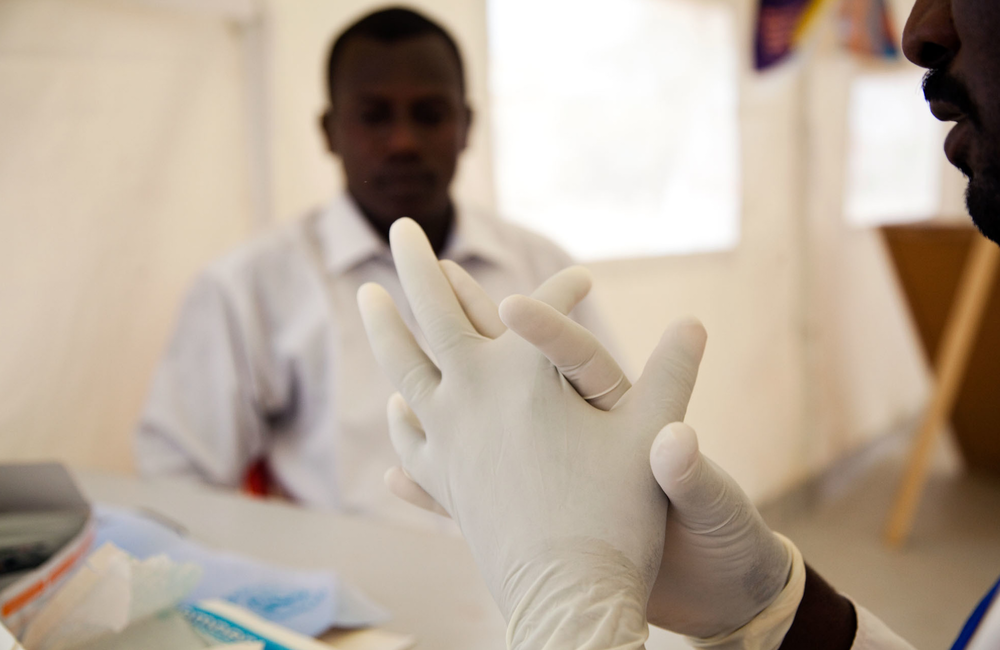 Early diagnosis and engagement in HIV care are key to universal test and treat approaches. Yet analysis of 40 transcripts of counselling sessions shows that the content and delivery of post-test counselling fails to align with guidelines, Dr Tonderai Mabuto and colleagues at Aurum Institute report in the May issue of AIDS and Behavior.
South Africa has the largest HIV epidemic, with an estimated 85% of people living with HIV aware of their status and 71% of them having access to treatment. Regular testing and access to treatment are key to reducing HIV incidence and AIDS-related deaths. To be effective, these services must be delivered in a supportive way for those living with HIV and at risk of acquiring HIV.
The team analysed 40 transcripts of sessions performed by 34 counsellors, spanning ten different public sector health facilities across the Ekurhuleni District of South Africa. In total, 27 women and 13 men who had just been diagnosed with HIV took part in the sessions. Both patients and counsellors gave informed consent to take part in the trial. All of the facilities involved in this study had dedicated HIV counsellors in their testing programme and they had all qualified to work as counsellors.
Post-test counselling is a core element of the HIV response in South Africa. The researchers compared the counselling techniques and health messages given to the patients with the South Africa National HIV Counselling and HIV Testing guidelines. South African guidelines state that counselling should be patient-centred. The core components of this approach are open questions, affirmations, reflections and summaries.
A thematic analysis identified five main counselling messages in the transcripts.
Specific behaviour changes
Counsellors listed behaviours "necessary" to maintain or improve health when living with HIV, including eating habits, water intake, exercising regularly and good sleeping habits. Benefits included: improving digestion, cleansing the gut, helping to fight infection, giving energy, and avoiding weight loss.
The requirements were given in a uniform fashion, irrespective of the patient's situation. Even after this patient expressed his concerns about this change in behaviour inadvertently disclosing his status, the counsellor failed to engage with it.
Client: "It will take some time for me to adjust from the food that I am eating to the food that I am only supposed to eat."
Counsellor: "Why is it that it will take you some time?"
Client: "I don't know where to start with the woman that I live with. I do not know how I will start the topic. I am stressed about where I will start, although I must tell her?"
Counsellor (after the client had highlighted other concerns with disclosure): "Sometimes it is better to tell a person, find a way to tell her as early as possible. Indeed, people do not react the same way…"
The authors observed that the counselling sessions were "highly didactic" leaving little room for patients to express themselves and subsequently for the counsellor to deliver patient-centred sessions.
Benefits of treatment
Information provided on the value of treatment was often limited to general statements which explained that, because of the availability of treatment, living with HIV is no longer a "death sentence."
Counsellor: "When you have moved into AIDS, it is going to be difficult. Everyone will see that you are ill, but if you take your pill properly, no one is going to see that you are ill."
Whilst the counsellors described biomedical benefits of treatment, it lacked a holistic element. Treatment is undoubtedly important, but cannot solely fix the broader barriers to a healthy life with HIV, such as stigma.
Counsellor: "There is no grave for an HIV positive person. It is only the person who wants to die who will be killed by HIV."
Not one counselling session discussed treatment as prevention (the reduced risk of HIV transmission when on treatment). Any prevention benefits were only referenced in the context of vertical transmission.
Counsellor: "I would like to see you maintain the way that you are, even when you start with treatment. Seeing you not getting sick and being able to take your treatment well. Do you want it [HIV] to knock you out with shingles, give you scars?"
Behaviour changes required for treatment to be effective
Counsellors implied that lifestyle changes were necessary to allow treatment to work. Stopping smoking and drinking alcohol were presented as "requirements" to do so. Rather than being framed as having a potential impact on adherence, alcohol was described as being incompatible with treatment.
Counsellor: "The medication that you are going to take is affected by other things. If you are drinking alcohol, it counteracts with it because alcohol is strong. It will neutralise the medication. Stop drinking (alcohol), stop smoking drugs, any drug, you don't use any drug."
Counsellors did not ask whether or not patients drank alcohol or smoked tobacco, yet this was regularly mentioned in their instructions.
They also stressed that patients should make changes to their routines to ensure they are able to take treatment at the same time each day.
Counsellor: "As long as you take your tablets at the same time; every day…  When you miss your pills, what is going to happen?"
Client: "You are getting hurt. You are inviting illness because the virus will go up."
Counsellor: "Do not change the time, because if you change the times, the medication will not be able to work its work in your body."
A daily routine can support good adherence. However, it is not a requirement to allow treatment to work.
Consistent condom use was the most commonly described method of maintaining good health. Almost all sessions included misinformation on how to maintain health and a normal CD4 count. In one example, condom use was directly linked with viral load count.
Counsellor: "Now that you have tested you have to accept that you have this virus, and when you have sex use a condom because the more that you don't use a condom, the more the virus multiply."
Misinformation about condoms was often provided in place of information on treatment. In this example, the health benefits of condoms were described as outweighing the impact of treatment.
Counsellor: "And as from now on you have to use condoms no matter what because the viral load will increase instead of going down although you are taking treatment if you don't use a condom every time you have sexual intercourse."
The need for patients to disclose their HIV status
Patients were told it was mandatory to share their HIV status. Yet, there was little exploration to understand how beneficial it might be to each patient, their values and the barriers they faced.
Counsellor: "There must be someone that you tell, especially at home because it will be difficult when you need to drink your treatment if people at home do not know. Do you know how painful it is to drink your treatment under the table [secretively]? You end up doing the wrong things, your family will not abandon you, instead, they will support you, they will give you love."
Some counsellors suggested not to tell friends, due to the risk of their status being gossiped about. Others suggested that they did tell friends and were more flexible about allowing the patient to identify who they may want to share with.
Possible side effects of treatment were presented by some counsellors as a substantial threat to the patient.
Counsellor: "Sometimes, it [ART] will make you dizzy. Sometimes you will have a rash. Sometimes you will have nightmares. Sometimes it will make you vomit. You will have bad dreams, and you will end up thinking that you are bewitched only to find that it is the medication that is doing that. You might have diarrhoea but just because you are experiencing these things it does not mean that you should stop taking your treatment and say that it is making you sick. No, you must continue, that thing [side effects] might happen for 2 or 3 months."
Other counsellors were able to provide a more measured approach.
Conclusion
The researchers concluded that there is need for a "substantial readjustment" in order to deliver counselling that aligns with universal test and treat approaches. The results raise huge concerns about the content and delivery of post-test counselling. Counsellors routinely misinformed patients and failed to "engage with the clients concerns or goals". Whilst counselling and psychosocial support should be an important part of the HIV response, the study results show that it can be counterproductive for patients.
Findings suggest an urgent need to train counsellors on how to appropriately frame health education messages. The authors explain that tools such as motivational interviewing and strength-based counselling can be useful. But that they should be "responsive and tailored". Instead, this rigid method of counselling "fails to respect patient autonomy and address the substantial psychosocial consequences of a new HIV diagnosis."
Whilst the results emphasise that much needs to be done to improve the quality of services, the reality is this will be difficult to achieve. Whilst the authors call for reflection on the effectiveness of current services, they acknowledge that there are many limitations. They suggest digital-based media counselling, scripts to increase the validity of information given and "a highly trained cadre of professional counsellors" for a subset of individuals who do not link to care or initiate ART within a specified period.