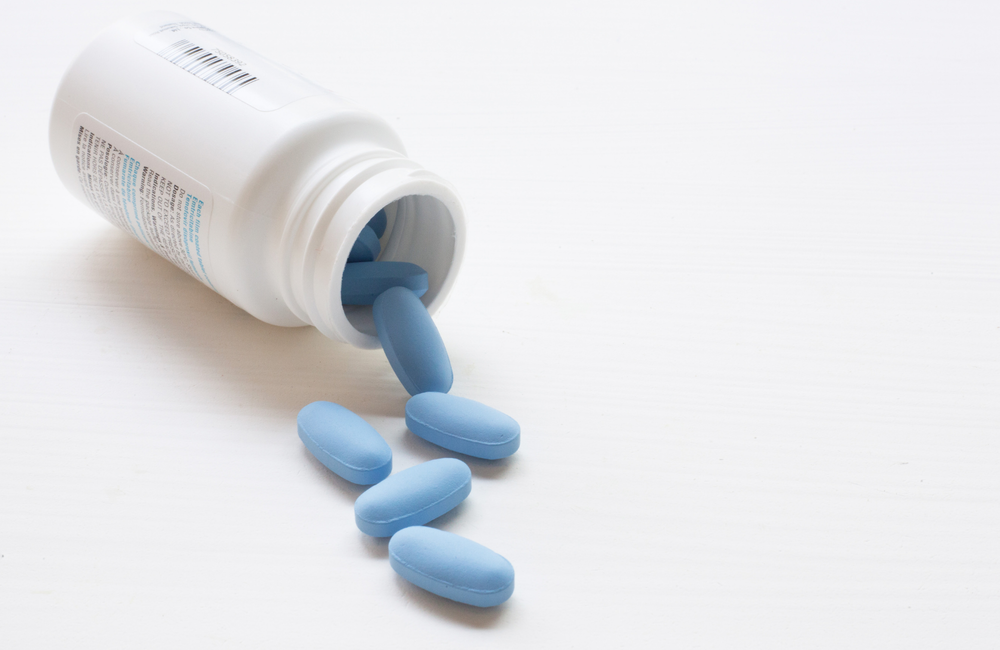 Hair loss (alopecia) occurred in six African-American women living with HIV after switching to the new formula of tenofovir, clinicians report in Open Forum Infectious Diseases. The clinical trials that led to the approval of tenofovir alafenamide in 2015 did not identify hair loss as a potential side-effect of the drug.
In most of the women, the hair loss became apparent between two to four months after switching from the older formula of tenofovir to tenofovir alafenamide (TAF). Other possible causes of hair loss were ruled out and five of the women experienced gradual hair regrowth after discontinuing TAF.
"This case series represents to the best of our knowledge, the first report of alopecia and hair thinning associated with TAF therapy in 6 African American females," comment the authors. "The temporal sequence of hair loss after initiation of TAF in our subjects and the improvement of alopecia in 5 of the patients 1-5 months after discontinuation of TAF suggests a cause-effect relationship."
Tenofovir disoproxil fumarate (TDF) was first approved in the United States almost 20 years ago. Potent and for the most part well tolerated, it is a mainstay of first-line antiretroviral therapy (ART). However, the drug has been associated with a risk of bone and renal side-effects, leading to the development of TAF. Mild headaches, nausea and diarrhoea are the side-effects most commonly associated with TAF therapy. No cases of hair loss – a rare side-effect associated with some older anti-HIV medications – had been reported.
However, clinicians at an HIV outpatient clinic in Detroit noticed several cases of hair loss among African-American women who had recently started TAF.
The women were aged between 40 and 61 years. All had been taking a TDF-containing ART regimen and switched to the newer tenofovir formula because of concerns about side-effects.
Each woman's hair loss was from the scalp. None of the women experienced pain, redness, inflammation or flaking of the scalp. The time range for the appearance of the side-effect was between two and four months after starting TAF in four women, and up to one year in the other two.
The investigators were also able to rule out other possible causes of hair loss, including ART failure (all the women maintained an undetectable viral load and a CD4 cell count above 500 cells/mm3), sexually transmitted infections, metabolic disorders or initiation of other new medications. An analysis of medical history and detailed physical examination ruled out as causes psychological distress, malnutrition or lifestyle changes (for example, the use of new shampoos or hair products).
In an attempt to reverse the hair loss, five of the women switched ART regimens (dolutegravir/rilpivirine or abacavir/dolutegravir/lamivudine). Within one to five months of the switch, all five individuals experienced hair regrowth. The sixth patient decided to see if their hair would regrow without changing therapy, but there was no noticeable improvement over 12 months.
The investigators were unable to offer a ready explanation for the case series, noting that TDF and TAF have similar concentrations in hair samples.
They note that African-American women are under-represented in HIV clinical trials. "Increased representation of African American women in HIV/AIDS clinical trials is important to identify issues that may be unique to some populations," they comment.
"Hair loss is more likely to affect the quality of life and healthy social functioning of women as compared to men, as hair is often a social reflection of a women's femininity and attractiveness, therefore, it is important that healthcare providers be aware of alopecia as a potential distressing side-effect of TAF."