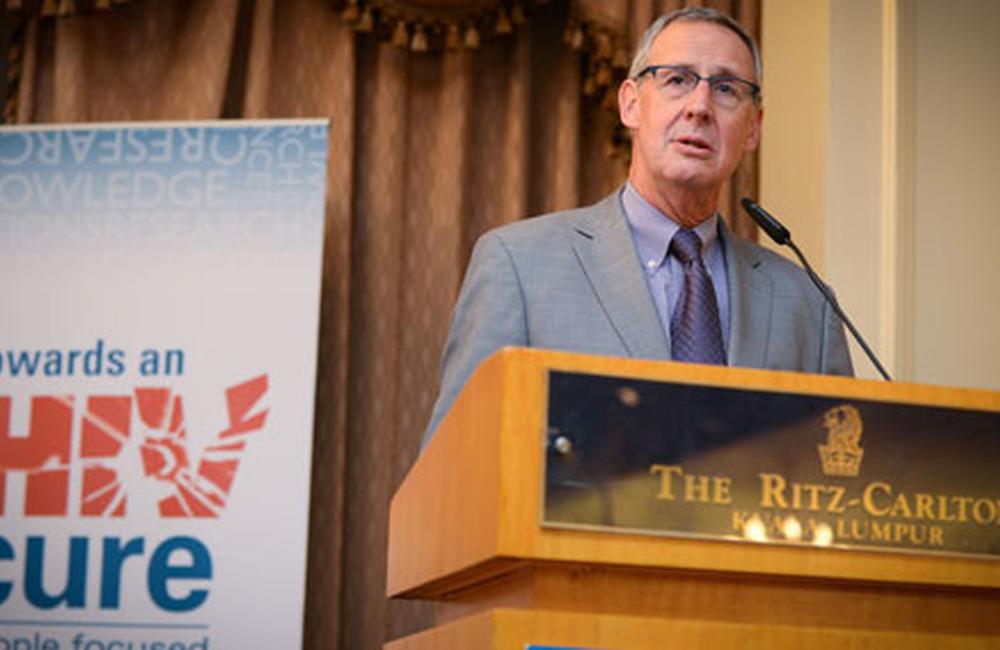 "We are at the earliest dawn of a new stage of HIV therapy" said Carl Dieffenbach, director of the Division of AIDS at the US National Institute of Allergy and Infectious Disease (NIAID), speaking at the Towards an HIV Cure workshop on the opening day of the 7th International AIDS Society conference (IAS 2013) in Kuala Lumpur, Malaysia.
HIV researchers need to start thinking about research into a potential cure for HIV infection as the next stage in the refinement of antiretroviral therapy, he said, and to recognise that research efforts are now in the early stages of identifying the most suitable targets for multi-target combination therapy to eradicate HIV – or at least to control it for life without medication.
"The reservoir of latently infected cells is the first target [to be identified], in the same way that reverse transcriptase was the first target for antiretroviral therapy drug development," said Dieffenbach.
But he stressed that whereas HIV drug development had proceeded against a series of unique viral processes that had no overlap with human cellular processes, the task of HIV eradication necessarily requires much greater knowledge of the complex cellular processes that maintain HIV latency in cells – and a better understanding of the knock-on effects of intervening in these processes to wake up the virus and kick it out of cells.
"The Mississippi baby case shows just how fast this field can evolve." Carl Dieffenbach
Dieffenbach encouraged researchers to think about other processes involved in the maintenance of HIV persistence and replication in the body as parallel targets that may need to be attacked in combination. These include activation of the resting CD4 cells that contain latently integrated HIV DNA, so that the cells can be identified by the immune system and killed. Cure research will also require the development of even more efficient forms of antiretroviral therapy, in order to control HIV in all cellular compartments after activation, as well as therapies to control HIV replication and perturb latency that can penetrate into protected anatomical sites such as the brain.
He also reminded the audience that new discoveries relating to HIV cure and remission could make demands on the entire HIV field for rapid adjustment in the standard of care, citing the example of an HIV-infected infant in the United States treated within 30 hours of delivery who was declared to be functionally cured earlier this year after stopping treatment without viral rebound at the age of 18 months.
"The Mississippi baby case shows just how fast this field can evolve – it's now about getting those infants onto treatment, not within 6 weeks [as currently recommended] but within 30 hours," he said. Earlier identification of HIV-infected infants through rapid HIV DNA testing within hours of delivery could create the potential for functional cure, or 'remission', in many more infants if health systems can adjust to the speed of diagnosis and treatment initiation that is likely to be needed to deliver this result in much larger numbers of infants worldwide.
HIV cure research will also demand new thinking from pharmaceutical companies and regulators. For example, advice from the US Food and Drug Administration (FDA) for companies planning trials of multiple promising agents in combination only refers to pharmaceutical agents. The incorporation of biologics such as therapeutic vaccines are not covered in these recommendations, said Guenter Kraus of Tibotec/Janssen, and needs to be addressed if promising combinations are to be moved forward rapidly in the future.
Pharmaceutical companies may need to work together from the very early stages in order to identify promising combinations of compounds and to share data for independent analysis, he said. "We may need new business models and research platforms to reach this very complex goal," Kraus concluded, citing the example of the Drugs for Neglected Diseases Initiative (DNDI) as an example of the form of collaborative venture that may be appropriate for HIV cure research.
Research efforts must not rush ahead of the need to prove that interventions are safe however. "We shouldn't get too far ahead of ourselves here. We're talking about people who can control HIV on one pill once a day and one disaster in phase 1 could set this field back 20 years. The priority is proving that it's safe and not harming people," said Lynda Dee of AIDS Action Baltimore.
Discussions at the meeting also revealed unease from some in the HIV community sector over the dangers of describing lifelong control of HIV without viral eradication as a cure. Gus Cairns, editor of NAM's HIV treatment update newsletter, urged researchers at the workshop to encourage more realistic expectations by describing cases of post-treatment HIV control in the terminology used in cancer treatment – 'remission' – or in hepatitis C treatment – sustained virologic response – if eradication of HIV cannot be confirmed.
Expanding the budget for cure research
Much greater investment will be needed in order to move cure research forward. A survey by the International AIDS Society, AVAC and the HIV Vaccines & Microbicides Resource Tracking Group identified total investment of USD 78.1 million in 2012, contributed by 15 funders worldwide.
The United States National Institutes for Health was the biggest public sector investor in HIV cure research in 2012 (USD 60 million), followed by Australia, where two research councils provided USD 2.58 million in support, and France (£1.2 million). In comparison, the United Kingdom's Medical Research Council allocated £280,000 to cure-related research in 2012.
Bill Whittaker of Australia's National Association of People living With HIV reminded advocates that the 2011 United Nations Political Declaration on HIV/AIDS committed all signatories to accelerating investment in cure research. "We need to analyse spending and to push governments for accountability on this commitment," he said.