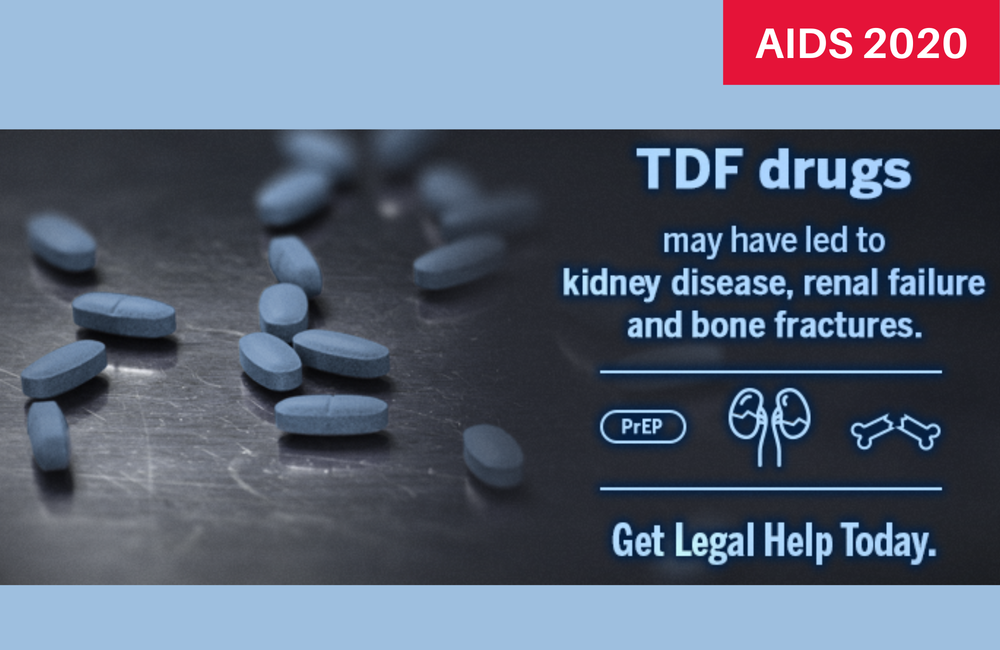 Media adverts from 'ambulance chasing' lawyers spreading misinformation about Truvada and encouraging people to join a lawsuit against its manufacturer have resulted in young people at high risk of HIV not starting PrEP or switching to alternative methods of HIV prevention, according to research presented to the 23rd International AIDS Conference (AIDS 2020: Virtual).
The combination of tenofovir disoproxil fumarate (TDF) and emtricitabine in an oral tablet is marketed as Truvada. It is a longtime mainstay of antiretroviral therapy and is now widely used in HIV pre-exposure prophylaxis (PrEP). The adverts emphasised the possible association of Truvada (specifically, TDF) with bone loss and kidney damage. These are known but generally manageable side effects of the drug and rarely seen in PrEP users. The adverts encouraged people who had taken Truvada who believed they had experienced side effects to join a lawsuit against the manufacturer Gilead Sciences, highlighting the prospects of a cash payout.
A case was first brought against Gilead for alleged TDF-related harm in May 2018, the plaintiffs alleging that the drug company delayed the development and marketing of an alternative tenofovir formulation (tenofovir alafenamide, or TAF) in order to maximise profits from Truvada before its patent expired.
The adverts started to proliferate on social media in July 2019. HIV prevention services reported anecdotal cases of people stopping PrEP after seeing the ads. In late 2019, public health advocates contacted Facebook and other social media platforms requesting them to screen the ads for incorrect information and to remove or bar them. Despite this, they still frequently appear.
Pedro Serrano and colleagues from the CORE Center, Chicago, assessed the impact of the adverts on attitudes and decisions about PrEP among participants in the Keeping it Lite study, an ongoing cohort of sexual and gender minority youths vulnerable to HIV. The study sample consisted of 1485 racially diverse individuals. Participants were aged 13 to 34 years, with a mean age of 27 years. Most were cisgender men (82%), 11% were trans men and 7% were trans women, all of whom had sexual partners who were male at birth.
The impact of the lawsuit ads on PrEP attitudes and behaviour was assessed using a ten-item questionnaire.
Forty-three per cent of participants had ever used PrEP, with 36% currently taking it.
The adverts had been seen by 49%, most frequently on Facebook or Instagram. Just under a fifth (19%) of those seeing an ad said this had prompted them to either reconsider a decision to start PrEP or to stop taking it. A further 32% said the ads had made them change their opinions about PrEP.
Those with college education were 71% less likely to quit PrEP or decide against taking it than people with lower levels of education (OR = 0.29; 99% CI, 0.14-0.61).
Respondents who said that the lawsuit ads have changed opinion about Truvada PrEP were asked to say why this was the case. The most common area of concern was concerns about the drug's safety (76%).
One participant said that the ads led him to change his mind about PrEP, which he now believed "has harmful long-term side effects." In his opinion, this meant that its use should be restricted to groups most at risk of HIV and that it shouldn't be used in the gay community generally.
Another person said they were going to continue to take PrEP with caution, but only because they didn't believe they had an alternative method of prevention and their risk of contracting HIV was very high.
One individual said the ads had prompted a reduction in PrEP dosing and reduction from taking treatment daily to four or five times a week. Another said they had intended to ask their doctor for a PrEP prescription but decided against this after seeing the ads.
Distrust of the pharmaceutical industry was also cited by 16%. "Drug companies only want to make money off HIV, and not eliminate the disease," said one person. A further 8% said the ads had made them adopt alternative methods of HIV prevention such as consistent condom use or monogamy.
Serrano and colleagues conclude that the lawsuit ads reached a large proportion of their study group, youths with a high risk of HIV. The ads led to hesitancy about starting Truvada PrEP and increased anxiety about its potential side effects. The investigators recommend that HIV prevention advocates should develop systems that can prevent, mitigate and counter this sort of disinformation.