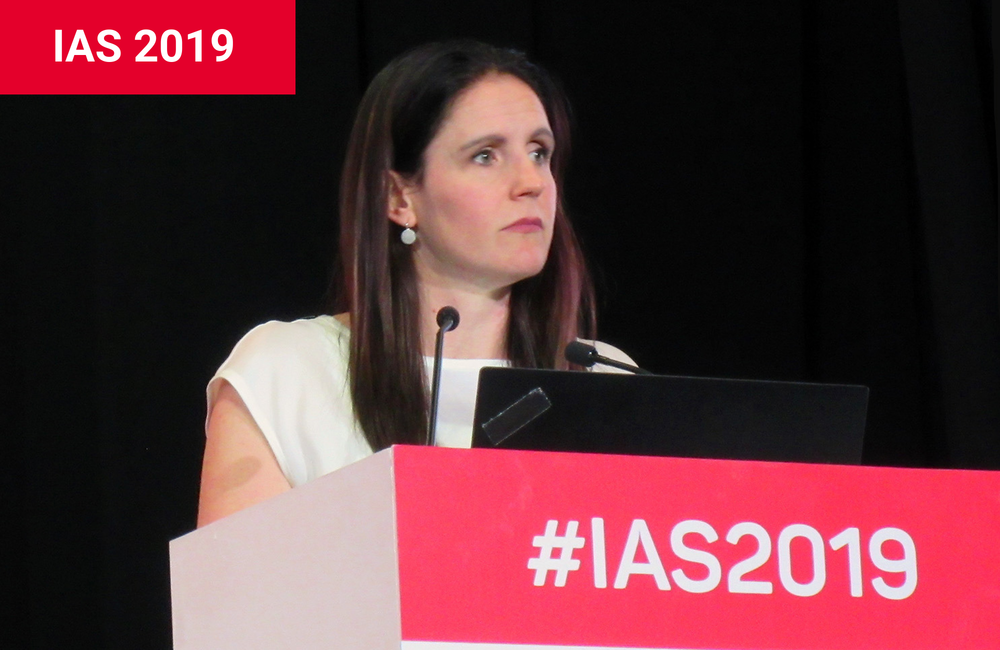 People with HIV who used the lipid-lowering medication rosuvastatin (Crestor) to prevent progression of cardiovascular disease (CVD) saw no reduction in progression of atherosclerosis, or 'hardening of the arteries', despite the expected reduction in cholesterol, according to a report yesterday at the 10th International AIDS Society Conference on HIV Science (IAS 2019) in Mexico City.
As people with HIV live to older ages, they are increasingly prone to chronic non-AIDS conditions including CVD and cancer. Elevated cholesterol and triglyceride levels, which can be a side-effect of some antiretroviral medications, are associated with greater risk of coronary artery disease, heart attacks and strokes. Guidelines recommend that people above a certain risk threshold take statins or other lipid-lowering medications, but one commonly used system, the Framingham Risk Score, is not a very accurate predictor for people with HIV.
Janine Trevillyan of the University of California at Los Angeles and colleagues studied the effect of rosuvastatin on atherosclerosis progression in people with HIV considered to be at moderate cardiovascular risk. As a surrogate marker of atherosclerosis, the researchers measured intima-media thickness, or the thickness of layers of the arterial lining, in the carotid artery that supplies the brain.
Atherosclerosis occurs when blood fats, calcium and other substances build up and form plaques on the inner walls of arteries. This process can eventually block coronary arteries that supply the heart muscle, leading to a heart attack, and pieces of plaque can break off and lodge in blood vessels in the brain, causing a stroke.
This analysis included 84 people living with HIV in Australia and Switzerland. Almost all were men, most were white and the median age was 54 years. They had been on antiretroviral therapy for more than six months and had well-controlled HIV with an undetectable viral load and generally high CD4 cell counts.
Participants were deemed to be at moderate cardiovascular risk, with 10-year Framingham Risk Scores suggesting an 11% risk of coronary artery disease – that is, they would not have reached the usual threshold for statin use in the general population. A third were current smokers and a third had a family history of heart attack. About a quarter were taking abacavir, which has been linked to heart disease in some – but not all – studies.
The participants were randomly assigned to take daily rosuvastatin or a matching placebo pill; the statin dose was reduced from 20mg to 10mg for people taking protease inhibitors. Carotid intima media thickness (cIMT) was measured at baseline, week 48 and week 96 at three different sites (carotid bulb, common carotid artery and internal carotid artery) on both sides of the neck. There was no difference in cIMT between the two groups at baseline.
As expected, total cholesterol and LDL cholesterol levels declined in the rosuvastatin arm of the study while remaining about the same in the placebo group. Yet there was no significant difference between the groups in cIMT progression from baseline to week 48 or week 96 at any of the three carotid sites. Trevillyan noted that the study did not see the expected degree of atherosclerosis progression in the placebo arm.
Participants who used rosuvastatin did have more side-effects, however. There were two deaths and five serious adverse events (11%) in the rosuvastatin arm – including a stroke, two heart attacks, two new cases of type 2 diabetes and one case of heart failure – but none of either in the placebo arm.
"Despite predictable effects on total and LDL cholesterol, 96 weeks of rosuvastatin in people with HIV at moderate cardiovascular risk did not alter progression of atherosclerosis (as estimated by cIMT) compared with placebo," the researchers concluded.
These findings, from a group of people at modest risk for CVD, conflict with those of a prior study showing that statins were beneficial in slowing the progression of  atherosclerosis in people with HIV.  But that study included more smokers and more African Americans, both groups at higher risk.
Trevillyan suggested that results from the large ongoing REPRIEVE trial may help define a risk threshold specific to people with HIV at which the benefits of statins exceed the risks.
References
Trevillyan J et al. Impact of rosuvastatin on atherosclerotic progression in people with HIV at moderate cardiovascular risk: a multinational, randomized, double blind, placebo-controlled trial. Tenth International AIDS Society Conference on HIV Science, Mexico City, abstract MOAB0201, 2019.