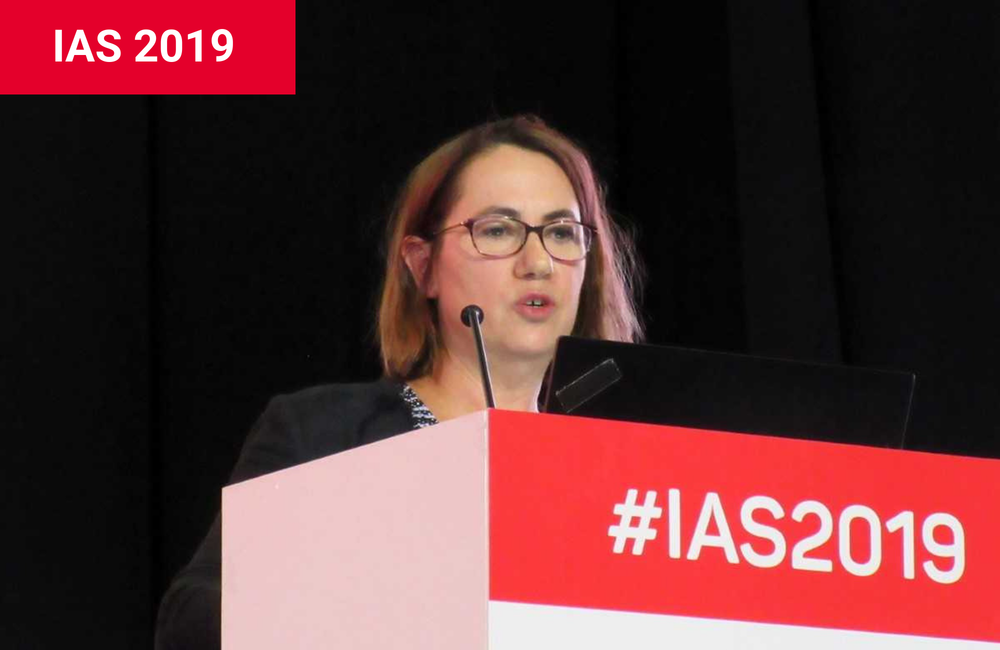 People who received a combination of two long-acting injectable antiretrovirals once a month expressed a high level of satisfaction with the regimen and almost all said they preferred it to their previous oral therapy, according to two studies presented yesterday at the 10th International AIDS Society Conference on HIV Science (IAS 2019) in Mexico City.
The phase III ATLAS (Antiretroviral Therapy as Long-Acting Suppression) trial evaluated injectable cabotegravir plus rilpivirine (sold in pill form as Edurant) in people who switched from a standard oral combination regimen with fully suppressed viral load, while the FLAIR (First Long-Acting Injectable Regimen) trial tested the injectable combination in people starting HIV treatment for the first time.
As reported at this year's Conference on Retroviruses and Opportunistic Infections, cabotegravir plus rilpivirine injections maintained viral suppression in treatment-experienced people who switched, and kept viral load undetectable in people who had not previously taken treatment after a short induction period on a three-drug oral regimen.
At the IAS meeting, Miranda Murray from ViiV Healthcare presented patient-reported outcomes regarding satisfaction with treatment, acceptability of treatment, overall health status and tolerability of injections. As people who had volunteered to take part in studies of new injectables, the participants may be more motivated and enthusiastic about injections than other people who need HIV treatment. 
In ATLAS, a third of the 616 treatment-experienced participants were women, two-thirds were white, about a quarter were black and the median age was 42.  They had been on antiretroviral therapy for a median of four years, all had viral suppression and the median CD4 count was 653 cells/mm3.
Study participants were randomly assigned to either stay on their current oral regimen or switch to the injectable regimen, after a four-week lead-in using oral formulations of cabotegravir and rilpivirine to establish the tolerability of the drugs (since the injectable versions cannot be removed once administered). From then on, cabotegravir and rilpivirine were administered as two separate intramuscular jabs, preferably in the buttocks. The participants had to return to their clinic each month to receive the shots from a healthcare provider.
Looking at overall health status, people who switched to the injectables and those who stayed on oral medications both had high mental and physical health scores. These were similar in the two treatment groups and did not change from baseline to week 24 or 48.
But people who switched reported a greater improvement in general acceptance of treatment from study entry to week 48. Murray noted that the people with HIV in this study reported a higher level of treatment acceptance than people with other chronic conditions including diabetes and depression in prior studies.
With regard to injection-site issues, although injection-site reactions were common, they were usually mild to moderate and decreased over time. By 48 weeks, 90% of people taking the injectables reported that injection-site reactions were 'totally acceptable' or 'very acceptable', and 86% said the same about injection pain. Only four people (1%) stopped long-acting treatment for this reason.
People who switched to the injectables reported higher treatment satisfaction over the course of the study than those who stayed on their oral regimen. At week 44, HIV-Treatment Satisfaction Questionnaire scores had risen by 6.12 points in the injectable arm of the study compared with just 0.44 points in the oral arm, on a 66-point scale. Murray said that the improvement in the injectable arm was not only statistically significant, but also large enough to be clinically important.
Injection recipients reported a greater improvement in satisfaction in the areas of flexibility and convenience of treatment, ease of treatment, how well treatment fit their lifestyle, their willingness to continue this form of treatment and their willingness to recommend it to someone else.
After 44 weeks on the injectable regimen, 97% of participants who switched said they preferred the long-acting treatment.
Murray's team similarly analysed patient-reported outcomes in the FLAIR trial. This study included 556 people starting their first HIV treatment. More than 20% were women, nearly three-quarters were white, 18% were black and the median age was 34 years. At baseline, a fifth had a viral load of 1,000,000 copies/ml or higher and the median CD4 count was 444 cells/mm3.
Participants started with a three-drug oral induction regimen of dolutegravir/abacavir/lamivudine (Triumeq) to bring down viral load, then were randomised to either stay on this regimen or to switch to injectable cabotegravir plus rilpivirine.
Here too, injection-site reactions decreased over time, from 71% after the first jab to 20% at week 48. Again, most reported that injection-site reactions and pain were totally or very acceptable. Participants in the injectables arm of the study expressed a higher level of satisfaction with their treatment, and 99% said they preferred it to oral therapy.
These results "are reassuring and indicate that long-acting injectable treatment meets participants' expectations despite its potential challenges (e.g., injection-site reactions or visits to a healthcare professional)," the researchers concluded. They added that the findings "support the therapeutic value and acceptability of monthly injectable long-acting therapy, providing an additional treatment choice for people living with HIV."
References
Murray MS et al. Patient views on long acting HIV treatment: Cabotegravir + rilpivirine as maintenance therapy (ATLAS 48 week results). Tenth International AIDS Society Conference on HIV Science, Mexico City, abstract MOAB0103, 2019.
View the abstract on the IAS 2019 website.
Murray MS et al. Patient reported outcomes on long-acting Cabotegravir + Rilpivirine as maintenance therapy: FLAIR 48 week results. Tenth International AIDS Society Conference on HIV Science, Mexico City, abstract MOPEB258, 2019.
View the abstract on the IAS 2019 website.