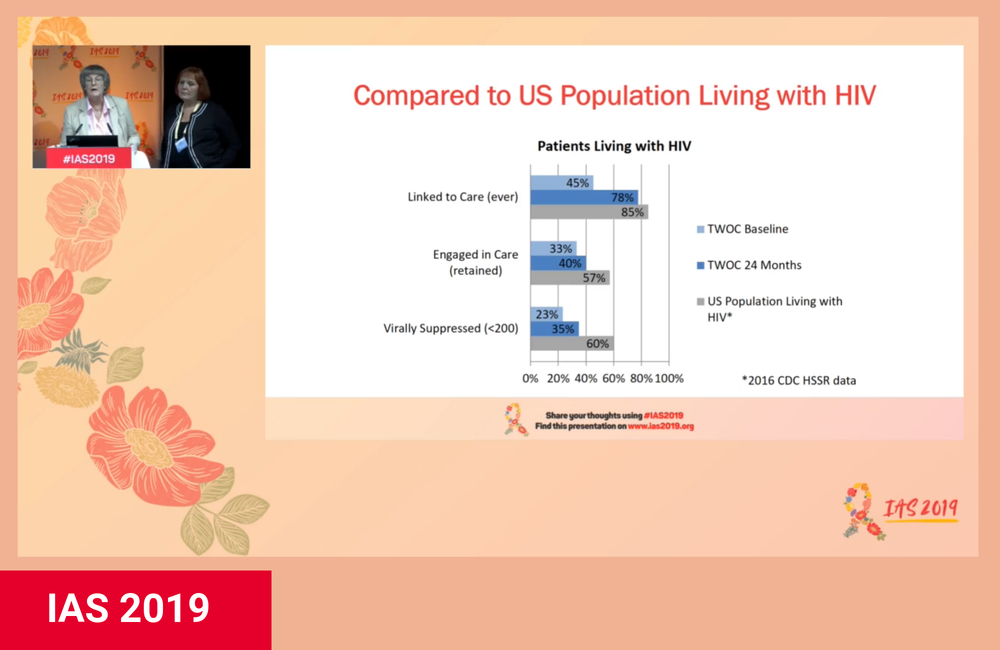 An integrated healthcare model providing screening, referral and service provision for transgender women of colour boosted rates of engagement with the HIV care continuum over 24 months, according to research presented to the 10th International AIDS Society Conference on HIV Science (IAS 2019) last week in Mexico City.
The initiative was based at nine study sites in Chicago, Los Angeles, New York and the San Francisco Bay area. The proportion of patients with viral suppression increased from 23% at baseline to 35% after 24 months of follow-up. Screening for mental health problems and food insecurity, and referral to HIV primary care, were among the factors associated with increases in the rate of viral suppression at the end of follow-up.
Transgender women have high rates of HIV infection, with prevalence in the United States estimated to be 14%. While uptake of HIV testing is known to be sub-optimal, the US Centers for Disease Control and Prevention (CDC) does not publish incidence or care continuum information for transgender women as a separate risk group, citing inconsistent data collection as the reason.
Studies examining engagement with the HIV care continuum have shown that transgender women can have outcomes comparable to those observed in other risk groups, and that well-designed and delivered services have the potential to significantly increase the rate of viral suppression.
As Joanne Keatley and Jessica Xavier of the University of California San Francisco told the conference, in 2012 an initiative was launched to enhance engagement and retention in HIV care among HIV-positive transgender women of colour. Study sites were in major cities across the US. At enrolment, participants were screened for factors known to impact on HIV and other healthcare outcomes. Onward referrals were provided as appropriate and service provision included HIV testing and primary care, mental health and substance abuse support, housing and food assistance, legal advice and also support with education, training and employment.
All the services were trans-affirming and employed trans staff.
The main outcomes were changes in engagement with key stages of the HIV care continuum – linkage, retention, antiretroviral therapy use and viral suppression – over 24 months of follow-up.
A total of 858 individuals were recruited with 79% participating in initiative activities.
Just under half the sample were Latina and 42% were Black. Median age was 36 years. Three-quarters had less than a high school education, 24% were employed and 75% had an annual income below the poverty line ($11,500).
The initiative achieved significant increases in engagement with the HIV care continuum. The proportion linked to care increased from 45% at baseline to 78% at month 24. The rate of retention in care was up from 33% at the start of the study to 40% at its end, and the proportion with viral suppression increased from 23% to 35%.
The investigators note, however, that all these outcomes nevertheless remain below those seen in the wider HIV population in the United States (rates of 85%, 57%, 60%, respectively).
Restricting analysis to individuals who received care showed outcomes that were broadly comparable to those observed among transgender women in other publicly funded HIV treatment programmes in the US, with over 80% retained in care and virally suppressed.
The research was able to identify interventions provided to individuals which were significantly associated with higher odds of viral suppression at month 24:
Mental health screening (adjusted odds ratio 4.2)
Food insecurity screening (AOR 2.9)
Referral to HIV primary care services (AOR 2.2)
Referral to mental health care (AOR 2.5)
Referral to food assistance (AOR 2.4)
Retention counselling (AOR 3.5)
Employment assistance (AOR 6.2).
The researchers call for a scale-up of similar interventions and have developed an intervention manual to help achieve this end.
References
Xavier J et al. Organizational and individual-level strategies associated with viral suppression in a sample of transgender women receiving care for HIV in the US. 10th International AIDS Society Conference on HIV Science, Mexico City, abstract MOAD0402, 2019.