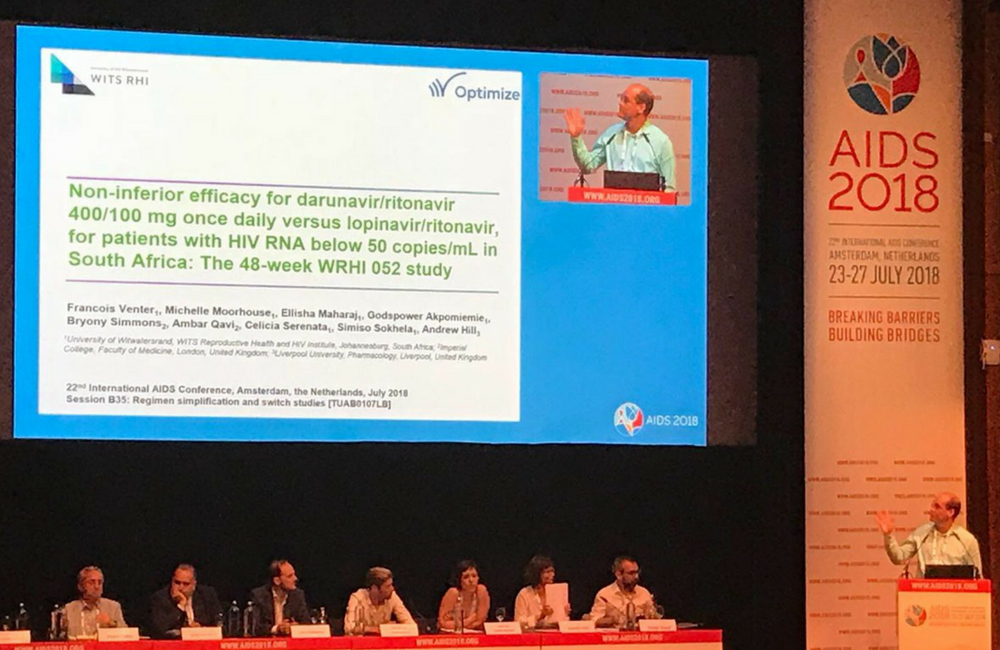 A daily dose of the boosted protease inhibitor darunavir/ritonavir 400/100mg is at least as effective as therapy with lopinavir/ritonavir for people switching treatment while virally suppressed, according to South African research presented to the 22nd International AIDS Conference (AIDS 2018) in Amsterdam. The darunavir dose was cut by half without any reduction in virological efficacy and investigators suggest the benefits of this reduced dose could include fewer side-effects and lower cost.
Darunavir/ritonavir is recommended in European and US treatment guidelines as a preferred protease inhibitor but is not recommended for second-line use in current World Health Organization (WHO) HIV treatment guidelines. Instead, WHO recommends its use in third-line treatment in combination with the integrase inhibitor dolutegravir and two nucleoside reverse transcriptase inhibitors (NRTIs). The approved dose for treatment-naïve individuals is 800/100mg daily.
Partly because of its high cost, darunavir/ritonavir is rarely used in sub-Saharan Africa. But results from small studies suggest that a daily dose of 400mg with a 100mg ritonavir booster has equivalent potency and efficacy to the standard dose. Halving the daily dose could make darunavir a more affordable option in resource-limited settings.
A team of South African investigators therefore designed a study to evaluate the efficacy and safety of darunavir/ritonavir 400/100mg as a switch option.
Entry criteria included current therapy with the protease inhibitor lopinavir/ritonavir for at least six months, no history of other protease inhibitor use and a viral load below 50 copies/ml within the past 60 days.
The study was open-label and recruited 300 people receiving care in Johannesburg. Follow-up lasted 48 weeks. The patients took their protease inhibitor in combination with two NRTIs. The main outcome was viral suppression at week 48 and the study was statistically powered to see if the reduced dose darunavir/ritonavir dose was non-inferior to lopinavir/ritonavir (a difference of no more than -4% in the proportion of patients with a viral load below 50 copies/ml). Treatment discontinuation for any reason also counted as failure.
The participants had a median age of 42 years and two-thirds were female. Almost all had an undetectable viral load at baseline when median CD4 cell count was 630 cells/mm3.
Retention in care was excellent, with 95% of people randomised to darunavir/ritonavir and 96% of individuals who remained on lopinavir/ritonavir completing the 48 weeks of the study.
At the end of follow-up, 95% of people taking darunavir/ritonavir and 93% of those taking lopinavir/ritonavir had an undetectable viral load. The +2% difference in favour of darunavir/ritonavir 400/100mg showed the non-inferiority of the therapy in comparison to lopinavir/ritonavir. Outcomes were similar in the intent-to-treat analysis which included all people who enrolled in the study regardless of whether they completed the 48-weeks of follow-up.
One person taking darunavir/ritonavir and three treated with lopinavir/ritonavir developed new NRTI-associated resistance mutations.
Reasons for the discontinuation of therapy were similar for the two treatments. Only 1% stopped because of side-effects.
Laboratory abnormalities were extremely rare in both study arms.
"In this 300 patient study, darunavir/ritonavir at the lower dose of 400/100mg once daily showed non-inferior efficacy to lopinavir/ritonavir as a switch option for patients with HIV RNA 50 copies/ml," conclude the investigators. "A lower dose of darunavir/ritonavir could be better tolerated and cheaper to produce than the standard 800/100mg dose, or lopinavir/ritonavir."