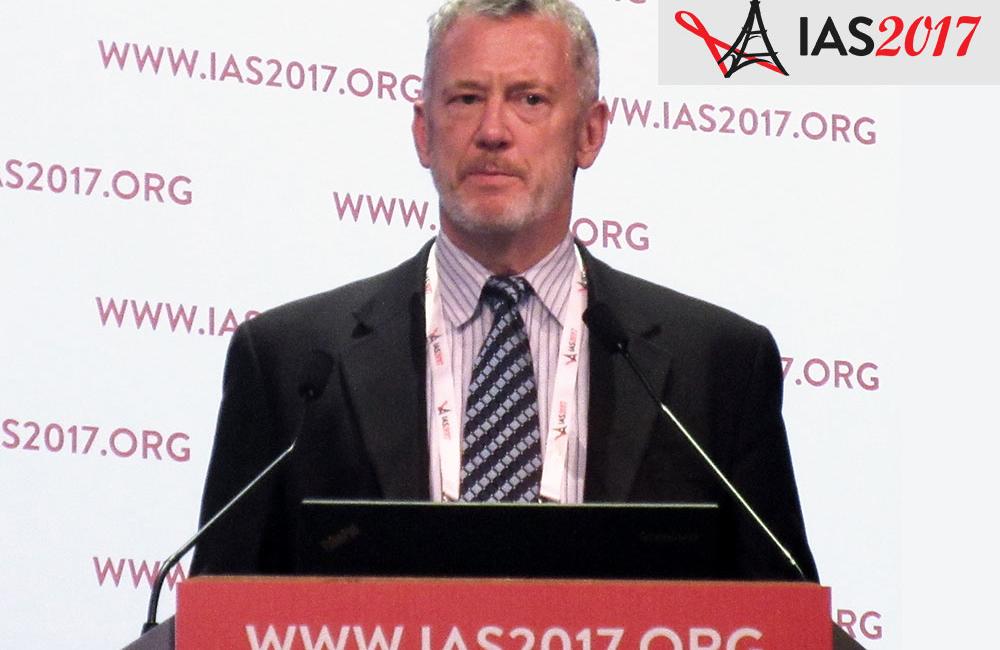 A single-tablet regimen containing the experimental integrase inhibitor bictegravir was as effective as two widely used approved regimens for first-line therapy in a pair of phase 3 clinical trials, according to presentations at the 9th International AIDS Society Conference on HIV Science (IAS 2017) this week in Paris, France. 
Integrase strand transfer inhibitors are an effective and well-tolerated class of antiretroviral drugs that are recommended in European and US HIV treatment guidelines. Preclinical studies showed that Gilead Sciences' next-generation integrase inhibitor bictegravir is potent, has a high barrier to resistance and has a low potential for interactions with other medications.
At this year's Conference on Retroviruses and Opportunistic Infections (CROI), Paul Sax of Brigham and Women's Hospital in Boston presented results from a phase 2 clinical trial comparing bictegravir to ViiV Healthcare's potent and popular dolutegravir (Tivicay), both taken with emtricitabine and tenofovir alafenamide or TAF, Gilead's newer tenofovir formulation with less kidney and bone toxicity.
Both bictegravir and dolutegravir were highly effective (97 vs 91% with undetectable HIV RNA at week 48) and well tolerated, setting the stage for larger phase 3 studies. These studies tested a once-daily combination pill containing bictegravir, emtricitabine (FTC) and TAF – dubbed B/F/TAF until it gets a brand name.
At this week's IAS meeting, Sax presented data from a follow-up phase 3 trial (Study 1490) comparing essentially the same regimens, but using the B/F/TAF coformulation instead of separate pills. Participants in this blinded study received matching placebos so that everyone took the same number of pills.
This study enrolled 645 adults in Europe, North America, Latin America and Australia. About 80% were men and the median age was 34 years. The median CD4 count was 440 cells/mm3, about 10% had a low CD4 count below 200 cells/mm3 and about 20% had a high viral load above 100,00 copies/ml. They had normal kidney function at baseline, with an estimated glomerular filtration rate (eGFR) of at least 30 ml/min.
After 48 weeks of treatment, B/F/TAF was shown to be non-inferior to the dolutegravir regimen, with 89 and 93% of participants in the respective study arms achieving undetectable viral load (HIV RNA below 50 copies/ml). Virological failure was rare (4 and 1%, respectively) and no one developed resistance to any of the study drugs.
Treatment was generally safe and well tolerated in both study arms. More people stopped treatment early in the B/F/TAF arm (3 vs <1%), but this was usually for reasons unrelated to lack of efficacy or poor tolerability. The most common adverse events were headache and diarrhoea, reported by about 12% of participants in both groups. Few participants stopped treatment early due to adverse events (2 and 1%, respectively). Estimated GFR declined less in the B/F/TAF group, and no one discontinued due to kidney side-effects in either study arm. Blood lipid changes were similar in both arms.
Joel Gallant of the Southwest CARE Center in Santa Fe, New Mexico, reported results from another phase 3 trial (Study 1489) that more closely reflects current clinical practice for initial HIV treatment. This was a head-to-head comparison of two single-tablet regimens: the B/F/TAF coformulation and the Triumeq combination pill containing dolutegravir, abacavir and lamivudine.
This study enrolled 629 participants in Europe and North America. Again, most (90%) were men and the median age was approximately 32 years. The median CD4 count was about 450 cells/mm3, about 10% had less than 200 cells/mm3 and 17% had a high viral load. Because they could be randomised to either regimen, they had to be HLA B*5701 negative to guard against abacavir hypersensitivity, and they could not have hepatitis B virus (HBV), as none of the drugs in Triumeq are active against HBV, unlike tenofovir and emtricitabine.
At week 48, virological response rates were 92% in the B/F/TAF group and 93% in the Triumeq group, again demonstrating non-inferiority. Here, too, virological failure was rare (1 and <3%, respectively). Among the five people who met criteria for resistance testing, no integrase or NRTI (nucleoside reverse transcriptase inhibitor) resistance mutations were detected.
Again treatment was well tolerated. There were no early discontinuations due to adverse events in the B/F/TAF arm and four in the Triumeq arm. Diarrhoea and headache were both reported by approximately 12% of participants in both arms, but nausea was about twice as common with Triumeq (10 vs 23%). There were no notable differences in markers of kidney and bone toxicity. Lipid levels rose modestly, but were similar in both treatment arms.
This study looked at patient-reported outcomes, a metric commonly used in cancer trials that is starting to be applied to HIV. Several outcomes differed significantly in favour of B/F/TAF, including gastrointestinal symptoms, loss of appetite, fatigue, fever, dizziness, anxiety and depression. Based on a sleep quality index, more people on Triumeq reported sleep disturbances or use of sleep medications. Researchers have previously reported increased central nervous system side-effects with dolutegravir.
Dr Gallant said that two studies looking at B/F/TAF for treatment-experienced people switching therapy are now fully enrolled. A study of B/T/TAF for women is expected to report results in early 2018, and a study for adolescents and children is underway. Gilead has submitted B/F/TAF for regulatory review by the European Medicines Agency and the US Food and Drug Administration. 
"Physicians continue to look for treatment regimens with simple, convenient dosing that can sustain virologic suppression with a safety profile that is appropriate for most HIV patients," Dr Gallant said in a Gilead press release. "In clinical trials, the investigational regimen of [B/F/TAF] has been well tolerated with low rates of discontinuations due to adverse events, a high barrier to resistance and few drug interactions."