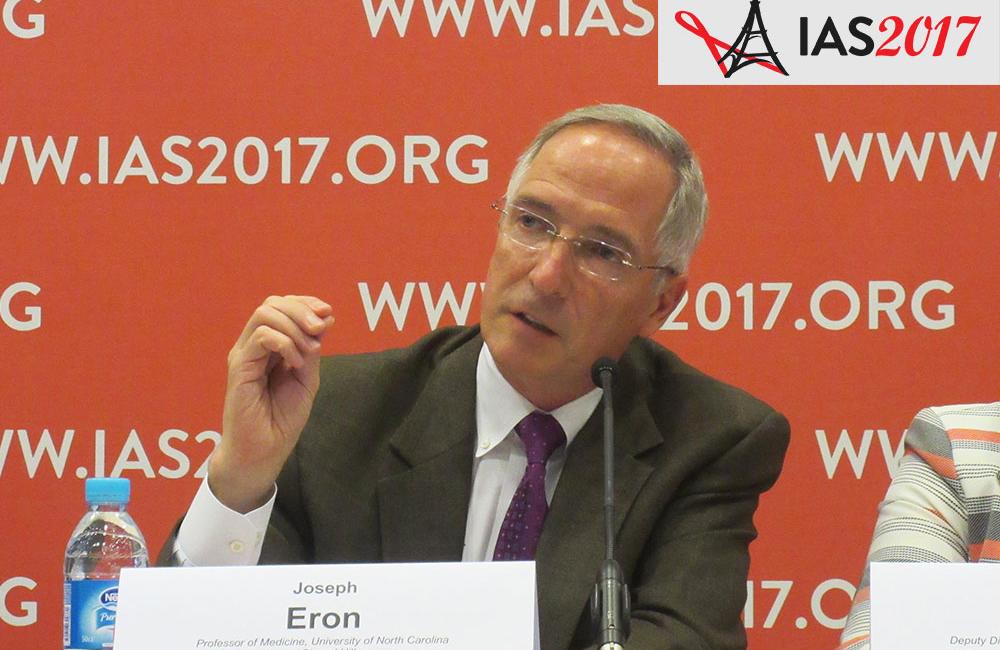 Two long-acting injectable antiretrovirals, cabotegravir and rilpivirine, administered once every 4 or 8 weeks maintained viral suppression in about 90% of people who started therapy with an undetectable viral load, according to the latest results from the LATTE-2 trial, presented today at the 9th International AIDS Society Conference on HIV Science (IAS 2017) in Paris, France.
Modern antiretroviral drugs are highly effective if taken as directed every day. But maintaining good adherence over the long term can be challenging, and long-acting injectable drug formulations could offer an alternative for people facing a lifetime of treatment.
"These data provide a strong foundation for the ongoing and planned phase 3 trials which will hopefully lead to an effective, well tolerated alternative to daily antiretroviral therapy." Dr Joseph Eron
Joseph Eron of the University of North Carolina at Chapel Hill presented 96-week findings from the LATTE-2 trial, which is evaluating a two-drug maintenance regimen of ViiV Healthcare's experimental integrase inhibitor cabotegravir and Janssen's non-nucleoside reverse transcriptase inhibitor (NNRTI) rilpivirine, which is approved as an oral formulation (Edurant, also in the Eviplera and Complera combination pills).
To ensure the basic efficacy and tolerability of this regimen before testing the injectable formulations, the earlier LATTE-1 trial evaluated oral cabotegravir plus rilpivirine as a simplified two-drug maintenance regimen for people who achieved undetectable viral load using standard three-drug antiretroviral therapy (ART).
In 2015, David Margolis of ViiV presented 96-week findings from LATTE-1, showing that 76% of participants who switched to oral cabotegravir plus rilpivirine maintained viral suppression, compared to 63% of those who stayed on a three-drug regimen containing efavirenz (Sustiva).
These results laid the groundwork for the phase 2b LATTE-2 trial, testing long-acting nano-suspension formulations of cabotegravir and rilpivirine given as intramuscular injections in the buttocks. Injections currently must be administered by a health care provider, though self-administration is potentially possible in the future, Dr Eron said.
This open-label study enrolled 309 participants in Europe and North America who were being treated for HIV for the first time. More than 90% were men, about 80% were white and the median age was 35 years. The median baseline CD4 count was approximately 500 cells/mm3 and nearly one in five had a high HIV RNA level above 100,000 copies/ml.
Participants initially started a three-drug induction regimen of 30mg oral cabotegravir plus abacavir/lamivudine (the drugs in Kivexa and Epzicom). After 20 weeks, those with viral load below 50 copies/ml were randomly assigned to either stay on the same oral regimen or switch to long-acting cabotegravir and rilpivirine injections; 286 people met this criterion. The latter group received either 400mg cabotegravir plus 600mg rilpivirine administered every 4 weeks (Q4W), or 600mg cabotegravir plus 900mg rilpivirine given every 8 weeks (Q8W).
Dr Margolis presented 32-week results from LATTE-2 (the primary endpoint) at the 2016 Conference of Retroviruses and Opportunistic Infections, showing that 95% of participants who switched to the Q8W injectable combo and 94% of those treated on the Q4W regimen maintained undetectable viral load, as did 91% of those who stayed on the oral regimen.
Most participants maintained viral suppression through two years, Dr Eron reported today. At 96 weeks, 94% of people on the Q8W injectable combo and 87% on the Q4W regimen still had undetectable HIV RNA, compared with 84% on the continued oral regimen.
Three people who received injectable cabotegravir and rilpivirine experienced protocol-defined virological failure: two on the Q8W injectable regimen (one at week 4, one at week 48), and one on the oral regimen. No one receiving the Q4W regimen experienced treatment failure. There were no additional cases of virological failure between week 48 and week 96.
Injectable cabotegravir and rilpivirine were generally safe and well tolerated. Serious adverse events occurred with similar frequency in all three treatment groups, but none were considered drug-related. Eleven people stopped treatment early due to adverse events (2% in the Q8W group, 4% in the Q4W group and 2% on the oral regimen). Besides injection site reactions, the most frequently reported adverse events were nose and throat inflammation, diarrhoea and headache.
Almost all participants reported injection site reactions, but these were usually mild or moderate and transient, lasting an average of three days. Only two people (less than 1%) stopped treatment early for this reason. Pain was the most common complaint.
Despite the frequency on injection-site reactions, participants reported that they were highly satisfied with the long-acting therapy and would like to continue on it. "I didn't realize how much they appreciate not having to take pills and the feeling of freeness of not having to be bound to oral therapy," Dr Eron said.
"Long-acting injectable two-drug therapy given either Q8W or Q4W demonstrated high rates of virologic response and was well tolerated through 96 weeks," the researchers concluded.
Both Q8W and Q4W week injections maintained cabotegravir levels similar to those seen with oral dosing. However, because monthly dosing resulted in a slightly lower rate of virological non-response at week 48, the Q4W regimen is being further evaluated in ongoing phase 3 studies.
Dr Eron explained that with longer-term follow-up, additional participants on the Q8W regimen achieved viral suppression. Evaluation of Q8W dosing is going forward and a phase 3 study is being developed, he told reporters. However, administration every month allows for more forgiveness if people miss an injection.
"The results of LATTE-2 show that a long-acting injectable antiretroviral regimen has the potential to be both highly effective and well tolerated over a long period of time," Eron said. "These data provide a strong foundation for the ongoing and planned phase 3 trials which will hopefully lead to an effective, well tolerated alternative to daily antiretroviral therapy."
"The introduction of single tablet medication represented a leap forward in ART dosing, and long-acting antiretroviral injections may represent the next revolution in HIV therapy by providing an option that circumvents the burden of daily dosing," Margolis added in a press release from The Lancet.