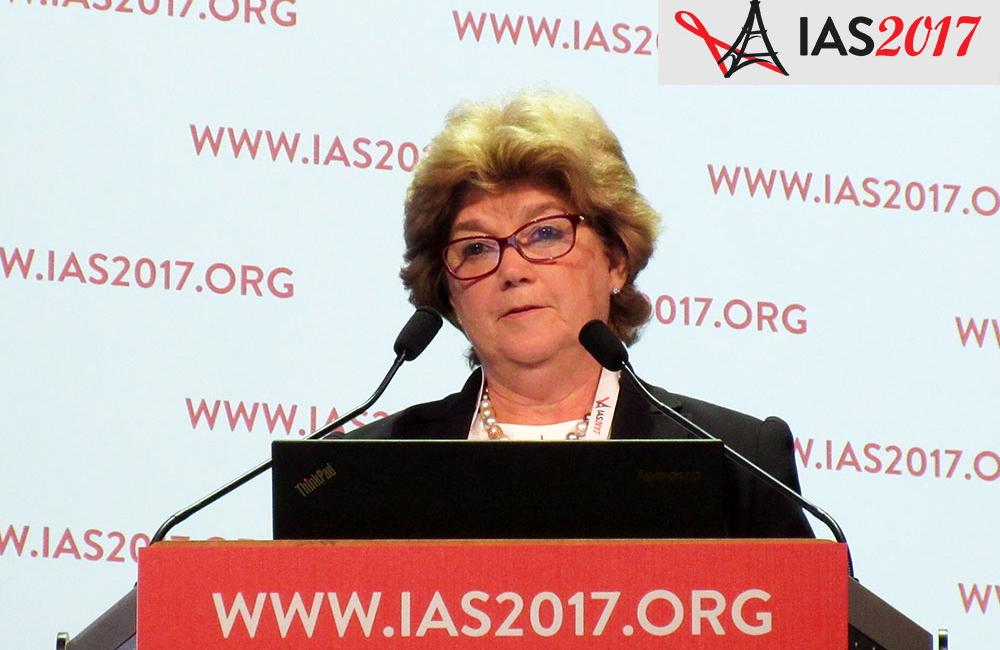 A single-tablet regimen containing the next-generation non-nucleoside reverse transcriptase inhibitor (NNRTI) doravirine reduced HIV viral load as much as an efavirenz-based co-formulation, but it had a more favourable side-effect profile, according to results from the DRIVE-AHEAD study presentation this week at the 9th International AIDS Society Conference on HIV Science (IAS 2017) in Paris.
Current first-line antiretroviral therapy regimens are safe and highly effective. Integrase inhibitors have largely replaced NNRTIs for first-time treatment in recent years, but having multiple potent and well-tolerated drugs from different antiretroviral classes offers more options for individualised therapy.
Kathleen Squires of Thomas Jefferson University in Philadelphia presented findings from the phase 3 DRIVE-AHEAD study, which is evaluating a fixed-dose co-formulation of 100mg doravirine, 300mg lamivudine and 300mg tenofovir disoproxil fumarate (TDF).
Doravirine, an investigational NNRTI being developed by Merck, has a unique resistance profile and is active against HIV with common NNRTI-resistance mutations including K103N. It can be taken with or without food and has low potential for drug-drug interactions.
Previous research showed that doravirine suppressed viral load as much as efavirenz (Sustiva or Stocrin), but with fewer neuropsychiatric side-effects, in a phase 2 study. Doravirine plus two nucleoside reverse transcriptase inhibitors (NRTIs) of the investigator's choice – either TDF/emtricitabine (Truvada) or abacavir/lamivudine (Kivexa or Epzicom) – worked as well as ritonavir-boosted darunavir (Prezista), but with a better lipid profile, in the phase 3 DRIVE-FORWARD study.
DRIVE-AHEAD enrolled 728 people starting HIV treatment for the first time. About 85% were men, half were white and the median age was 31 years. The mean baseline CD4 count was approximately 420 cells/mm3, about 22% had a high viral load above 100,000 copies/ml and 14% had a clinical history of AIDS.
Participants in this double-blind study were randomly assigned to receive the doravirine combination pill or a coformulation of efavirenz, TDF and emtricitabine (Atripla).
To 'blind' the study, because the drugs' dosing regimens are not the same, participants received placebos for the co-formulation they were not taking. Doravirine allows for a more flexible schedule: participants were told to take the doravirine co-formulation or placebo any time they chose – but at the same time each day – with or without food. They were told to take the efavirenz pill or placebo on an empty stomach at bedtime, as this is thought to lessen neurological side-effects.
Treatment was planned for 96 weeks, with the primary endpoint being the proportion of people with HIV RNA below 50 copies/ml at week 48.
After 48 weeks on treatment, 84% of people in the doravirine arm and 81% in the efavirenz arm had undetectable viral load, showing that the new co-formulation was non-inferior. Those who started with a higher viral load had higher response rates, but these did not differ according to regimen. In a modified analysis, about 90% of those with low baseline viral load and about 80% of those with high baseline viral load reached an undetectable level in both treatment arms.
People taking doravirine were more likely to experience protocol-defined virological failure than those taking efavirenz, but this was infrequent in both arms (6 vs 4%). Among participants with virological failure who underwent successful genotypic testing, 1.6% in the doravirine arm and 3.3% in the efavirenz arm had evidence of NNRTI resistance mutations.
Both treatment regimens were generally safe and well tolerated, but there were some notable differences in side-effects.
Half as many people in the doravirine arm experienced drug-related adverse events overall (31 vs 63%, respectively), but serious events were rare in both arms (1% or less). Less than half as many in the doravirine arm stopped treatment early due to adverse events (3 vs 7%). The most common adverse events in the doravirine arm were headache (13%), diarrhoea (11%), and nasopharyngitis (11%), which occurred at similar rates in the efavirenz arm. Skin rash was less common with doravirine (5 vs 12%).
However, doravirine caused significantly fewer central nervous system side-effects. For example, 9% of people taking doravirine reported dizziness, compared with 37% of those taking efavirenz. Looking at a set of pre-defined neuropsychiatric events, half as many doravirine recipients reported sleep disorders or disturbances (12 vs 26%) and altered cognition (4 vs 8%). Depression and suicide or self-injury were also less frequent with doravirine (4 vs 7%).
Lipid profiles, too, favoured doravirine. LDL cholesterol, total cholesterol and triglyceride levels decreased slightly after starting treatment in the doravirine arm, while increasing substantially in the efavirenz arm.
"Doravirine is a novel, once-daily NNRTI for first-line treatment with consistent efficacy regardless of baseline viral load and favourable tolerability and safety profile in 2 Phase 3 clinical trials," the study investigators concluded.
The DRIVE-AHEAD study had some limitations, including the fact that it compared doravirine against efavirenz, which is no longer recommended for first-line therapy in many treatment guidelines due to its adverse events. Nevertheless, its low cost and wide availability mean it is still commonly used in resource-limited countries.
In addition, session moderator Monica Gandhi of the University of California at San Francisco School pointed out that the doravirine co-formulation contains TDF instead of the newer tenofovir alafenamide (TAF) formulation, which causes less kidney and bone toxicity. This was done because a generic version of TDF is expected to become available soon, while TAF will remain on patent for another five years or so.