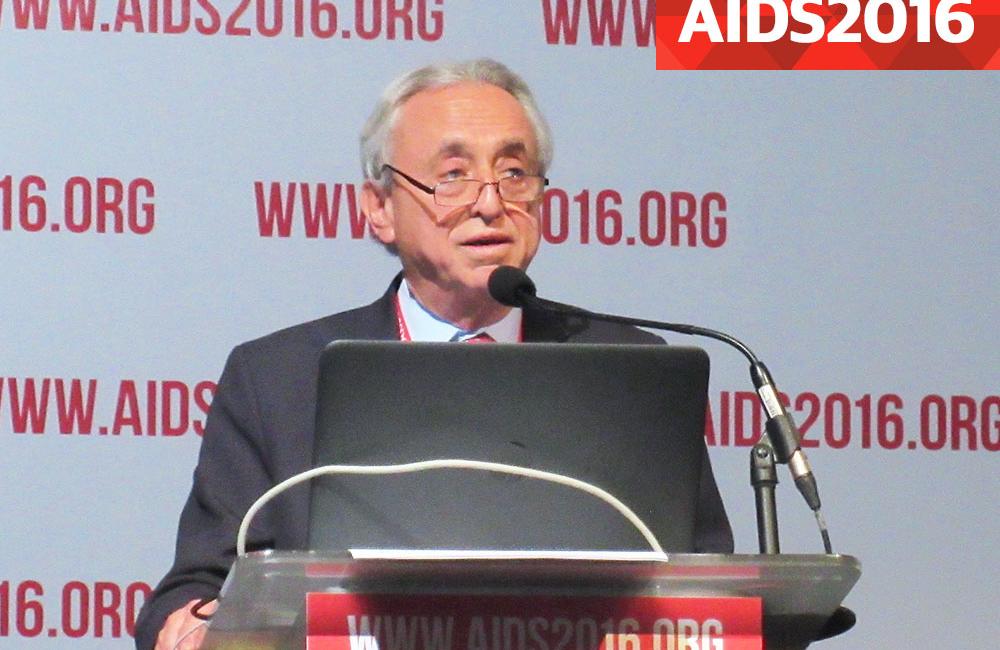 A new formulation of the integrase inhibitor raltegravir (Isentress) taken once daily suppressed HIV viral load as well as the older formulation taken twice a day in people being treated for the first time, according to findings from the ONCEMRK study presented in a late breaker session at the 21st International AIDS Conference (AIDS 2016) last week in Durban, South Africa.
Integrase inhibitors are a potent and well tolerated class of antiretrovirals. The first one to be approved, Merck's raltegravir, is considered safe and effective, but its twice-daily dosing schedule is a disadvantage in an era of once-daily single-tablet regimens.
In the previous QDMRK trial once-daily dosing of the original approved formulation of raltegravir was found to be less effective than twice-daily dosing for initial HIV suppression in previously untreated people, though it worked well as maintenance therapy for people who had already achieved undetectable viral load.
At AIDS 2016 Pedro Cahn of Fundacion Huesped in Buenos Aires presented findings from ONCEMRK, a phase 3 randomised controlled trial testing an investigational reformulated version of raltegravir designed to maintain adequate concentrations in the body over a longer period.
This analysis included 797 previously untreated participants in Europe, North America, Asia, Latin America and Africa. Most (85%) were men, a majority were white, the mean age was about 34 years and 3% had hepatitis B or C co-infection. The mean CD4 T-cell count was approximately 400 cells/mm3 and the mean plasma HIV RNA level was 4.6 log10 copies/ml (about 40,000 copies/ml), though 28% had a high viral load above 100,000 copies/ml and about 5% had more than 500,000 copies/ml.
Participants were randomly assigned to receive the older raltegravir formulation at 400mg twice daily or the new formulation at 1200mg once daily (two 600mg tablets taken at the same time), both with tenofovir/emtricitabine (the drugs in Truvada) for up to 96 weeks. Dr Cahn noted that the 600mg tablet is only slightly larger than the 400mg pill.
Dr Cahn presented 48-week results showing that 1200mg once-daily raltegravir was as effective as 400mg twice-daily dosing. Viral load declined rapidly in both treatment arms. At 48 weeks 88.9% in the once-daily group and 88.3% in the twice-daily group had HIV RNA < 40 copies/ml. Using the more common < 50 copies/ml cut-off, response rates were 89.9% and 90.2%, respectively.
Virological response did not differ according to baseline viral load. Among people who started with a high viral load, 86.7% in the once-daily arm and 83.8% in the twice-daily arm had HIV RNA < 40 copies/ml at 48 weeks.
CD4 cell gains were also similar, about 230 cells/mm3 in both groups.
About 7% of participants in both arms experienced virological non-response or viral rebound (protocol-defined virological failure). Five people in the once-daily arm had evidence of drug resistance, including four with raltegravir resistance.
These small differences between the two arms showed that once-daily raltegravir dosing was non-inferior to the twice-daily regimen.
Once-daily raltegravir was generally safe and well tolerated, with both dose regimens having similar safety profiles. More than 90% of participants completed 48 weeks of treatment; 7.7% in the once-daily arm and 8.9% in the twice-daily arm discontinued therapy.
Once-daily and twice-daily dosing were associated with comparable rates of drug-related adverse events (25% vs 26%, respectively) and laboratory abnormalities. Drug-related serious adverse events (0.2% vs 0.8%, respectively) and discontinuations due to adverse events (0.8% vs 2.3%) were less common in the once-daily arm, though quite low overall. Dr Cahn noted that side-effects were mainly gastrointestinal, with no neurological symptoms occurring in more than 2% of participants.
"Reformulated once-daily raltegravir may offer a new potent, well tolerated and convenient option for initial treatment of HIV infection," the investigators concluded. 
Prescribing instructions for the older twice-daily raltegravir formulation call for doubling the dose when co-administered with rifampin, an antibacterial drug used to treat tuberculosis. In response to a question, Dr Cahn said he would "be careful" using 1200mg once-daily raltegravir with rifampin until pharmacokinetic studies are completed.
Based on these findings, the European Medicines Agency has accepted the once-daily formulation of raltegravir for review, and Merck plans to request US Food and Drug Administration approval later this year, the company indicated in a press release.
References
Cahn P et al. Raltegravir (RAL) 1200 mg once daily (QD) is non-inferior to RAL 400 mg twice daily (BID), in combination with tenofovir/emtricitabine, in treatment-naive HIV-1-infected subjects: week 48 results. 21st International AIDS Conference, Durban, abstract FRAB0103LB, 2016.
View the abstract on the conference website.