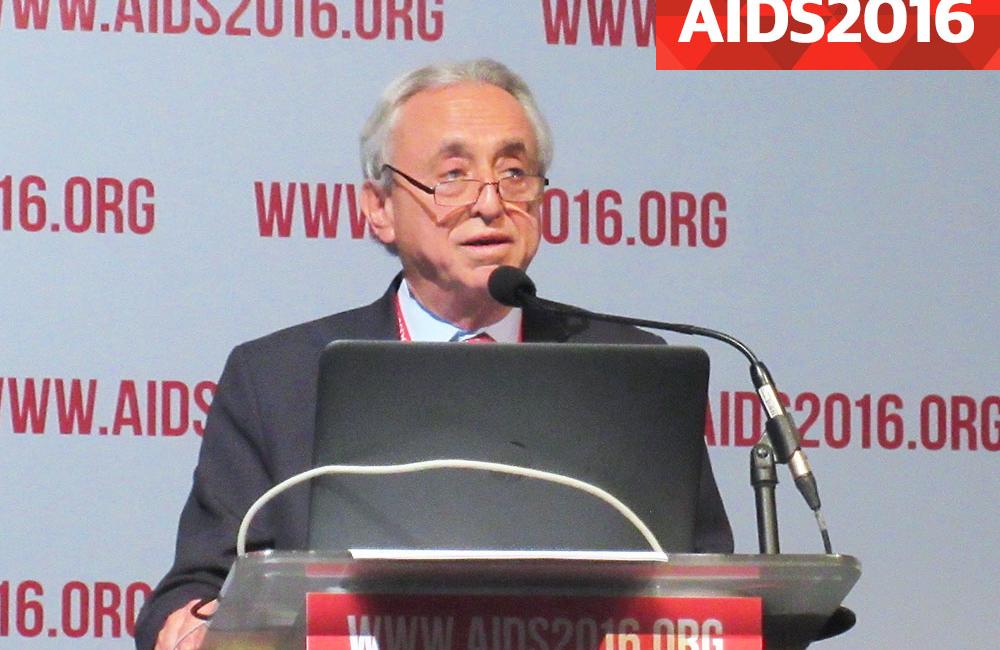 A two-drug regimen of dolutegravir and the well-tolerated NRTI lamivudine led to sustained viral suppression for most people starting antiretroviral therapy (ART) for the first time in a small pilot study, according to a late-breaker presentation at the 21st International AIDS Conference (AIDS 2016) last week in Durban, South Africa.
As people with HIV face lifelong treatment, researchers continue to look for therapies that are better tolerated, easier to take and more affordable.
ViiV Healthcare's dolutegravir (Tivicay, also in the Triumeq single-tablet regimen) is a potent integrase inhibitor with a high barrier to resistance. Lamivudine (3TC; Epivir) is an inexpensive, well-tolerated NRTI (nucleoside reverse transcriptase inhibitor) with minimal side-effects, no known drug interactions and widely available low-cost generic versions.
The GARDEL trial previously showed promising results using a dual combination of lopinavir/ritonavir (Kaletra) plus lamivudine. But dolutegravir is a more attractive option as it has fewer toxicities and drug-drug interactions than protease inhibitors.
Pedro Cahn of Fundacion HUESPED in Buenos Aires reported findings from the PADDLE trial, a proof-of-concept study evaluating dolutegravir plus lamivudine for initial HIV treatment.
This phase 4 pilot study enrolled 20 previously untreated adults with low baseline viral load (criterion of < 100,000 copies/ml, though four were actually above this threshold) and no known NRTI resistance mutations. All but one were men and the median age was 34 years. The median baseline viral load was about 24,000 copies/ml and CD4 count was approximately 500 cells/mm3. People with hepatitis B co-infection were excluded (lamivudine is also active against hepatitis B virus).
Participants in this open-label study were treated with 50mg dolutegravir plus 300mg lamivudine once daily for 48 weeks. To ensure safety, viral load was initially measured every few days, then every couple of weeks through the third month. The first ten participants were evaluated at 8 weeks before the next group of ten started therapy. Treatment was discontinued if participants did not have at least a 1 log10 decrease in viral load at week 8, if HIV RNA remained above 1000 copies/ml at week 12 or above 400 copies/ml at week 24, or if viral load rebounded after becoming undetectable.
Cahn presented preliminary 24-week results at the European AIDS Conference last October and 48-week results at AIDS 2016. The study is ongoing through 96 weeks.
Viral load declined rapidly after starting therapy, similar to declines seen with standard three-drug ART. Most participants had HIV RNA below 50 copies/ml by week 3 and all – including the four who started above 10,000 copies/ml – did so from week 8 onward.
While everyone had undetectable viral load at 24 weeks, at 48 weeks one person experienced protocol-defined virological failure and one committed suicide, resulting in a response rate of 90%.
Dr Cahn explained that the individual with virological failure discontinued the study, but his physician kept him on the same regimen and he achieved viral re-suppression without changing therapy. Eventually the investigators convinced him to intensify to a standard regimen.
Treatment was generally safe and well tolerated, with few side-effects or laboratory abnormalities. The sole serious adverse event was a suicide after a traumatic life event by an individual who was later found to have had a prior non-disclosed suicide attempt; this was deemed unrelated to the study drugs.
"In this pilot, proof of concept study, dual therapy with dolutegravir plus lamivudine induced rapid virologic suppression with a favourable safety/tolerability profile in HIV-1 infected, treatment-naive individuals," the researchers concluded. "If confirmed in a well powered randomized clinical trial, this two-drug regimen might be considered as a simple, potent, well tolerated and potentially cheap strategy for HIV treatment initiation."
Dr Cahn said more data from larger trials is needed to determine if dual therapy is a safe and effective strategy. The phase 3 GEMINI trial, which screened its first participant last week, will compare dolutegravir plus lamivudine versus the standard regimen of dolutegravir plus tenofovir/emtricitabine (the drugs in Truvada).
"We need to wait and see," Dr Cahn cautioned. "Don't do this at home until we have the results."
References
Cahn P et al. Dolutegravir-lamivudine as initial therapy in HIV-infected, ARV naive patients: 48 week results of the PADDLE trial. 21st International AIDS Conference, Durban, abstract FRAB0104LB, 2016.
View the abstract on the conference website.