Sex without condoms more likely when viral load is undetectable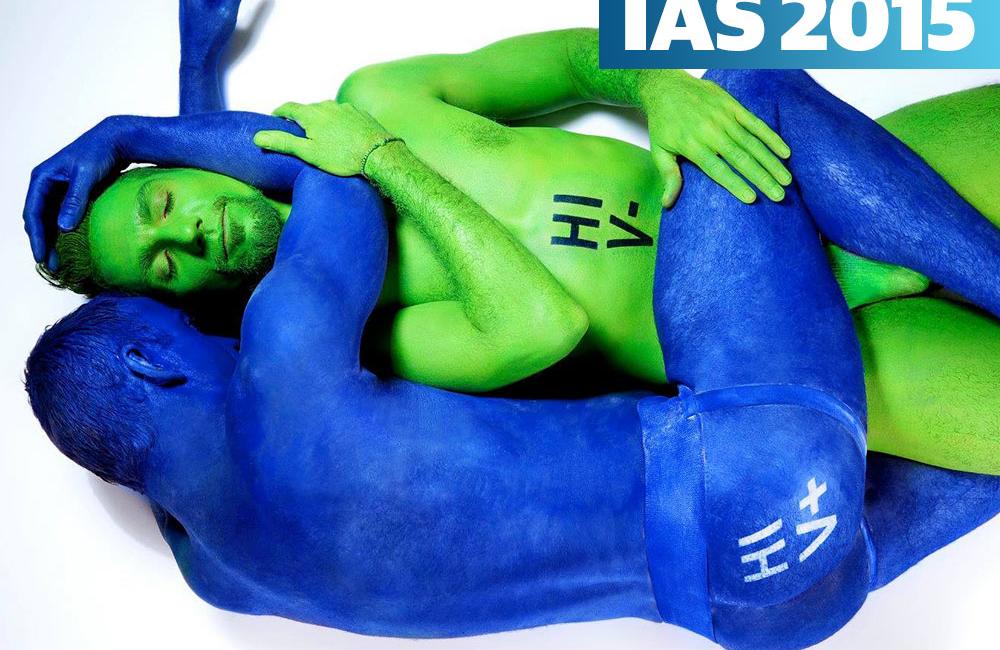 There is evidence that some groups of Australian and American gay men are considering HIV-positive partners' undetectable viral load and the time elapsed since an HIV-negative partner last tested when making decisions about using condoms, according to studies presented to the Eighth International AIDS Society Conference (IAS 2015) in Vancouver, Canada, on Tuesday.
'Sero-sorting' refers to the practice of people choosing sexual partners they perceive to have the same HIV status as themselves, or of choosing not to use condoms with such partners. But it is clear that the scenarios are not necessarily as simple as HIV-negative people pairing up with other HIV-negative people, or of HIV-positive people sticking with HIV-positive people.
Gay men may decide which partner takes the receptive ('bottom') role dependent on each man's HIV status. An HIV-negative person may consider that having condomless sex with an HIV-positive person who has an undetectable viral load is safer than doing so with someone who claims to be HIV-negative but last tested a year ago. But engaging in these 'sero-adaptive' behaviours depends on individuals' and communities' level of understanding of HIV transmission factors and can also be limited by HIV stigma.
The first set of data come from Opposites Attract, a cohort of gay couples where one partner has HIV and the other does not. The cohort were recruited to help make assessments of the risk of HIV transmission during sex between men, especially when viral load is undetectable. Those results were not presented in Vancouver (data collection is ongoing). The current analysis examined how sexual behaviour might be influenced by the HIV-negative partner's perception of his partner's viral load.
At present, the cohort includes 147 couples in Australia, 71 couples in Brazil and 55 couples in Thailand. Participants' average age is 35, almost all identify as gay and half are university-educated. Over two-thirds of the couples live together, although 41% have been together for less than a year.
In Australia and Brazil, almost all of the HIV-positive partners were taking HIV treatment and had an undetectable viral load. Until recently, Thai treatment guidelines were more restrictive and only half the Thai men were on treatment.
But the researchers were more interested in the HIV-negative partner's beliefs about his partner's viral load than what it actually was. In Australia, 77% thought it was undetectable, not so far off the actual figure of 87%. Not knowing what it might be was more commonly reported by the men in Brazil (14%) and Thailand (38%). Of those who thought they knew the result, most said they had been told by their partner and very few (2%) guessed or assumed it.
Two-thirds of the Australian couples reported having sex without a condom together. Moreover, when Australian men perceived viral load to be undetectable they were three times more likely to have sex without a condom (odds ratio 3.2, 95% confidence interval 1.4-7.2).
Sex without a condom was reported by fewer Brazilian couples (42%) or Thai couples (29%). Beliefs about detectability made no difference to sexual practice.
But Thai and Australian men who, in general, believed that HIV treatment could reduce the risk of transmission, were more likely to have sex without a condom.
Presenting the findings, Ben Bavinton of the University of New South Wales noted factors which might explain why the Brazilian and Thai men were not taking viral load into account in the same way as the Australian men. There may be less awareness of viral load results, dialogue with clinicians about treatment as prevention, and capacity to determine how to incorporate new scientific findings into sexual lives. In contrast, community education campaigns in Australian gay communities have discussed the preventive benefits of HIV treatment.
Seattle
Data were also presented from Seattle, an American city whose gay community is thought to have a relatively sophisticated understanding of these issues. At a sexual health clinic, data were collected from 1011 HIV-negative and 203 HIV-positive respondents in 2014 and 2015.
Based on self-report, 86% of HIV-negative men said that they had asked at least one HIV-positive partner about whether he was on HIV treatment or had an undetectable viral load. Two thirds based subsequent sexual decisions on this information, with these men more likely to have sex without a condom than others.
The men who ask partners about HIV treatement and viral load also appear to be less likely to acquire HIV than those who don't. However, few participants have acquired HIV while in the study, so this finding should be treated with caution.
Also based on self-report, 86% said they had asked their last (HIV-negative) sexual partner about how recently he had taken an HIV test. Over half the partners claimed to have tested in the previous three months. Sex without a condom was more commonly reported when the HIV test was recent than when it was not, with many participants saying that it had influenced their decision-making.
References
Bavinton BR et al. Viral load awareness and risk behaviour in male serodiscordant couples in Australia, Brazil and Thailand. 8th International AIDS Society Conference on HIV Pathogenesis, Treatment, and Prevention. Vancouver, July 19-22, 2015. Abstract TUAC0306.
You can download the slides of this presentation from the conference website.
Khosropour CM et al. Nuanced seroadaptive behaviors among Seattle men who have sex with men (MSM): sexual decision-making based on ART use/viral load and recency of partner HIV testing. 8th International AIDS Society Conference on HIV Pathogenesis, Treatment, and Prevention. Vancouver, July 19-22, 2015. Abstract TUAC0305.
You can download the slides of this presentation from the conference website.
Where available, you can view details of sessions, view abstracts, download presentation slides and find webcasts using the conference 'Programme at a Glance' tool.
You can also download a PDF of the abstract book from the conference website.