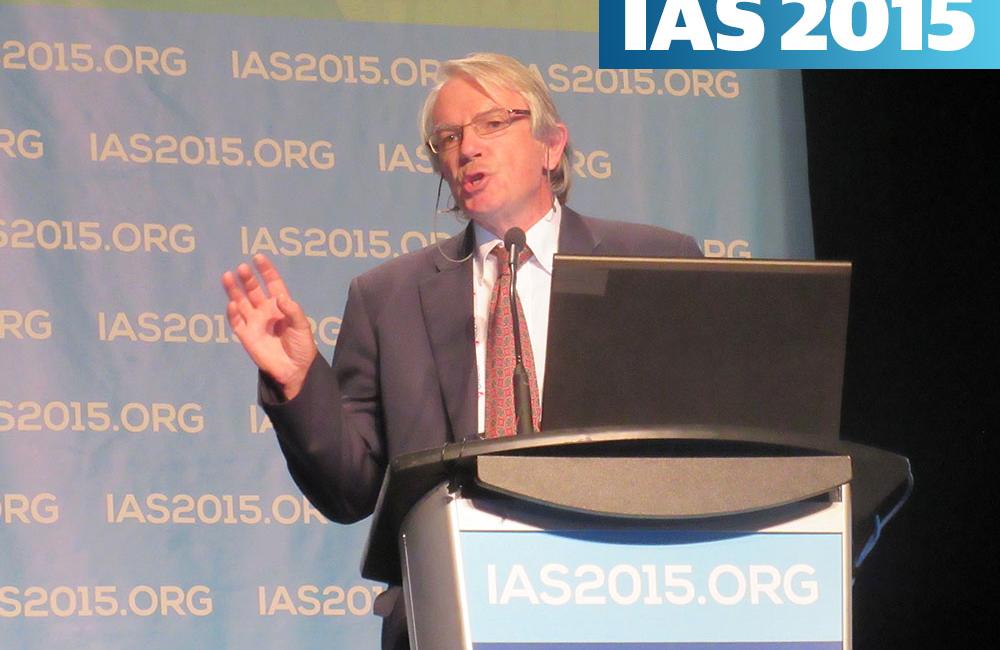 Merck's next-generation NNRTI doravirine (formerly known as MK-1439) was found to be as effective as efavirenz at suppressing HIV replication, but half as many study participants taking doravirine experienced drug-related side-effects – in particular central nervous system (CNS) side-effects – and were less likely to stop treatment prematurely, according to study findings reported this week at the Eighth International AIDS Society Conference (IAS 2015) in Vancouver, Canada.
NNRTIs (drugs from the non-nucleoside reverse transcriptase inhibitor class of antiretrovirals) are generally effective, easy to use and well-suited for first-line antiretroviral therapy (ART). But of the widely used drugs in this class, nevirapine (Viramune) is susceptible to drug resistance, rilpivirine (Edurant) is less effective in people with high viral load and efavirenz (Sustiva or Stocrin) often causes neuropsychiatric side-effects such as dizziness and abnormal dreams. As such, these drugs are not recommended for first-line ART in current US and European treatment guidelines. The approval of a potent and well-tolerated new NNRTI would offer added flexibility, especially for people with extensive drug resistance and limited treatment options.
Dr José Gatell from the University of Barcelona reported the latest results from the ongoing Study 007, which is comparing doravirine vs efavirenz, both taken once-daily, for previously untreated people with HIV.
This phase 2b trial included two parts. Part 1 was a dose-ranging study that evaluated 25mg, 50mg, 100mg and 200mg doses of doravirine in combination with tenofovir/emtricitabine (the drugs in Truvada). As reported at the 2014 Conference on Retroviruses and Opportunistic Infections, the 100mg dose was selected as offering the best balance of safety and efficacy based on a 24-week analysis.
At that point, all participants in part 1 stayed on or switched to the 100mg dose and continued follow-up. An additional 132 people enrolled in part 2 of the study and were randomly assigned to receive 100mg doravirine or 600mg efavirenz, both with tenofovir/emtricitabine, for 48 weeks.
At the HIV Drug Therapy conference in Glasgow last November, Dr Gatell reported that doravirine was as effective as efavirenz in a 48-week analysis of part 1. He also presented preliminary 8-week safety and tolerability data from a pooled analysis of all 108 participants who started on the 100mg doravirine dose and 108 who took efavirenz in parts 1 and 2.
This week at the IAS meeting, Dr Gatell presented 24-week efficacy and safety findings for this combined population of 216 participants. More than 90% were men, 80% were white and the median age was about 35 years. The median CD4 cell count was approximately 415 cells/mm3. Study participants were stratified by baseline viral load, with just over a third having high HIV RNA >100,000 copies/ml.
Overall treatment response rates were comparable in the two groups, with 73.1% of people taking doravirine and 72.2% of those taking efavirenz having viral load below 40 copies/ml – and 88.9% and 87.0%, respectively, below 200 copies/ml – at 24 weeks. CD4 cell gains were also similar, 154 and 146 cells/mm3, respectively.
Looking at response rates according to pre-treatment viral levels, more than 90% of people taking either drug had HIV RNA below 200 copies/ml regardless of whether they started with a low or high viral load. But people who started with low viral load were more likely to push their HIV RNA below 40 copies/ml (83.3% with doravirine and 85.7% with efavirenz) than those who started with a higher level (60.5% vs 65.5%). Gatell noted that viral load was still falling at week 24 and suggested that those with higher baseline levels probably had not yet had enough time on treatment to get below the lower threshold.
Turning to the safety analysis, participants taking doravirine were less than half as likely as participants taking efavirenz to discontinue treatment for any reason (4.6% vs 11.9%, respectively), with the difference mainly driven by a higher drop-out rate due to adverse events in the efavirenz group (0.9% vs 5.6%, respectively).
While most people in both treatment arms experienced at least one adverse event, serious events were less common in the doravirine group (0.9% vs 4.6%). Further, people taking doravirine had half as many drug-related side-effects overall (27.8% vs 55.6%).
The primary safety comparison showed that significantly fewer doravirine recipients reported one or more CNS events by week 24, with the most frequent being dizziness (9.3% vs 27.8), abnormal dreams (6.5% vs 17.6%) and nightmares (6.5% vs 8.3%). Depression was half as common among doravirine recipients, but the numbers were small. Finally, total and LDL ('bad') cholesterol levels were more likely to be elevated in efavirenz recipients.
In summary, once-daily 100mg doravirine in combination with tenofovir/emtricitabine "demonstrates antiretroviral activity and immunological effects similar to efavirenz" at week 24, and "has significantly fewer and less severe treatment-emergent CNS adverse events" than efavirenz, the researchers concluded.
Dr Gatell said that a larger phase 3 study of doravirine is now underway.