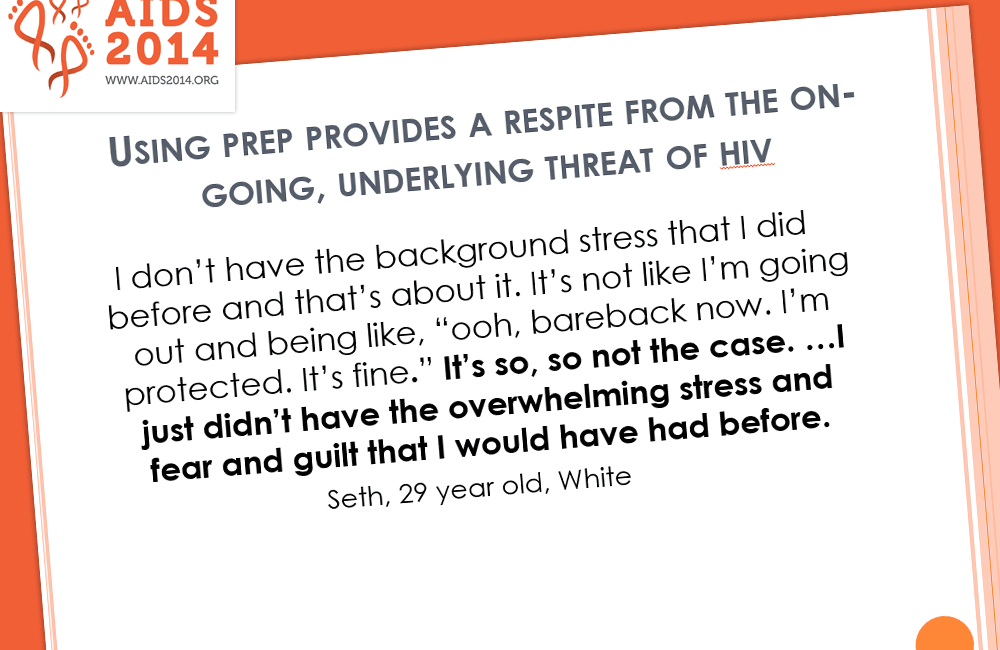 Interviews with participants in the US sites of the iPrEx study of pre-exposure prophylaxis (PrEP) show that participants who took it mainly used it as an additional source of reassurance rather than to replace whatever risk management strategy they were currently using to avoid HIV infection.
There were participants who used it as their sole defence against HIV infection, but these tended to be the minority of participants who had never used condoms before they joined iPrEx. There was no evidence that participants were substituting PrEP for condoms en masse.
The iPrEx researchers conducted 60 in-depth interviews with study participants in Boston, Chicago and San Francisco. Their mean age was 36; 51% were of white ethnicity, 43% African-American and 6% other.
Condom use in the interviewees before they joined the study "ranged from routine to never", researcher Kimberley Koester told the conference.
Once on PrEP, the participants did not report significant changes in other risk management behaviours – except for younger participants, who actually increased their use of condoms. In most cases it did not lead to increased condomless sex: but it did lead to decreased stress, fear and guilt.
Testimonies
One African American participant testified that the reduction of anxiety had been the main benefit of PrEP (all names are pseudonyms):
"Even when I was being safe [HIV] scared me. I don't want to say it doesn't scare me, but less so now, if that makes sense? I won't say the anxiety has gone-gone, but it's not in the front of my head as it used to be, where I was obsessively worried about it while sex was happening."  - Darryl, 51.
A majority of participants stressed that they did not feel suddenly freed not to use condoms. One white participant said:
"It's not like I'm going to go out and being like, 'Ooh, bareback now. I'm protected. It's fine.' It's so, so not the case…I just didn't have the overwhelming stress and fear and guilt that I would have done." – Seth, 29.
PrEP certainly held out the prospect of increased sexual adventure and abandon. But this was not so often acted on. One participant said:
"I wanted to let myself be a little more open to doing something…but it didn't happen. We ended up having safe sex anyway. I thought it was going to have a bigger effect on the way I had sex than it was. I kind of just didn't change my habits very much except just feeling a little less worried."
A minority of participants, however, had never used condoms and for them, PrEP was a potential lifeline. One young African American participant said:
"I don't know what I would have done without that pill. I would probably have HIV right now. Because I used to have sex unprotected, like I told you…I could be dead right now…the pill was a blessing to me." – Charles, 21.
Kimberley Koester said that the current concerns about risk compensation that had been expressed about PrEP were tending to overshadow a more realistic understanding of how it was likely to be used and of its protective benefits.
A PrEP user speaks at the MSMGF meeting
At the pre-conference organised by the Global Forum on MSM and HIV (MSMGF), Mathew Rodriguez, a writer on HIV for www.thebody.com who takes PrEP, talked about his reasons for taking it.
"I am the Hispanic, HIV-negative son of an HIV-positive father who passed away from an AIDS-related illness in 2011," he told the meeting.  
"I decided to start taking PrEP when a relationship with a partner who is also HIV negative became condomless. It also became non-monogamous, and I wanted a sex life free from fear. I also wanted to take charge of my prevention in the way HIV-positive people have managed to take charge of their treatment.
"Ironically I think that the gay community has almost replaced the fear of HIV with a fear of effective prevention. I think it's because AIDS was a trauma and trauma keeps you in a position of anxiety where you are unable to move…we feel so 'high risk' that we fear taking any action that might make that risk worse."
He did occasionally worry, he added, that PrEP might end up just replacing one anxiety with another – "Will we replace the fear of HIV with the fear of missing a dose?" – but he felt the urgency of the need outweighed this. "This does not help the young African American men who really are at huge risk of HIV. "
Besides, PrEP had had unexpected benefits: "One is that I've found, in having to challenge negative attitudes to PrEP on social media, that I've had to become an expert on treatment in the way HIV-positive people have had to be. I've always wanted to show solidarity with my HIV-positive friends and PrEP has enabled me to do so."