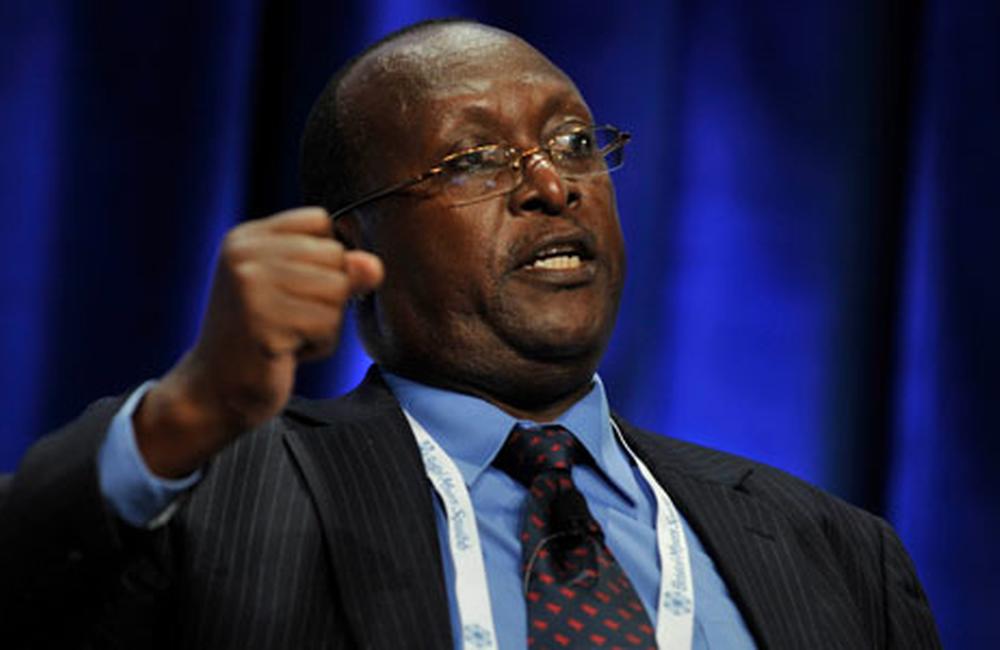 "If we cannot afford to treat people, are we going to be able to afford the carnage?" asked Peter Mugyenyi, Director of Uganda's Joint Clinical Research Centre, in a double session on the future of universal access at the International AIDS Conference in Vienna today.
Mugyenyi, a clinician who pioneered ART provision in Africa, focused on the remarkable healthcare advances that have been made since the introduction of public treatment programmes in the developing world.
He also unpacked the arguments that have been used in the past to justify denying treatment to developing world populations. Mugyenyi stated: "The first argument was that Africa can't do ART because the drugs require precision-timing and Africans have no watches. The second argument against treatment access was that Africa could not afford it, that even if ART was a glass of water, Africa could not afford it."
Mugyenyi described the "groundbreaking effect" that resulted from PEPFAR and the Global Fund investments into HIV treatment programmes in Africa. He recounted how at the start of Uganda's ART roll-out, the target was to initiate 5000 patients in the first year. Because of the flow of PEPFAR funding, the programme exceeded its treatment target and went on to initiate 28,000 patients in a single year.
Mugyenyi said that the financial support of PEPFAR and the Global Fund had "allowed Uganda and other countries to do what was described as impossible in Africa."
However, Mugyenyi also described how past arguments concerning the cost-effectiveness of ART had resurfaced: "Once again, we are facing some of those prospects which we faced in the mid-1990s. We are beginning to hear this language once more, that universal access is too expensive and that we can't do it."
Mugyenyi noted that, in order to address this: "We need commitment from our governments, from the international community, and from the leadership of rich countries. The emergency has not gone away. We have a financial crunch. AIDS, more than anything else, requires that resources be increased so that we can continue to solve the century's most devastating health problem."
The politics of health financing
Economist Nicoli Nattrass, from the University of Cape Town, explained that HIV funding had increased massively in the last few years, from less than  US$1 billion in 1999, to about $10 billion in 2007. Nattrass argued that the reasons for this were threefold: the focus on HIV as an issue of human security; the mobilisation of a transnational activist alliance; and the Bush administration's co-option of HIV treatment as part of its 'conservative care agenda'.
There is anecdotal evidence that people are being switched back to cheaper drugs like d4T. Paula Akugizibwe, AIDS and Rights Alliance for Southern Africa
Nattrass argued that donors were willing to make considerable commitments to HIV funding because, "We were in the middle of the longest boom in capitalism since the post-war period." She noted that in the current economic climate, "it's amazing that we've managed to keep AIDS funding at where it is, because the boom has burst."
Despite this, Nattrass stated firmly that "universal access is affordable". She praised UNAIDS' new initiative 'Treatment 2.0', "because it says we can do things smarter and better. Universal access needs to come from national governments, but the days of getting it funded from huge international initiatives are over."
The "backlash"
Nattrass described the current "backlash" against AIDS-specific funding: "There's a lot of criticism about foreign aid and aid for health. Questions are being asked about why developed countries are protecting foreign aid budgets when everything else is being cut."
Nattrass also spoke about the mismanagement of aid, which leads to donor "resistance". "If you want a dollar to go into the health of many developing nations, you have to spend $1.50." She spoke of the imperatives of greater accountability of funds at both national and local levels, explaining that: "Universal access requires universal support."
Despite evidence that shows that treatment programmes play a role in HIV prevention and health systems strengthening, donor commitments to funding HIV interventions are waning. Mugyenyi noted that this was leading to treatment interruptions in Uganda, which resulted in people on ART sharing their pills. He stated, "Stock-outs are a recipe for chaos and danger. When drugs supply is not sustained, adherence is compromised. The answer is not to take money from AIDS. The answer is that we need increased funding for health."
Mark Heywood, the Executive Director of a social justice organisation called Section 27, said that: "Funding universal access would not break the global bank. What we have done by pioneering and reviving the concept of universal access to treatment for HIV is to cut a path and re-establish a set of principles that should apply to all diseases. The bar should be raised in relation to all health conditions, not pulled back down again so that HIV can be as equally neglected as other diseases."
PEPFAR's 'nominal' increase
In the second session on the future of universal access, PEPFAR's reduction in funding commitments for HIV was again under the spotlight.
Dasha Ocheret, from the Eurasian Harm Reduction Network, echoed Peter Mugyenyi's concerns about the effects of drug stock-outs on patients.
"In Russia, there is a gap in treatment. This year, two thousand patients have had to stop treatment because they couldn't get ARVs. This number may be as big as 14,000 next year." Ocheret argued that Russia has enough resources to mount prevention and treatment programmes, but that the government lacks the necessary commitment. Ocheret noted that harm reduction interventions for intravenous drug users have also been neglected.
PEPFAR chief Eric Goosby responded: "The commitment that we have is a global commitment. One country is not going to be able to respond to all the needs on the planet, but rich countries need to respond more than poor countries. Countries most heavily burdened by infection must also play their part. It's a shared responsibility. We must increase our cry because of the increased expansion of that need. The need for treatment has continued to grow in many of the eastern European and central Asian nations unchecked... The US has struggled to increase its ability to respond to this ever-increasing burden of unmet need."
Stephen Lewis, co-founder of AIDS Free World, countered by explaining that the increase in PEPFAR's funding for ARVs is "nominal" in comparison to the US$50 billion that was promised for HIV financing during Obama's election campaign. Lewis described the gap between the talk by the US government and the action it has taken as "cavernous".
The Global Fund's replenishment imperative
Lewis also criticised the US government for its "low" contribution to the Global Fund. "Billions are available for stimulus packages and bailouts, but the tiny amount of $17 billion to replenish the Global Fund for three years is somehow unavailable," he argued.
Michel Kazatchkine, Executive Director of the Global Fund for AIDS, Tuberculosis and Malaria, echoed Lewis's concerns about the lack of financial support for the Global Fund's replenishment: "Universal access is not an elusive concept but something that we should be able to achieve. The Global Fund needs between $17 and 20 billion for its next replenishment. These are not irresponsible figures. These are not just estimates. These are based on extrapolation of what we know countries are capable of using in terms of scaling up their programmes… These are the requests from the countries, and they can demonstrate the feasibility of what they request."
When asked by Lewis about the "jeopardy" facing the Global Fund's replenishment, Kazatchkine explained that there was still time for donor countries to increase their contributions. The Global Fund Replenishment Conference in October and the United Nations Millennium Development Summit in November will provide opportunities for the Global Fund to canvass greater support from states. "We have time for advocacy after Vienna, we have time for pressure. Even if the EU parliament or donor states have already determined their budgets for the financial year 2011, that doesn't mean that leaders can't pledge for more in 2012/13."
The Lesotho Minister of Health, Mphu Ramatlapeng, explained that health ministers from the Southern African Development Community had recognised the Global Fund as the "most important vehicle" for the delivery of health resources in the region.
Referring to treatment stock-outs resulting from decreased funding for ART, Ramatlapeng said: "We are going to have resistant strains to the very drugs we have now… At current rates, it's going to be very difficult to enrol patients on second line. This whole scenario doesn't bode well for universal access." She called on PEPFAR to pledge more resources, and also on African governments to honour the targets of the Abuja Declaration to spend 15% of GDP on health. "This will give us respectability, and will show the world that we are doing something for our own people," she said.
Paula Akugizibwe, from the AIDS and Rights Alliance for Southern Africa, said that the pledges of wealthy states to health financing "don't mean anything without the resources". She argued that, of all of the HIV funding commitments made by the United States, European governments and African states, "None have translated into concrete action. States don't lack the means to achieve universal access, what they lack is the will. It's obvious that people are being turned away from clinics, including at PEPFAR-funded sites. There is anecdotal evidence that people are being switched back to cheaper drugs like d4T. We're taking steps backwards."