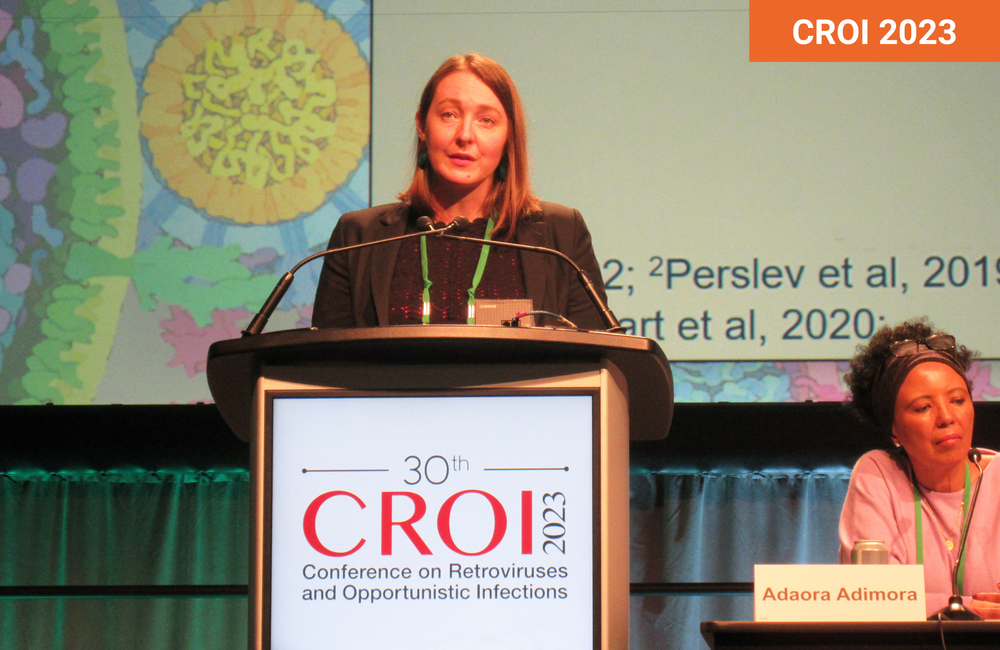 Doxycycline post-exposure prophylaxis (doxyPEP), which was found to be highly effective at preventing sexually transmitted infections (STIs) among gay men and transgender women, did not protect young cisgender women in Africa, researchers reported on Monday at the 30th Conference on Retroviruses and Opportunistic Infections (CROI 2023) in Seattle.
Possible explanations for this "stark contrast" include anatomical differences, variations in antibiotic resistance in the areas where the studies were conducted and suboptimal adherence, according to presenter Dr Jenell Stewart of the Hennepin Healthcare Research Institute in Minneapolis.
Bacterial STIs in women can lead to severe complications including pelvic inflammatory disease, chronic pain, infertility, pregnancy complications and increased susceptibility to HIV, so effective prevention interventions are urgently needed.
DoxyPEP involves taking a 200mg dose of the antibiotic doxycycline within 72 hours after condomless sex. As reported at the International AIDS Conference last summer, a study that enrolled men who have sex with men and transgender women in San Francisco and Seattle who were either living with HIV or taking HIV pre-exposure prophylaxis (PrEP) showed that doxycycline reduced new cases of bacterial STIs – chlamydia, gonorrhoea and syphilis – by more than 60% per quarter. Two French studies, including one also reported to CROI on Monday, have shown the strategy's efficacy with gay and bisexual men.
However, until now doxyPEP had not been tested with cisgender women. The dPEP Kenya trial evaluated it with young women in Kisumu, an area with high STI rates and a high prevalence of antibiotic-resistant gonorrhoea.
The trial, conducted from 2020 through 2022, enrolled 449 non-pregnant cisgender women aged 18 to 30 who were taking HIV PrEP. They were randomly assigned to take doxycycline after sex or receive standard care (quarterly STI testing and treatment after diagnosis). Each week, the women received text messages asking about the frequency of sex and doxycycline use, and they were tested for STIs quarterly.
The women had a median age of 24 and they had been on PrEP for a median of about seven months. About 60% were using hormonal contraception and 37% reported transactional sex. At baseline, 18% had a bacterial STI: about 14% chlamydia, about 4% gonorrhoea and less than 1% syphilis.
Overall, follow-up was good. Almost all follow-up visits were completed, and the weekly survey response rate was 81%. Eighty women became pregnant during the study, and doxycycline use was suspended during pregnancy.
STI rates were high during the study. The annual incidence was 27%, comparable to rates among men who have sex with men in high-income countries.
But doxycycline did not significantly reduce the risk of STIs, Stewart reported. Looking at all STIs, there were 50 new cases in the doxycycline group and 59 cases in the standard care group (p = 0.51). For chlamydia, there were 35 new cases in the PEP group and 50 cases in the standard care group (p = 0.16). For gonorrhoea, there were 19 and 12 cases in the two groups, respectively (p = 0.19). None of these differences met the threshold for statistical significance. The pattern was similar when accounting for time women did not take doxycycline during pregnancy. There was only one case of syphilis.
Doxycycline was generally safe and well tolerated, with no severe adverse reactions reported. There were no new cases of HIV in either group. Four women reported "social harms" related to doxyPEP use, including verbal or physical violence.
Stewart noted that endocervical tissue may differ from urethral, rectal and throat tissue in terms of drug levels. However, another study presented at the same session suggests this is not an adequate explanation.
Dr Richard Haaland of the US Centers for Disease Control and Prevention performed a pharmacokinetic analysis, measuring doxycycline concentrations in men and women at sites of STI exposure. Participants provided blood samples and mucosal swabs up to seven days after receiving a 200mg dose of oral doxycycline. In addition, rectal, vaginal and cervical biopsies and urethral swabs were collected 24 hours after dosing.
Doxycycline concentrations peaked sooner in vaginal compared with rectal secretions (8 versus 48 hours), but there were no differences in blood levels between men and women. Doxycycline concentrations in rectal, vaginal and cervical tissue stayed well above the minimum levels need to inhibit chlamydia and syphilis for three to four days, but for just two days for gonorrhoea. What's more, drug concentrations were higher in rectal compared with vaginal tissue.
Haaland said the lack of protection in the women's doxyPEP trial was "a really bleak finding", and he was surprised because his study did not suggest this would be the case based on biological differences. Also, Stewart noted that antibiotic treatment for STIs does not differ for men and women, so it would not be expected that using antibiotics for prevention would be biologically different.
With regard to resistance, while there have been no reported cases of antibiotic-resistant chlamydia worldwide, doxycycline-resistant gonorrhoea was very common in the cisgender women's study, much more so than in the study of gay men and trans women in the United States. In fact, 100% of gonorrhoea infections present at baseline in the women's study were resistant to doxycycline.
Although the trial was designed to maximise adherence, the women reported that their adherence was high but "imperfect", Stewart said. So it may be that doxycycline would protect women from STIs if they used it more regularly. The poor showing of doxyPEP in this study may resembles outcomes in oral HIV PrEP trials, which saw lower effectiveness among cisgender women compared with gay men and trans women largely due to suboptimal adherence. However, there were no new cases of HIV in this study, suggesting the women were using PrEP consistently.
Stewart said that the burden of STIs among women is large and growing, so effective prevention is urgently needed. She noted that stigma is a major issue regarding sexual health, STIs, HIV, and "it needs to be addressed if we're going to make progress in this area". Whether doxyPEP is the right intervention for cisgender women is "up in the air", she said, so we need to continue research on other interventions.
"The results from the study are deeply disappointing, and we are committed to understanding why doxycycline PEP did not work in this population and also determining the next steps for how to identify prevention tools that will work for and can be used by women", Professor Elizabeth Bukusi of the Kenya Medical Research Institute, a principal investigator for the dPEP Kenya trial, said in a Hennepin Healthcare news release.
References
Haaland R et al. Mucosal pharmacology of doxycycline for bacterial STI prevention in men and women. 30th Conference on Retroviruses and Opportunistic Infections, Seattle, abstract 118, 2023.
View the abstract on the conference website.
Stewart J et al. Doxycycline postexposure prophylaxis for prevention of STIs among cisgender women. 30th Conference on Retroviruses and Opportunistic Infections, Seattle, abstract 121, 2023.