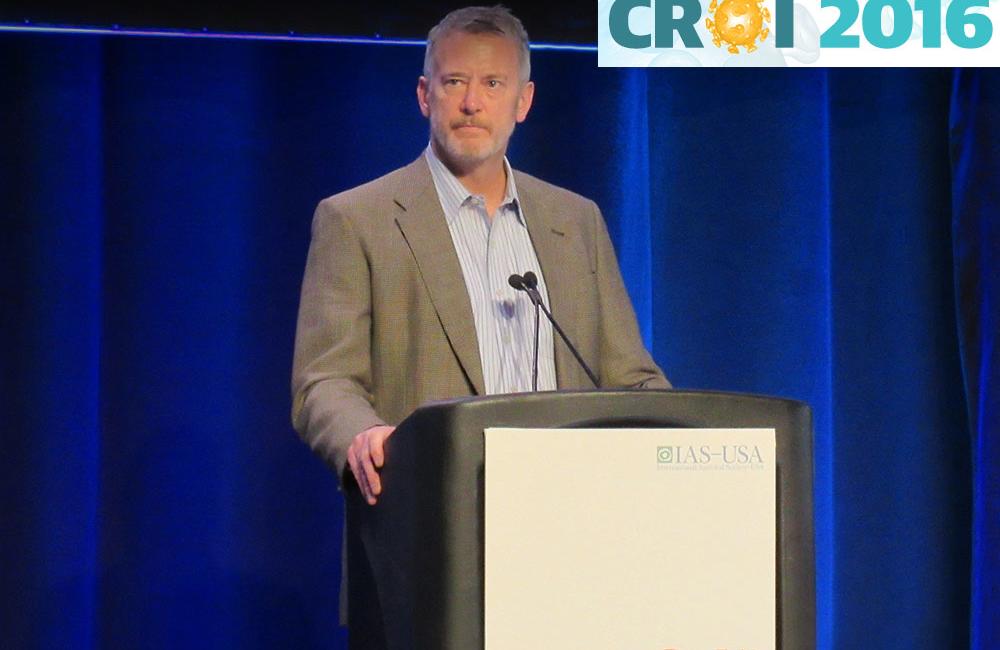 A fixed-dose coformulation of tenofovir alafenamide (TAF) and emtricitabine (FTC, Emtriva), combined with a variety of third antiretroviral agents, maintained undetectable viral load in people who switched from similar regimens containing the older tenofovir disoproxil fumarate (TDF), according to a study presented at the Conference on Retroviruses and Opportunistic Infections (CROI 2016) this week in Boston. The study also showed improvements in kidney function biomarkers and bone density gains in the group taking TAF/emtricitabine.
Gilead Sciences' tenofovir disoproxil fumarate (Viread) plus emtricitabine is one of the most widely used nucleoside/nucleotide reverse transcriptase inhibitor (NRTI) 'backbones' of antiretroviral therapy. These drugs make up the Truvada coformulation – used for both HIV treatment and pre-exposure prophylaxis (PrEP) – and are included in the single-tablet regimens Atripla, Eviplera or Complera, and Stribild. TDF is generally considered safe and well-tolerated, but it can cause modest bone loss and lead to kidney problems in susceptible individuals.
TAF is a new tenofovir pro-drug that delivers the active agent, tenofovir diphosphate, more efficiently to cells. TAF produces adequate intracellular drug levels with a 10-fold lower dose, which means about 90% lower drug concentrations in the blood plasma and less exposure for the kidneys, bones and other organs and tissues.
A single-tablet regimen containing TAF, emtricitabine, elvitegravir and the cobicistat booster (Genvoya) was recently approved in the US and is under regulatory review in Europe. Studies presented last year showed that people who switched from a similar coformulation containing TDF (Stribild) to the TAF-containing combination maintained viral suppression and saw improvements in kidney function and bone density.
Gilead has also requested approval of a dual coformulation of TAF/emtricitabine, which could be a successor to TDF/emtricitabine or Truvada. Joel Gallant from the Southwest Care Center in Santa Fe, New Mexico, presented findings from a phase 3 randomised clinical trial comparing TAF/emtricitabine versus TDF/emtricitabine when used in triple antiretroviral regimens with various third drugs.
This analysis included 663 participants with undetectable HIV viral load (<50 copies/ml) at study entry. About 85% were men, 75% were white, 20% were black, the median age was 49 years and the median baseline CD4 cell count was approximately 650 cells/mm3. At baseline they had near-normal kidney function with an estimated GFR (eGFR) of at least 50 and a median of 100 ml/min.
Study participants were randomly assigned to either switch to TAF/emtricitabine or remain on TDF/emtricitabine, both taken once daily, while staying on the same third drug. Just under half were using boosted protease inhibitors while the rest were on unboosted third agents including NNRTIs and integrase inhibitors. The TAF dose was 10mg if taken with boosted protease inhibitors or 25mg with unboosted third agents; the TDF dose was 300mg.
Participants were followed for 96 weeks and the primary endpoint was continued viral suppression (HIV RNA <50 copies/ml) at 48 weeks.
At week 48, most people in both study arms maintained undetectable viral load – 94% in the TAF/emtricitabine group and 93% in the TDF/emtricitabine group – demonstrating the non-inferiority of the TAF-containing combination.
The likelihood of continued viral suppression did not vary significantly according to age, sex or race/ethnicity. Treatment response was also similar regardless of whether participants used a boosted protease inhibitor or an unboosted third agent (92 vs 93%, respectively).
Only a small number of participants experienced virological failure (0.3 and 1.5%, respectively). Among the few people who underwent resistance testing, the emergence of resistance mutations was rare – a single M184V seen in a TAF/emtricitabine recipient with poor adherence.
Treatment was generally safe and well-tolerated; 6% in each arm discontinued the study for any reason. Drug-related serious adverse events were rare, with none occurring in more than one person, and few people stopped treatment due to adverse events (7 vs 3, respectively).
Kidney function improved in people who switched to TAF/emtricitabine. Median eGFR improved by +8.4 ml/min in the TAF/emtricitabine group and by +2.8 ml/ min in the TDF/emtricitabine group, a statistically significant difference. Proteinuria (protein in the urine) and other renal biomarkers improved in the TAF/emtricitabine group but worsened in the TDF/emtricitabine group. A few people had glycosuria (sugar in the urine), but most were diabetic and this was not considered related to kidney damage. There were no cases of proximal renal tubulopathy or Fanconi syndrome, types of serious kidney damage, in either group.
Bone mineral density also improved in people who switched to TAF/emtricitabine. Bone density rose by +1.1% at the hip and by +1.5% at the spine in the TAF/emtricitabine arm, while falling by -0.2 at both sites in the TDF/emtricitabine arm; these differences were also significant. More people who switched saw at least a 3% improvement in bone density over 48 weeks: 17% and 30% at the hip and spine in the TAF/emtricitabine arm compared to 9% and 14% in the TDF/emtricitabine group. Dr Gallant said that while these bone density changes are relatively small, they could have more clinical significance in older people already experiencing bone loss.
Tenofovir is known to lower blood lipids, and because it reaches lower levels in the blood this effect is not as great with TAF. People taking TAF/emtricitabine had higher total and LDL cholesterol and triglyceride levels than those on TDF/emtricitabine, and their total-to-HDL ratio rose slightly, but there was no difference in the proportion who started lipid-lowering therapy (4%). Dr Gallant said the clinical significance of these small differences is "questionable".
"[TAF/emtricitabine] was non-inferior to [TDF/emtricitabine] in maintaining virologic suppression in combination with a variety of third agents" and showed "significant improvements in multiple measures of renal and bone safety after switching from [TDF/emtricitabine] to [TAF/emtricitabine]," the researchers concluded. "These data support that [TAF/emtricitabine] is an important NRTI backbone for antiretroviral treatment with safety benefits over [TDF/emtricitabine]."
Gilead is developing two other TAF-containing single-tablet regimens, one with the NNRTI rilpivirine and the other with the HIV protease inhibitor darunavir. Stand-alone TAF is being studied as a treatment for hepatitis B. The company is also studying TAF in combination with GS-9883, an experimental integrase inhibitor that does not require boosting.
Given the kidney and bone benefits of TAF/emtricitabine, some have suggested that it could potentially be a good alternative to Truvada for PrEP, but lower tenofovir levels in body tissues might be a concern. Data from animal and early human studies of TAF for HIV prevention are being presented this week at CROI. Investigators for these studies stress that TAF should not be used as PrEP until clinical trials are complete.
References
Gallant JE et al. Switching tenofovir DF to tenofovir alafenamide in virologically suppressed adults. Conference on Retroviruses and Opportunistic Infections (CROI), Boston, abstract 29, 2016.
View the abstract on the conference website.