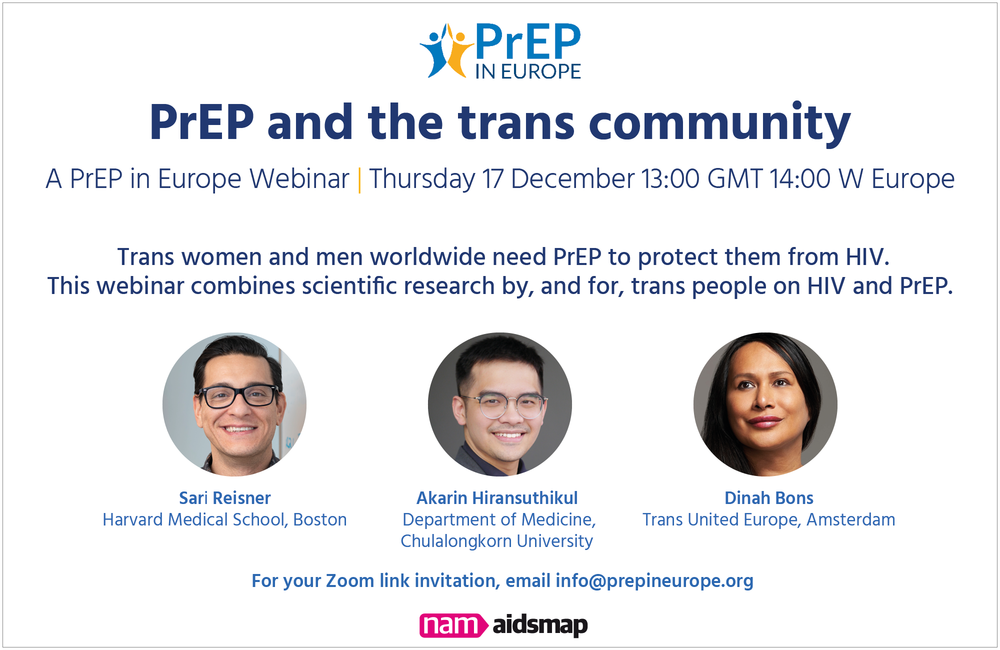 On Thursday 17 December (13:00 GMT/14:00 W Europe) PrEP in Europe is holding a webinar on PrEP and the trans community.
Trans women and men worldwide need PrEP to protect them from HIV. This webinar combines scientific research by, and for, trans people on HIV and PrEP, and the recommendations from PrEP in Europe's recent meeting for European trans advocates.
The webinar will include presentations by:
Dr Sari Reisner, Harvard Medical School, Boston
Dr Akarin Hiransuthikul, Department of Medicine, Chulalongkorn University, Bangkok
Dinah Bons, Trans United Europe, Amsterdam.
To get your Zoom invite to the webinar, email info@prepineurope.org
EDIT 16/12: Registration for the webinar is now closed. If you've missed out joining the webinar, the recording will be available on the PrEP in Europe YouTube page on Monday 21 December.
EDIT 6/1: You can now watch the recorded webinar on YouTube.