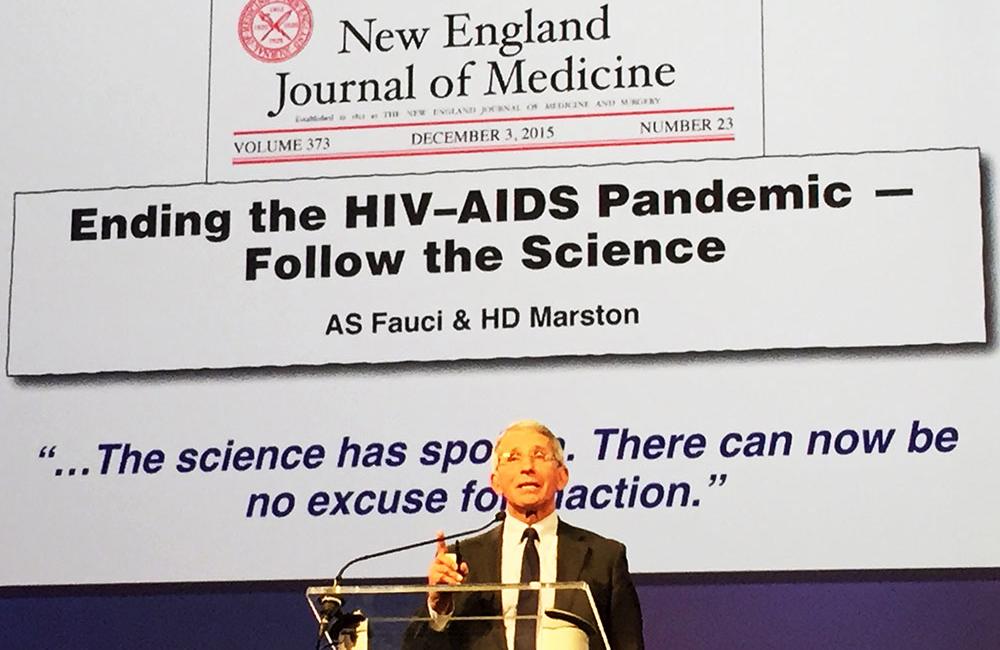 Pre-exposure prophylaxis (PrEP), integration of prevention and treatment services, and initiatives to reach heavily affected but underserved groups are among the highlights of the 2015 National HIV Prevention Conference taking place this week in Atlanta. While the latest US epidemiological data show that HIV infections are on the decline overall, significant disparities have kept some groups from taking full advantage of recent prevention advances.
The conference, organised by the US Centers for Disease Control and Prevention (CDC), brings together more than 3000 public health experts, medical providers, front-line prevention workers and people living with HIV to discuss the latest advances in HIV prevention science and implementation.
In his opening plenary talk on Sunday, Eugene McCray, director of CDC's Division of HIV/AIDS Prevention, presented new data showing that HIV diagnoses have declined by 19% overall during the past decade, and that even the group with the highest incidence rate – black gay and bisexual men – has seen new diagnoses level off in the past few years.
But substantial disparities continue to hamper response to the HIV epidemic, largely related to socioeconomic status, geographical location, and stigma and discrimination.
"It is the best of times and the worst of times," said Jonathan Mermin, director of CDC's National Center for HIV/AIDS, Viral Hepatitis, STD and TB Prevention, who opened the conference on Sunday and gave a plenary talk on Monday about the CDC's high-impact HIV prevention initiative.
Anthony Fauci, director of the National Institute of Allergy and Infectious Diseases, also spoke at the opening session, offering an overview of the science underlying biomedical HIV prevention. Fauci highlighted the SMART and START trials, which demonstrated that beginning antiretroviral therapy soon after HIV diagnosis protects the health of people living with HIV; HPTN 052, which showed that prompt treatment dramatically lowers the risk of HIV transmission; and the growing body of evidence showing that Truvada (tenofovir/emtricitabine) PrEP works if taken regularly.
"The science has spoken," Fauci concluded. "There can now be no excuse for inaction."
New CDC campaigns
The CDC used the conference to launch a new national HIV testing campaign – Doing It – that features a diverse array of people from different communities describing why testing is important to them.
"Knowledge about HIV status is empowering," McCray said at Monday's launch event. "When people with HIV learn their status, they take steps to protect themselves and their partners."
The CDC also released a beta version of a new online risk reduction tool to help people assess and lower their HIV risk. The interactive tool lets users compare the risks of different sexual activities and see how various prevention methods – such as condoms, PrEP, or HIV treatment for people living with HIV – can affect their level of protection.
"Both of these efforts are designed to help people take control of their health, make informed choices, and reduce their risk for getting and transmitting HIV," Mermin said. "With more effective prevention options than ever before, it is essential that we provide accurate information. Now people can choose the best strategies for protecting themselves and their partners from HIV."
Addressing disparities
The many sessions and workshops at the conference focused on the various disparities that sustain the HIV epidemic and interventions to help overcome them.
Speaking at the opening session, Mindy Fullilove of Columbia University Mailman School of Public Health discussed some of the social determinants of health that can influence people's choices about HIV prevention and treatment. Among these, she said, is gentrification and displacement in some of the cities most heavily impacted by HIV. While San Francisco and New York City are often touted for their successes in curbing their local HIV epidemics, they are losing their most vulnerable populations.
A panel discussion on Sunday looked at the perspectives and needs of people living with HIV, including youth, long-term survivors, and transgender people. Bamby Salcedo of the TransLatin@ Coalition drew attention to the more than 20 transgender women who have been killed this year, and called on government officials, community-based organisations, the pharmaceutical industry and others to make commitments to address the needs of trans women and men.
A group of advocates took the stage to condemn the exclusion of sex workers from the conference and from the federal government's HIV response. The audience expressed their solidarity by holding up signs depicting a red umbrella, the symbol of the international sex workers' rights movement.
A "counter conference" organised by the People's Mobilization on the National HIV/AIDS Strategy – a coalition of advocacy groups including the HIV Prevention Justice Alliance, Drug Policy Alliance, SERO Project, Transgender Law Center and Treatment Action Group – focused in more depth on groups that are heavily affected by the HIV epidemic but have not fully benefitted from advances in prevention and treatment advances.
Following Mermin's talk on Monday, a panel of representatives from government health departments and community-based organisations discussed high-impact prevention, which aims to focus resources on the most effective interventions and the most heavily affected groups.
"We must scale up PrEP, treatment as prevention, and sexually transmitted disease testing and treatment," said Murray Penner of NASTAD. "We will not be successful if we cannot expand access to medications to everyone who needs them…We must reform broken policies, end criminalization of people living with HIV, and end the federal ban on [funding for] syringe exchange."
Several sessions looked at the HIV epidemic among people who inject drugs, which has received renewed attention following an outbreak of HIV and hepatitis C infections among opiate users in rural Indiana. PrEP was another key topic, with several sessions looking at implementation in specialty clinics and as part of routine clinical care. (Syringe exchange and PrEP presentations at the conference will be covered in more detail in forthcoming reports.)
References
National HIV Prevention Conference. Atlanta, 6-9 December 2015.
CDC. New CDC Efforts Offer Individuals Vital Information to Reduce Personal HIV Risk. Press release, 7 December 2015.