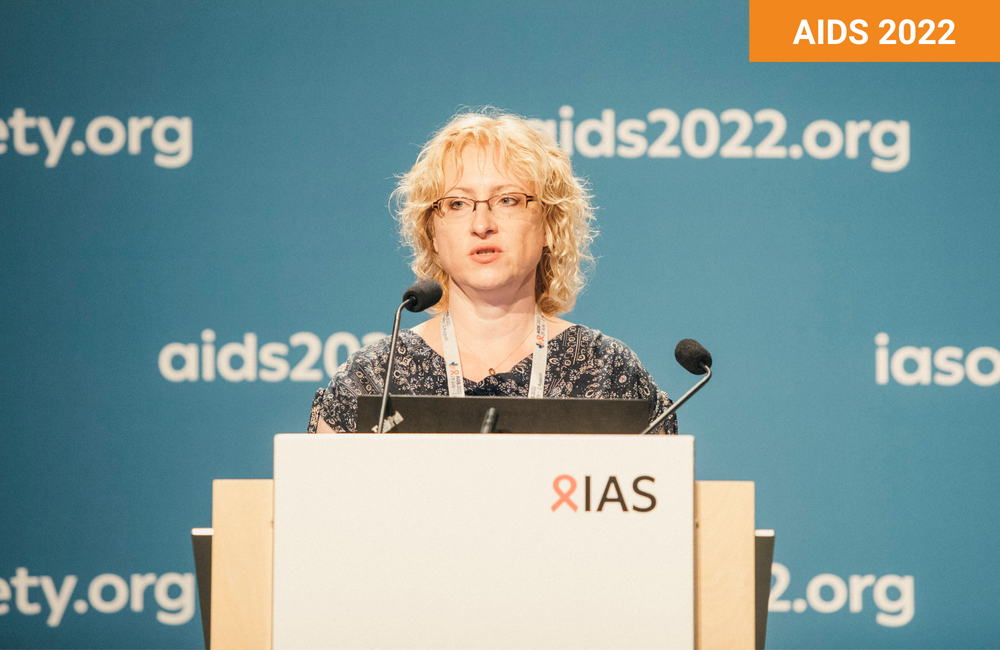 Countries receiving Ukrainian refugees acted quickly to provide access to health care free-of-charge, including HIV treatment, to refugees fleeing the 24 February 2022 invasion of Ukraine by Russia, according to research presented at the 24th International AIDS Conference (AIDS 2022) in Montreal last week. However, concerns are increasing about an impending mental health crisis as refugees face trauma and ongoing uncertainty about the prospect of returning home or seeing their loved ones again.
The Euroguidelines in Central and Eastern Europe Network Group conducted an online survey in March 2022 with its members – consisting of 47 HIV and infectious disease experts in 24 countries. The survey was carried out to better understand the war's impact on the continuum of HIV care for displaced people and on national HIV programmes, especially in countries in central and eastern Europe.
Twenty-two members in 14 countries (Bulgaria, Croatia, Czech Republic, Estonia, Georgia, Greece, Hungary, Latvia, Lithuania, Malta, Poland, Republic of Moldova, Romania, Slovakia) reported that they were receiving Ukrainian refugees at the time of the survey. The majority (64%) of respondents stated that they were registering fewer than 10 refugees a week at their clinics, although Dr Justyna Kowalska, presenting, explained that registrations have steadily grown over subsequent months as refugees have become more aware of the services available to them.
Notably, most participants (91%) reported that they had no or very few non-Ukrainian refugees reporting to their clinics. While this may partly reflect low HIV prevalence in countries like Afghanistan and Syria, it is also likely due to the contrasting and xenophobic approach that many European countries have adopted towards refugees from the Middle East, Africa, and Asia.
The survey found that central and eastern European countries receiving Ukrainian refugees implemented prompt measurements to provide continuity of HIV care including universal healthcare insurance (73% of respondents), waiving most administrative requirements for accessing HIV treatment (73%), and providing same-day doctor's consultations (55%) and antiretroviral therapy (ART) dispensing (86%).
Barriers to care identified by group members included lack of medical documentation (77%), language barrier due to a shortage of translators (64%) and having no information on the treatment regimen that the patient was previously receiving (45%).
When no documentation confirming a patient's HIV status was available, 59% of respondents stated that a written or spoken declaration from the patient was sufficient for providing ART. The rest (41%) would require the patient to undergo an HIV test.
The World Health Organization (WHO) recommends that, wherever possible, Ukrainian refugees should receive the same treatment regimen they received at home, which for the vast majority is a dolutegravir-based regimen. While nearly all respondents (86%) stated that dolutegravir (Tivicay) was available in their country without restrictions, an even larger proportion (96%) said that generic dolutegravir was not available. Nevertheless, 64% of respondents stated they had adopted a treatment strategy in line with WHO guidelines, while 36% said they would switch to a regimen available in their national programme. The most common treatment regimen prescribed was dolutegravir combined with tenofovir disoproxil fumarate and emtricitabine (Truvada).
Only a minority of respondents (18%) identified psychological trauma experienced by patients as a barrier for engaging them in HIV care. However, in a media roundtable about the impact of the Russian invasion of Ukraine, worsening mental health was highlighted as an important and growing issue for Ukrainians at home and abroad. Former president of Poland and chair of the newly established Eastern and Central European and Central Asian Commission on Drug Policy, Aleksandr Kwaśniewski, highlighted that along with the trauma of war, refugees are now facing the mental strain of uncertainty surrounding the conflict: "Refugees have no idea how long they will be staying in their host countries, whether they will see their families, husbands, and partners again."
As the war drags on and countries globally face inflation and economic recession, there is also the prospect that support for Ukrainian refugees in host countries will begin to wane. Already some political parties in Bulgaria and Slovakia are criticising support for Ukrainian refugees. Governmental support for the integration of refugees will be crucial if the success of the early response to Ukrainian refugees is to be maintained.
Overall, the data presented at AIDS 2022 show that removing barriers to care has had a real impact on continuity of HIV treatment amongst refugees – setting out a blueprint for supporting the health of all those fleeing conflict and other dangers to life. They also highlight barriers which should inform the refugee response, including increased provision of interpreters, mental health support, and improving the capacity of national HIV programmes.
"The major issue now is making the shift to longer-term care such as TB screening and treatment, and gynaecological and reproductive health care for women," Dr Kowalska said. "This will need funding and staff, and it is important that health systems are properly supported so they are not overwhelmed."
References
Kowalska JD et al. Preliminary report on the provision of HIV care to war refugees living with HIV who are migrating from Ukraine - data from ECEE Network Group. 24th International AIDS Conference, Montreal, abstract OALBF0103, 2022.