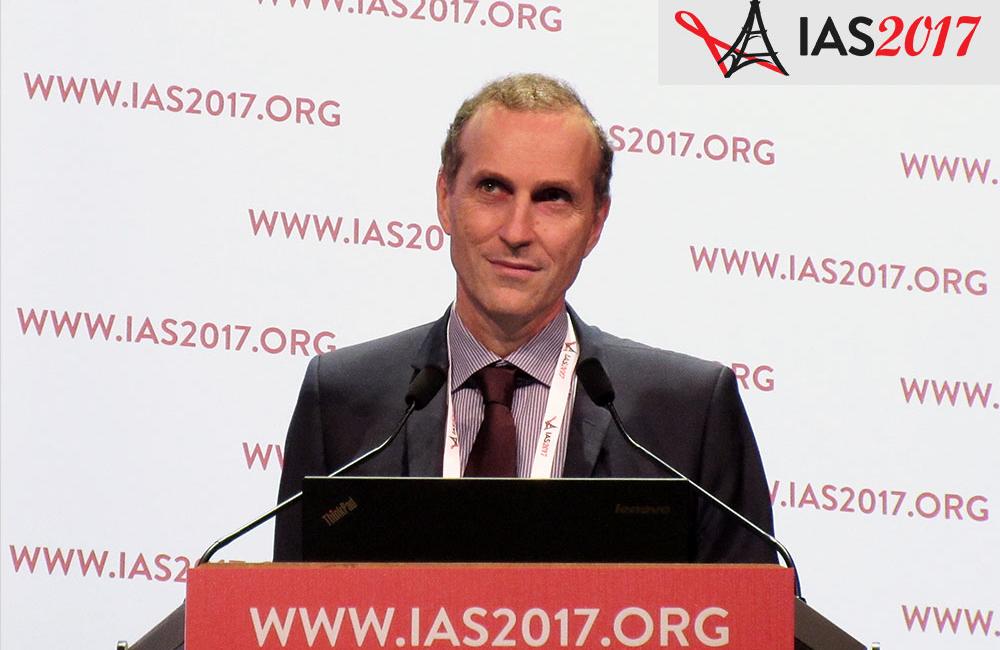 The first once-daily single-tablet regimen containing a protease inhibitor maintained viral suppression in almost everyone who switched after achieving undetectable HIV RNA on a multi-pill regimen, according to a report at the 9th International AIDS Society Conference on HIV Science (IAS 2017) last week in Paris, France.
Recommended antiretroviral therapy (ART) for first-line HIV treatment often involves single-tablet regimens that are taken as one pill, once daily. Taking fewer pills can improve adherence, but there are fewer single-pill options for second-line therapy. Many treatment-experienced people who have developed drug resistance may require a protease inhibitor, a drug class with potent and durable antiviral activity and a high barrier to resistance.
Jean-Michel Molina of the University of Paris reported results from the EMERALD study, a phase 3 clinical trial evaluating a single-tablet regimen – dubbed D/C/F/TAF – containing the protease inhibitor darunavir (Prezista), cobicistat as a booster, and emtricitabine and tenofovir alafenamide (TAF) as a nucleoside reverse transcriptase inhibitor (NRTI) backbone.
The single-tablet regimen has been recommended for approval by the scientific committee of the European Medicines Agency and will be marketed as Symtuza in the European Union after formal marketing approval by the European Commission later this year.
EMERALD enrolled 1141 participants in the UK, Europe and the US. More than 80% were men, 75% were white and the median age was 46 years. They had had HIV for a median of 9 years and the median baseline CD4 count was approximately 630 cells/mm3. They had normal kidney function at baseline, with an estimated glomerular filtration rate (eGFR) averaging around 107.
Participants were required to have had a viral load below 50 copies/ml at for at least two months using a boosted protease inhibitor plus emtricitabine and the older tenofovir disoproxil fumarate (TDF). For just over 40% this was their first ART regimen. Most (about 70%) were already on boosted darunavir, 22% were on boosted atazanavir (Reyataz) and 8% were on lopinavir/ritonavir (Kaletra). About 15% were already using cobicistat, rather than ritonavir, as their booster. About 15% had a history of prior virological failure, but they could not have prior darunavir failure or evidence of darunavir resistance mutations.
Participants in this open-label study were randomly assigned to either receive the new darunavir single-tablet regimen or stay on their current regimen for 48 weeks. Molina presented 24-week interim results. After the 48-week primary endpoint, all participants will continue on the combination pill through 96 weeks.
D/C/F/TAF was highly effective: 96% of participants who switched maintained undetectable viral load, matching the proportion who did so on their existing regimen. Virological rebound was rare in both study arms (1.8 vs 2.1%, respectively). Most rebounders regained viral suppression without changing therapy, and there were no confirmed rebounds above 200 copies/ml or treatment discontinuations due to virological failure. Among the four people who underwent genotypic testing (two in each arm), none showed evidence of primary protease inhibitor or NRTI resistance mutations.
Treatment was generally safe and well tolerated. There were few drug-related grade 3-4 adverse events (1.2% in the D/C/F/TAF arm and 0.5% in the continuation arm) or early discontinuations due to adverse events (1.3 vs 1.1%, respectively). The most common adverse events in both groups were nasopharyngitis (nose and throat inflammation), upper respiratory tract infections and vitamin D deficiency.
The researchers focused on kidney and bone side-effects, as TAF is easier on the kidneys and bones than TDF. Estimated GFR fell a bit more in the D/C/F/TAF group than in the continued therapy group. However, Molina explained that cobicistat has a known inhibitory effect on kidney tubule secretion of creatinine, which leads to a decrease in estimated GFR but has no effect on "real GFR". When GFR was measured using a different method, it rose slightly in the D/C/F/TAF arm while declining by about 1% in the continued therapy arm.
Bone mineral density at the hip and spine increased slightly in the D/C/F/TAF arm (by 0.6 and 1.2%, respectively), while falling by an even smaller amount in the continuation arm (-0.3% at both sites).
Based on these findings, the researchers concluded, "D/C/F/TAF combines the safety advantages of TAF and darunavir, with the known efficacy and high genetic barrier to resistance of darunavir, in a single-tablet regimen."
References
Molina J et al. Efficacy and safety of switching from boosted-protease inhibitor plus emtricitabine/tenofovir disoproxil fumarate regimens to the single-tablet regimen of darunavir/cobicistat/emtricitabine/tenofovir alafenamide (D/C/F/TAF) in virologically-suppressed, HIV-1-infected adults through 24 weeks: EMERALD study. 9th International AIDS Society Conference on HIV Science, Paris, abstract TUAB0101, July 2017.
View the abstract on the conference website.
Download the presentation slides from the conference website.