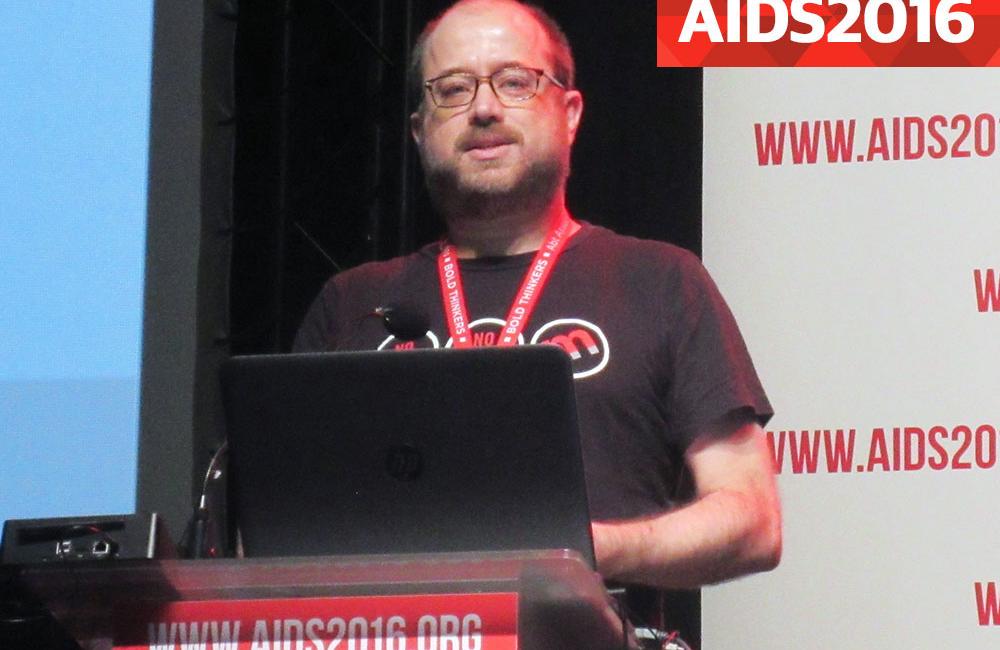 A community-based sexual health clinic in San Francisco has offered nurse-led pre-exposure prophylaxis (PrEP) services to more than 1200 clients and has seen no HIV infections to date, according to a presentation last month at the 21st International AIDS Conference (AIDS 2016) in Durban, South Africa.
Despite its relatively small size, San Francisco has been a leader in PrEP adoption. The city was a study site for the pivotal iPrEx trial of daily Truvada (tenofovir/emtricitabine) for HIV prevention and its Department of Public Health conducted one of the first PrEP demonstration projects. A recent informal survey of major PrEP providers in the city put the cumulative number of users at more than 6000, including over 1000 at the San Francisco AIDS Foundation's Magnet sexual health clinic at Strut and 1800 at Kaiser Permanente San Francisco.
Pierre-Cedric Crouch, director of nursing at Strut, described their programme and outcomes to date at an AIDS 2016 session on PrEP implementation.
The Strut health and wellness centre, based in the Castro neighbourhood, provides a range of services for HIV-positive and HIV-negative gay, bi and transgender men, including Magnet's sexual health services, the Stonewall Project's mental health and substance use services, and a variety of community engagement programmes.
Magnet's PrEP Health Programme was launched in November 2014. It offers education, counselling and medical evaluation to determine if Truvada PrEP is appropriate, and follow-up monitoring for those who start. Other sexual health services include rapid HIV testing, screening and treatment for sexually transmitted infections (STIs) and routine vaccinations.
Care is led by nurses – nurse practitioners do the initial medical evaluation and RNs handle follow-up monitoring – and a benefits 'navigator' helps clients figure out how to pay for Truvada through private insurance, public coverage such as Medicaid or other sources.
"We wanted to overcome barriers and make it easy," Nurse Crouch said, noting that the programme strives to provide same-day PrEP within 90 minutes. Of the 1252 people screened, he added, "95% walked out with a prescription."
A total of 1252 men had been screened for PrEP at the time of the data analysis, including three transgender men. The average age was about 35 years, with a range of 18 to 72. A majority (55%) of clients were white, followed by Latino (25%), Asian/Pacific Islander (12%) and black (4%). For comparison purposes, San Francisco's 2010 population was 42% white, 34% Asian, 15% Latino and 6% black, but proportions of new HIV infections in 2015 were 40% white, 26% Latino, 17% black and 14% Asian.
The most common reasons for starting PrEP were condomless sex (93%) and being in a monogamous relationship with an HIV-positive partner (3.8%); 3.6% of those screened were deemed to be at low risk for HIV. Clients reported a mean of 17 and a median of 10 sexual partners during the past year.
No new HIV infections have occurred among clients of the PrEP Health Programme over nearly a year and a half of follow-up, Nurse Crouch reported. In comparison, the sexual health clinic diagnosed 82 new infections among men not enrolled in the PrEP programme during the same time period.
The programme has seen high retention rates, which have remained stable – or even risen slightly– over time. Programme retention, defined as attending all clinic visits, was 81% at 1 month after enrolment, 79% at 4 months, 77% at 10 months and 84% at 16 months (though only a small number so far have been enrolled that long).
Adherence to PrEP has also been also high and stable, and did not drop off over time as seen in some PrEP demonstration programmes. Ninety-five per cent at 1 month, 91% at 4 and 10 months, and 100% at 16 months reported that they missed three or fewer doses over the last seven days – the level of adherence needed to ensure a high degree of protection against HIV infection.
About 20% of clients were diagnosed with STIs at enrolment, including 3% with syphilis, 4% with rectal infections and 14% with urethral or throat infections or treatment for STI exposure. The proportion testing positive for STIs generally declined a bit at subsequent visits – to around 16% – but crept up again among the small number of men who made it to 16 months of follow-up.
At their initial visit most men – 93% – said they had condomless sex. The largest proportion of men reported no change in the amount of condomless sex they had after starting PrEP, but the percentage reporting more condomless sex rose over time. After 1 month on PrEP 61% said they had about the same amount of condomless sex, 16% said they had more and 12% said they had less. By 4 months, 52% were reporting about the same, 30% reported more and 12% reported less. Among the men followed through 16 months, the corresponding proportions were 38%, 48% and 5%.
"Community based organizations can step up to deliver PrEP," Nurse Crouch concluded. "PrEP helps people build better relationships with their positive partners – HIV status doesn't matter anymore when it comes to love and dating."