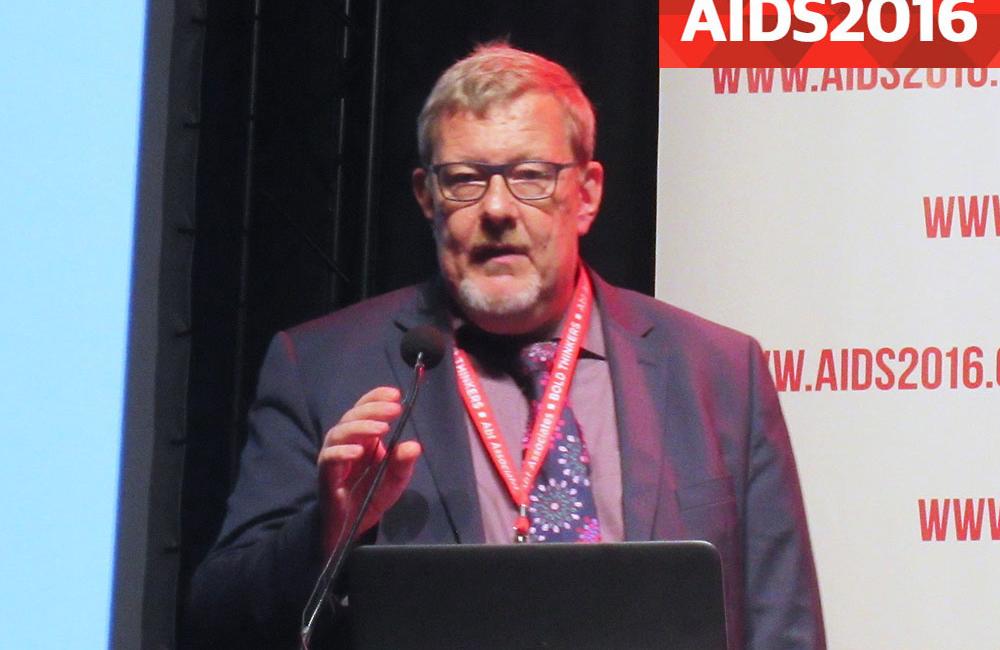 AbbVie's paritaprevir-based 3D regimen for hepatitis C virus (HCV) genotype 1 and 2D regimen for genotype 4 were shown to be highly effective and well tolerated for HIV-positive people with HCV co-infection in the TURQUOISE-I trial, according to a report at the 21st International AIDS Conference (AIDS 2016) last month in Durban, South Africa.
New direct-acting antivirals (DAAs) have brought about a revolution in hepatitis C treatment, offering oral regimens that are simpler, better tolerated and much more effective than the old interferon-based therapy. Unlike interferon, the DAAs work as well for HIV-positive as for HIV-negative people, although people with HIV/HCV co-infection need to exercise caution about potential drug-drug interactions with antiretrovirals.
Jürgen Rockstroh of the University of Bonn in Germany reported findings from the TURQUOISE-I trial part 2, a phase 3 study that assessed the safety and efficacy of AbbVie's triple and dual DAA regimens – commonly referred to as '3D' and '2D' – taken with or without ribavirin for 12 or 24 weeks for people with HIV/HCV co-infection with HCV genotype 1 or 4.
The regimen dubbed '3D' during its development consists of the HCV NS3/4A protease inhibitor paritaprevir, a ritonavir booster and the NS5A inhibitor ombitasvir in a once-daily co-formulation, taken with the twice-daily HCV NS5B polymerase inhibitor dasabuvir. Dasabuvir is not effective against genotype 4, so for this indication the paritaprevir/ritonavir/ombitasvir co-formulation is used alone, known as the '2D' regimen.
In Europe the three-drug co-formulation is sold as Viekirax and the dasabuvir component as Exviera. In the US the combination is packaged together and sold as Viekira Pak and paritaprevir/ritonavir/ombitasvir alone as Technivie; the US Food and Drug Administration last week also approved these components in a once-daily co-formulation called Viekira XR.
The analysis presented at AIDS 2016 included 46 people who had chronic hepatitis C with HCV subtype 1b, 154 participants with harder-to-treat subtype 1a and 28 with genotype 4. Most (78% of the genotype 1 group and 93% of the genotype 4 group) were men, nearly 90% were white, about 10% were black and the median age was approximately 50 years. About a third had prior experience with interferon-based therapy but not other DAAs. The genotype 1 group included 12% with liver cirrhosis, but the genotype 4 group excluded people with cirrhosis.
Regarding HIV status, all were on antiretroviral therapy (ART) and almost all had undetectable HIV RNA (< 40 copies/ml). Median CD4 counts were 614 and 731 cells/mm3, respectively, in the genotype 1 and 4 groups. They were taking ART regimens that included raltegravir (Isentress), dolutegravir (Tivicay), ritonavir-boosted darunavir (Prezista) or boosted atazanavir (Reyataz). Those using a boosted HIV drug stopped the ritonavir component of their ART regimen since the paritaprevir coformulation already contains a boosting dose of ritonavir.
Participants with HCV genotype 1 were randomly assigned to receive the 3D regimen with or without ribavirin for either 12 or 24 weeks. All individuals with genotype 4 were treated with the 2D combination (no dasabuvir) plus ribavirin for 12 weeks. For this report participants were pooled into two groups based on genotype, regardless of cirrhosis status, ribavirin use or treatment duration.
At 12 weeks after the end of treatment 97% of people with genotype 1 and 96% with genotype 4 achieved sustained virological response (SVR12), or continued undetectable HCV viral load, in an intent-to-treat analysis. In a modified analysis that omitted participants who were missing data or stopped treatment for reasons other than virological failure, the corresponding cure rates were 98% and 100%.
One person with cirrhosis with genotype 1b who was a prior null responder experienced HCV rebound while on therapy despite good adherence; this person was found to have several drug resistance associated substitutions at the time of failure. Two people without cirrhosis with genotype 1a who were treatment-naive relapsed after stopping treatment, neither of whom had resistance-associated substitutions; phylogenetic analysis indicated that one of these was likely a case of reinfection.
Treatment with the 3D and 2D regimens was generally safe and well tolerated. There were ten serious adverse events, but no cases of liver decompensation or discontinuations due to adverse events; a serious case of anxiety and depression syndrome was deemed possibly related to the study drugs. Laboratory abnormalities included a severe ALT elevation and 28 cases of elevated bilirubin, almost all of whom were taking atazanavir.
The most common adverse events were fatigue, nausea, diarrhoea, headache, insomnia and pruritus (itching). There were 15 cases of moderate – but no severe – anaemia, all but one in people taking ribavirin; about 10% of ribavirin recipients modified their dose due to falling haemoglobin levels.
Ten patients (4%) experienced HIV rebound during hepatitis C treatment, but in all cases this was intermittent and below 200 copies/ml.
"These results suggest that HIV-1 co-infected patients on certain stable ART regimens can be treated safely with [ombitasvir/paritaprevir/ritonavir +/- dasabuvir +/- ribavirin], and there were no HIV-1 virological failures," the investigators concluded.
Prof. Rockstroh noted that it was always a struggle in clinical trials like this to determine if a rise in HCV viral load after completing treatment is due to late relapse or reinfection. This is often evident if the renewed infection has a different genotype, but it would be difficult to distinguish if someone is reinfected with the same genotype.