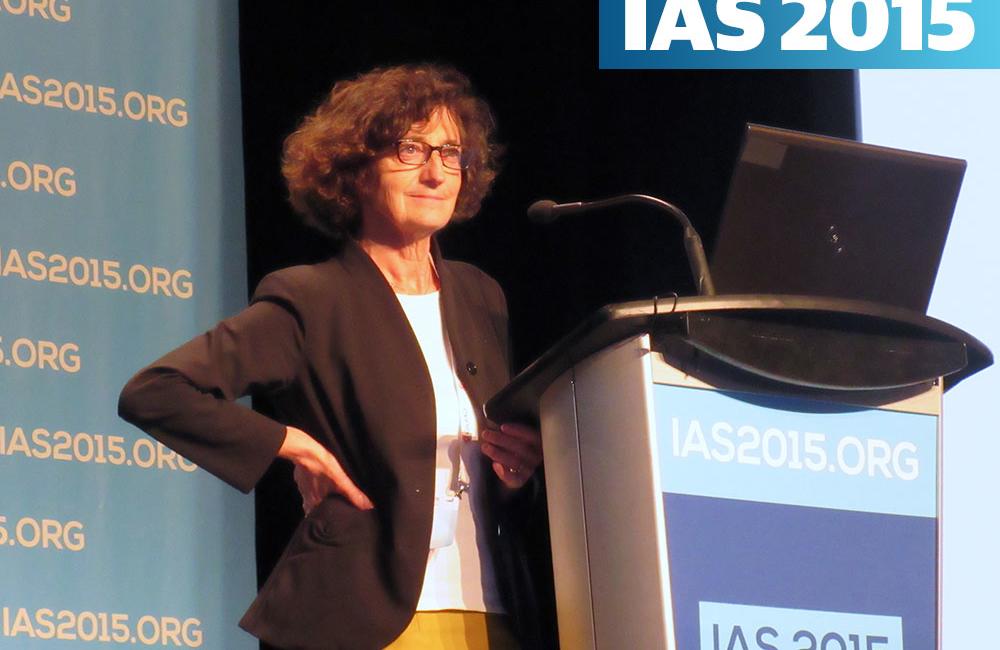 Interferon-free treatment using daclatasvir (Daklinza) and sofosbuvir (Sovaldi), with or without ribavirin, was well-tolerated and produced sustained virological response rates of 95-100% for people with HIV and HCV co-infection and advanced liver disease, according to a presentation at the Eighth International AIDS Society Conference on HIV Pathogenesis, Treatment and Prevention (IAS 2015) last week in Vancouver, Canada.
These results, from a French programme that provides new therapies to people in need of treatment prior to regulatory approval, demonstrate that outcomes in the 'real world' can be as good as those seen in clinical trials of these drugs.
It is estimated that about one-third of people with HIV worldwide are have hepatitis C virus (HCV) co-infection. Over years or decades, chronic hepatitis C can progress to serious liver disease including cirrhosis and liver cancer. People with HIV and HCV co-infection typically experience faster disease progression than those with HCV alone, and liver disease is a leading cause of illness and death among people living with HIV.
People with HIV do not respond as well as HIV-negative people to interferon-based hepatitis C treatment and they may have worse side-effects, so they especially stand to benefit from new direct-acting antiviral agents (DAAs) that can be used in interferon-sparing regimens.
Dominique Salmon of Hôpital Cochin in Paris presented findings from an analysis of people with HIV and HCV co-infection receiving Bristol-Myers Squibb's HCV NS5A inhibitor daclatasvir plus Gilead Sciences' NS5B polymerase inhibitor sofosbuvir in a compassionate use programme at more than 200 centres in France.
Compassionate use programmes provide experimental drugs prior to approval for people with an urgent need for treatment who cannot use or do not benefit from existing therapeutic options. This analysis looked at people seeking hepatitis C treatment in a real-world clinical care setting, rather than as part of a clinical trial. Sometimes outcomes among people treated in the real world are not as good as trial results because trials may select participants who are most likely to benefit and often provide intensive monitoring and patient support.
The researchers looked at 564 people with co-infection who accessed daclatasvir and sofosbuvir through the compassionate use programme between March and October 2014. (The two drugs received European Union marketing approval in January 2014 and August 2014, respectively.) Within this group, the primary efficacy analysis included 147 people who had HCV viral load measurements available at 12 weeks post-treatment, allowing determination of sustained virological response (SVR12).
Nearly three-quarters of the study participants were men and the median age was 52 years. The most common HCV genotype was 1a (51%), followed by 4 (20%), 1b (16%) and 3 (10%). About 85% had previously been treated for hepatitis C, usually with interferon.
To be eligible for compassionate use, participants had to have either advanced liver fibrosis (Metavir stage F3 or higher) or less extensive fibrosis with extra-hepatic manifestations. People awaiting liver transplants or who had HCV recurrence after transplantation were also eligible. A majority (76%) had liver cirrhosis, generally with well-compensated disease. Most were categorised as Child-Pugh class A, meaning modest loss of liver function and high short-term survival probability.
The participants were on antiretroviral therapy (ART) with undetectable HIV viral load. More than 60% were taking ART regimens that included an integrase inhibitor, while 36% used HIV protease inhibitors and 24% used NNRTIs. The median CD4 cell count at baseline was 592 cells/mm3.
The recommended hepatitis C treatment regimen was 60mg daclatasvir plus 400mg sofosbuvir, both taken once daily; however, the daclatasvir dose was adjusted up or down depending on which antiretrovirals the participants were taking. While 68% were treated for the recommended duration of 24 weeks, 31% finished therapy at 12 weeks. Ribavirin could be added at the discretion of the treating physician and was used by 10% of the participants.
The overall sustained virological response rate at 12 weeks post-treatment (SVR12) was 97%. Cure rates were similar for people treated with daclatasvir plus sofosbuvir alone for 12 or 24 weeks (98% vs 97%, respectively). All of the 14 people who added ribavirin were cured with either treatment duration. All participants with genotype 3 and all but one with genotype 4 were cured. Non-responders included nine relapsers and two people with viral breakthrough while on therapy.
The results, Salmon said, show that there was no extra benefit from adding ribavirin or extending treatment duration from 12 to 24 weeks. Cirrhosis status and HCV genotype also did not affect the likelihood of sustained response. This is important because while there are other effective treatment options for genotype 1 – namely Gilead's sofosbuvir/ledipasvir coformulation (Harvoni), Janssen's simeprevir (Olysio) and AbbVie's Viekirax/Exviera regimen – genotype 3 does not respond well to these other drugs.
These compassionate use response rates match the 96-98% SVR12 rates for most people with HIV and HCV co-infection without cirrhosis treated for 12 weeks in the phase 3 ALLY-2 trial; in that study response fell to just 76% for people treated for only 8 weeks. (ALLY-2 results are published in the July 21 online edition of the New England Journal of Medicine.)
In a safety analysis that included 564 people taking treatment, there were just two treatment-related serious adverse events and two people discontinued treatment due to adverse events. HIV remained under control during hepatitis C treatment.
Based on these findings, the researchers concluded that daclatasvir plus sofosbuvir, "provided high SVR12 rates in this real-world, interim analysis in HIV/HCV coinfected patients," and that daclatasvir plus sofosbuvir with or without ribavirin "was generally well tolerated and compatible with a wide range of antiretrovirals."