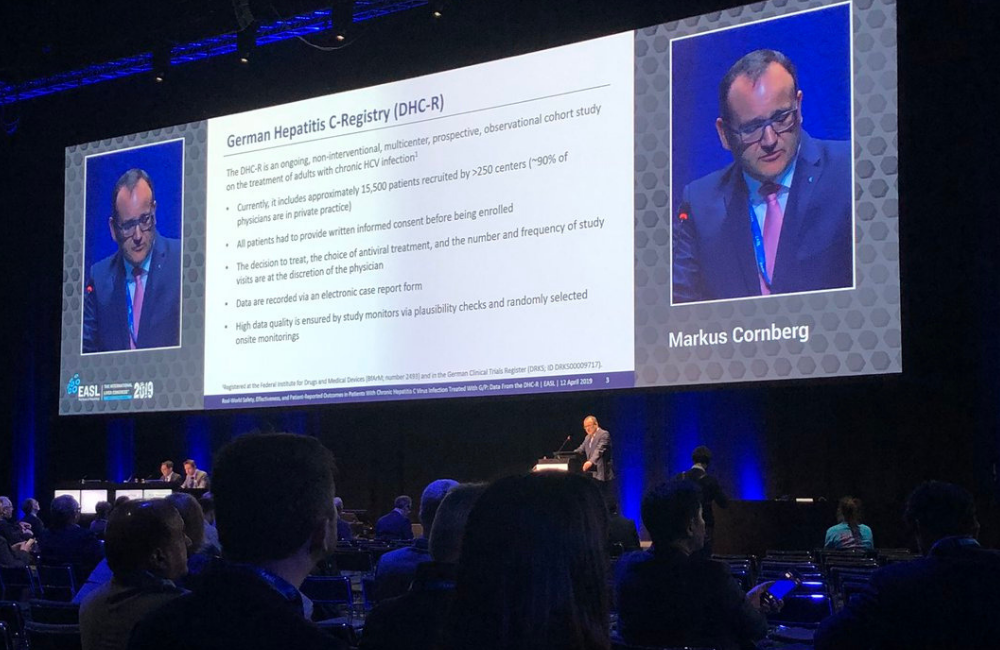 Once-daily combination pills that can treat all genotypes of hepatitis C infection are curing almost everyone who completes a course of treatment, and drop-out rates during treatment are low, large 'real-world' cohort studies reported this week at The International Liver Congress in Vienna.
The findings show that currently available treatments delivered at large scale have the potential to eliminate hepatitis C in the population, if they are affordable and if people can be diagnosed and engaged in care.
Sofosbuvir/velpatasvir (Epclusa) is a pangenotypic once-daily single-pill treatment for hepatitis C. It combines an NS5A inhibitor (sofosbuvir) and an NS5B inhibitor (velpatasvir). It is dosed without ribavirin, for 12 weeks. Epclusa is marketed by Gilead Sciences. Generic versions of the combination are also being manufactured in India.
Sofosbuvir/velpatasvir is one of the simplified treatment options that can be prescribed without genotyping for short-course treatment of hepatitis C with a low risk of adverse events. The main alternative to Epclusa is glecaprevir/pibrentasvir (Maviret), marketed by AbbVie, which is also a pangenotypic treatment that can be dosed once-daily without ribavirin.
Dr Alessandria Mangia presented data on real-world treatment outcomes in 5340 people in 12 clinical cohorts in Europe and North America who began treatment prior to November 2018. The study excluded data on outcomes in people with decompensated cirrhosis or a previous history of treatment with sofosbuvir or daclatasvir, and outcomes of people treated for more than 12 weeks.
Cohort participants had a mean age of 54 years, 52% were male, 3.7% had co-infection with HIV, 13.2% were current or former injecting drug users, and 20.7% had compensated cirrhosis. Thirty per cent had genotype 1 infection and 33% had genotype 3 infection.
By intent-to-treat analysis (everyone who started treatment), 92.7% achieved a sustained virologic response 12 weeks after completing treatment (SVR12). Of those who did not achieve SVR12, over two-thirds were lost to follow-up and 26% discontinued treatment early for unspecified reasons. Overall, 1.4% of those who started treatment experienced virologic failure.
Overall, less than one in 20 people were either lost to follow-up or unable to complete the treatment course and it is likely that these patients would respond to a future course of treatment if re-engaged in care.
By per-protocol analysis (everyone who completed a 12-week course of treatment), 98.5% achieved an SVR. There was no difference in treatment response by genotype or fibrosis stage, nor by patient characteristics.
German researchers presented an analysis of treatment outcomes in 1698 adults treated with glecaprevir/pibrentasvir (Maviret) who were included in the German Hepatitis C-Registry (DHC-R). The study population was predominantly male (69%) with a median age of 43 years. Fifty-three per cent had genotype 1 infection and 35% had genotype 3 infection. Most people (84%) had no previous treatment experience and were free of cirrhosis, and so were treated for 8 weeks.
Just over one-quarter of the cohort was receiving opioid substitution therapy, 3% were active drug users and 15% had a mental health disorder.
"These are all important comorbidities encountered in clinical practice that often have led to treatment being deferred in the past," explained Professor Markus Cornberg from Hannover Medical School in Germany, who presented the study findings.
In the intent-to-treat population, the SVR rate at 12 weeks after the end of glecaprevir/pibrentasvir treatment was 97% (964/998). There was no difference in response rate by genotype or subgroup. Glecaprevir/pibrentasvir was generally well tolerated with three people discontinuing due to adverse events. Six individuals had hepatitis C virus (HCV) reinfection post-treatment and five individuals had a virological relapse.
"We found G/P [glecaprevir/pibrentasvir] treatment to be safe and highly effective, and to lead to significant improvements in reported physical and mental well-being, across this large, primarily treatment-naive cohort of HCV-infected individuals with typical comorbidies," said Professor Cornberg.
References
Cornberg M et al. Real-world safety, effectiveness, and patient-reported outcomes in patients with chronic hepatitis C virus infection treated with glecaprevir/pibrentasvir: Data from the German Hepatitis C-Registry. The International Liver Congress, Vienna, abstract GS-07, 2019.
Watch this presentation on the conference website.
Mangia A et al. Global real-world evidence of sofosbuvir/velpatasvir as a simple-effective regimen for the treatment of chronic hepatitis C: integrated analysis of 12 clinical practice cohorts. The International Liver Congress, Vienna, abstract GS-01, 2019.