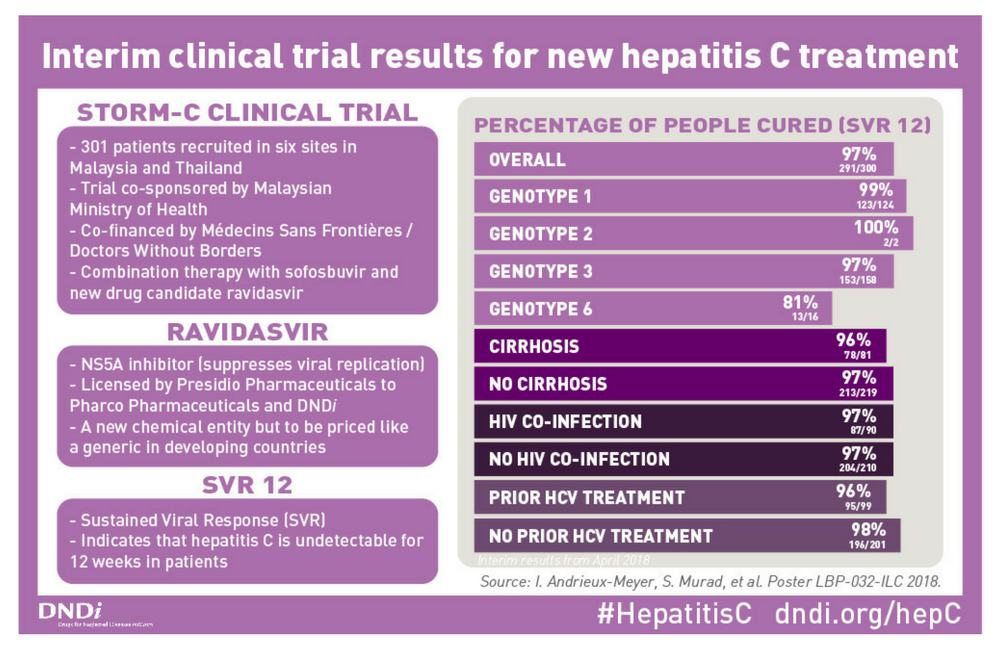 The combination of sofosbuvir and the new NS5A inhibitor ravidasvir cured 97% of people with hepatitis C in a study carried out in Malaysia, and could provide a safe and effective cure for hepatitis C in low- and middle-income countries for $300 or less, researchers of the Drugs for Neglected Diseases Initiative reported on the opening day of the 2018 International Liver Congress in Paris.
Approximately 70 million people live with hepatitis C worldwide but access to curative treatment is restricted by price and by the lack of investments in health systems and viral hepatitis diagnosis and treatment.
Affordable pangenotypic treatment for hepatitis C would allow many lower- and middle-income countries to treat a wide range of people with hepatitis C, without the need for genotyping, reducing the cost of treating each patient.
Generic versions of some direct-acting antivirals are available but a combination that is suitable for treating any genotype is not available at low cost in countries where patent protection on sofosbuvir or daclatasvir exists.
Malaysia and Thailand are among the many middle-income countries that are excluded from the voluntary licensing agreements that Gilead and Bristol-Myers Squibb, the intellectual property holders of the hepatitis C drugs sofosbuvir and daclatasvir, respectively, have concluded with generic companies.
Ravidasvir is an NS5A inhibitor. It was developed by Presidio Pharmaceuticals and licensed to the Egyptian drug manufacturer Pharco Pharmaceuticals for development and marketing in low- and middle-income countries. The combination has already been studied in people with genotype 4 hepatitis C virus (HCV) infection in Egypt. A study presented in 2015 showed that a combination of ravidasvir and sofosbuvir cured between 86 and 100% of people treated, according to the duration of treatment and whether ribavirin was included in the regimen.
The combination of ravidasvir and sofosbuvir has the potential to be used to treat all genotypes of hepatitis C.
The STORM-C-1 study was carried out by the Drugs for Neglected Diseases Initiative (DNDi) in Malaysia to test the efficacy and safety of the combination of ravidasvir and sofosbuvir. The study recruited people with a range of genotypes and included people with compensated cirrhosis and people who had not been cured by previous interferon-based treatment.
The trial was run by DNDi and co-sponsored by the Malaysian Ministry of Health, in ten sites in Malaysia and Thailand. Agreements signed in 2016 and 2017 enabling the trials and patient scale-up in Malaysia set out a target price of US$300 for a 12-week treatment, an almost 100% drop from existing treatment prices in Malaysia.
In September 2017, the government of Malaysia issued a "government-use" licence on sofosbuvir patents to allow 400,000 people living with hepatitis C in Malaysia to access generic HCV regimens in public hospitals.
The study recruited 300 people in Malaysia and Thailand between October 2016 and June 2017. Participants received 12 weeks of once-daily open-label treatment with ravidasvir and sofosbuvir (200mg/400mg) if they did not have cirrhosis and 24 weeks of ravidasvir and sofosbuvir if they had compensated cirrhosis (Child-Pugh class A).
Seventy per cent of participants were male. The median age of participants was 47 years. Just over half (158) had genotype 3 infection; 97 had genotype 1a and the remainder genotype 1b (27), genotype 2 (2) and genotype 6 (16). Twenty-seven per cent had compensated cirrhosis and 30% (90) had co-infection with HIV. One-third (99) had a previous history of interferon-based treatment for hepatitis C.
The cure rate was very high; by intent-to-treat analysis, 97% of participants achieved a sustained virologic response (99% genotype 1a, 100% genotype 1b and 2 and 97% genotype 3). The cure rate was slightly lower in people with genotype 6 (81%).
There was no substantive difference in the cure rate according to cirrhosis status, HIV co-infection status or treatment history. The study found no evidence of harmful drug interactions between ravidasvir and antiretrovirals used to treat HIV infection, according to a study presented at the Conference on Retroviruses and Opportunistic Infections (CROI) in March 2018.
Four participants discontinued treatment due to adverse events, one participant with genotype 3 infection experienced viral breakthrough at week 20 of a 24-week treatment course and four participants experienced viral relapse between the completion of treatment and the 12-week post-treatment follow-up visit. Three of the four cases of viral relapse occurred in participants with genotype 6 infection and one in a participant with genotype 3 infection. No cases of virologic failure occurred in participants with genotype 1a, 1b or 2 infection
Sixty-four per cent of participants reported an adverse event during treatment. These were predominantly mild (72%) and the most frequently reported events were fever, cough and headache. The rate of serious adverse events was low (8%).
"The results indicate that the sofosbuvir/ravidasvir combination is comparable to the very best hepatitis C therapies available today but it is priced affordably and could allow an alternative option in countries excluded from pharmaceutical company access programs," said Bernard Pécoul, Executive Director of DNDi.
"From a treatment provider perspective, this is very exciting as we have been waiting for a simple, affordable, robust treatment tolerated by all patients groups, including those whose treatment outcomes are currently poorer, like patients under antiretroviral therapy," said Dr Pierre Mendiharat, Deputy Operations Director for Médecins Sans Frontières / Doctors Without Borders (MSF). "This will be crucial to expand treatment to the most vulnerable categories of patients in developing countries."
Further trials are planned to document the efficacy and safety of the combination in people with other HCV genotypes.
References
Andrieux-Meyer I et al. Safety and efficacy of ravidasvir plus sofosbuvir 12 weeks in non-cirrhotic and 24 weeks in cirrhotic patients with hepatitis C genotypes 1, 2, 3 and 6: the STORM C-1 phase II/III trial. The International Liver Congress, Paris, abstract LBP-032, 2018. Journal of Hepatology 68: S123, 2018.