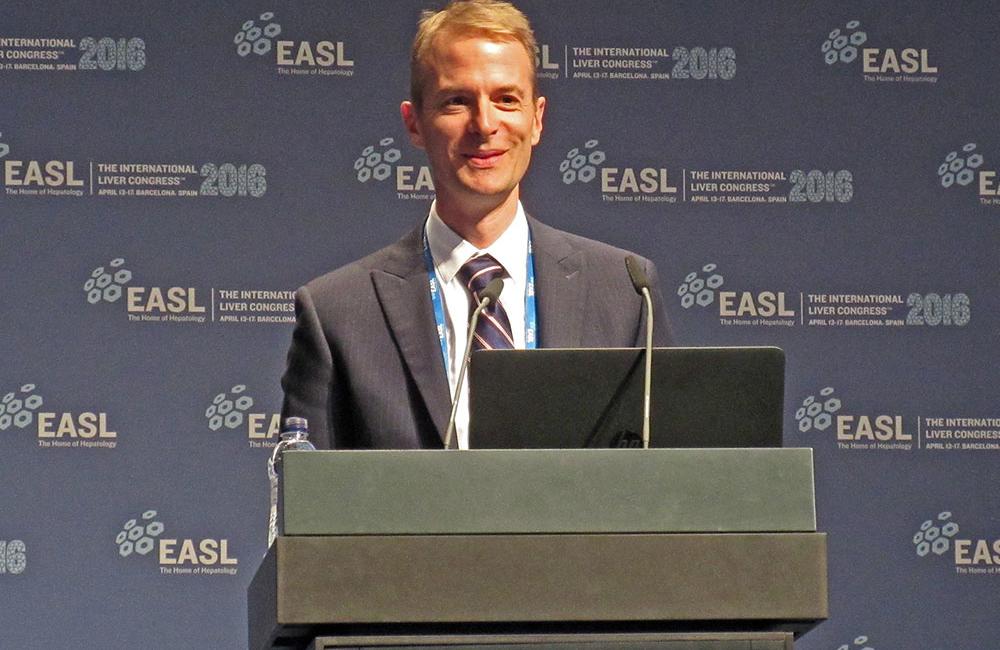 A dual regimen of sofosbuvir plus velpatasvir was well tolerated and highly effective against hepatitis C virus (HCV) genotypes 1 through 4 in HIV-positive people with chronic hepatitis C co-infection, according to results from the phase 3 ASTRAL-5 trial presented at the 2016 International Liver Congress last week in Barcelona.
The advent of direct-acting antiviral agents (DAAs) has enabled shorter, better tolerated and much more effective hepatitis C treatment compared to interferon-based therapy. Studies have shown that HIV-positive people with HCV genotype 1 have a high likelihood of being cured of HCV with interferon-free DAA therapy, which is particularly beneficial because they experience more rapid liver disease progression.
Yet there is still room to optimise therapy for people with HCV genotypes other than 1. Genotype 3 is now considered the most difficult to treat, while there are fewer data for genotypes 4, 5 and 6. Ideally, combination DAA regimens will be pangenotypic – active against all genotypes – meaning they could be prescribed without the need for genotype testing.
David Wyles of the University of California at San Diego presented findings from the ASTRAL-5 trial, evaluating a pangenotypic combination consisting of Gilead Sciences' HCV NS5B polymerase inhibitor sofosbuvir (marketed as Sovaldi) and the second-generation NS5A inhibitor velpatasvir (formerly GS-5816) for people with HIV and HCV co-infection.
The sofosbuvir/velpatasvir co-formulation is currently under review by the US Food and Drug Administration and European regulatory authorities. As reported at last year's American Association for the Study of Liver Diseases Liver Meeting, the combination demonstrated high sustained response rates in the prior phase 3 ASTRAL trials: ASTRAL for genotypes 1, 2, 4, 5 and 6; ASTRAL-2 for genotype 2; ASTRAL-3 for genotype 3; andASTRAL-4 for people with all genotypes had who decompensated liver disease.
The multicentre ASTRAL-5 trial enrolled 106 HIV-positive people with chronic hepatitis C, in the US, with any HCV genotype. Most (86%) were men, 45% were black and the mean age was 54 years. A majority (62%) had HCV genotype 1a, followed by 1b (11%), 2 (10%), 3 (11%) and 4 (5%); no one had genotypes 5 or 6, which are uncommon in the US. About a third had previously been treated for hepatitis C, the mean HCV RNA level was 6.3 log10 and 18% had compensated cirrhosis.
With regard to HIV status, participants were on stable antiretroviral therapy (ART) with undetectable HIV viral load and a mean CD4 cell count of approximately 600 cells/mm3. They were taking a variety of ART regimens, most often including the HIV protease inhibitors atazanavir (Reyataz), darunavir (Prezista) or lopinavir/ritonavir (Kaletra) – 47% were taking a protease inhibitor; the integrase inhibitors raltegravir (Isentress) or elvitegravir (Vitekta) – 34% taking this class); or the NNRTI rilpivirine (Edurant; 12%).
NRTI backbones included tenofovir (Viread, or with emtricitabine in Truvada) in a boosted regimen (53%), tenofovir in an unboosted regimen (33%) or abacavir/lamivudine (Epzicom; 14%). This breakdown enabled researchers to see whether boosted tenofovir was associated with kidney toxicity when combined with the hepatitis C drugs.
All participants in this open-label study received 400mg sofosbuvir plus 100mg velpatasvir taken as a once-daily co-formulation for 12 weeks. They were followed for 12 weeks after completing treatment to assess sustained virological response (SVR12), or continued undetectable HCV RNA.
The overall SVR12 rate was 95%, or 99 out of 104 participants (with two still undergoing post-treatment follow-up) – similar to rates seen in studies of HIV-negative people with hepatitis C. Non-responders included two relapsers, one loss to follow-up and one withdrawal of consent.
Response rates ranged from 92% for genotypes 1b and 3 (reflecting a single drop-out in each arm), to 95% for genotype 1a (reflecting the two relapses and one drop-out), to 100% for genotypes 2 and 4.
SVR12 rates were similar regardless of the presence or absence of cirrhosis (100% and 94%, respectively). Cure rates were also similar for hepatitis C treatment-naive and treatment-experienced patients (93 and 97%, respectively). The 12% of participants with NS5A resistance-associated variants at baseline all achieved SVR12.
Sofosbuvir/velpatasvir was generally safe and well tolerated.  There were two serious adverse events and two treatment discontinuations due to adverse events (one of whom nevertheless achieved SVR12).
The most frequently reported side-effects were fatigue (25%) and headache (13%), while the most common laboratory abnormality was elevated bilirubin in people taking boosted atazanavir. No one experienced HIV viral rebound while on hepatitis C treatment.
Creatinine clearance – a marker of kidney function – was lower among people taking boosted versus unboosted tenofovir, and lowest among people not taking tenofovir (who may have had existing kidney problems), but it remained relatively stable over time in all groups.
"Sofosbuvir/velpatasvir for 12 weeks provides a simple, safe, and highly effective treatment for patients coinfected with HIV-1 and HCV," the researchers concluded.
No one in this study stopped or changed their antiretrovirals due to kidney concerns, Wyles noted.
References
Wyles D et al. Sofosbuvir/velpatasvir fixed dose combination for 12 weeks in patients co-infected with HCV and HIV-1: the Phase 3 ASTRAL-5 study. International Liver Congress, Barcelona, abstract PS104, 2016.