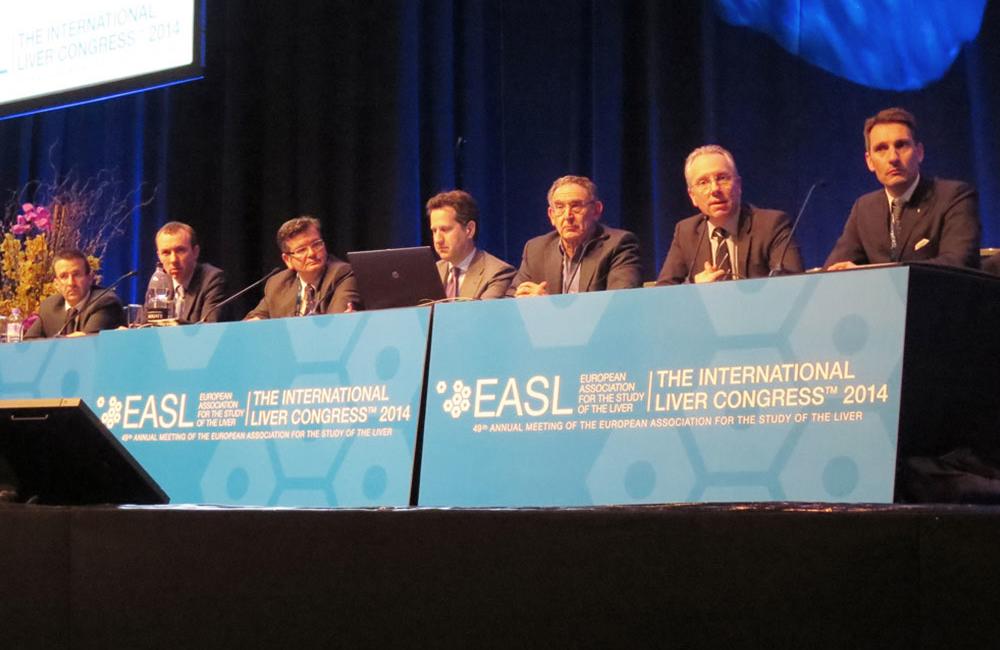 The European Association for the Study of the Liver (EASL) has issued new guidelines for the treatment of hepatitis C which recommend that wherever possible, patients should be treated with the newest direct-acting antivirals.
EASL is also encouraging European physicians to combine products from different pharmaceutical companies to achieve the most potent interferon-free regimens, often in advance of full phase III trial data, in its new hepatitis C treatment guidelines issued on Friday at the International Liver Congress in London.
The guidelines move beyond US recommendations issued in January, which incorporated a small number of off-label uses not included in the US licences for sofosbuvir and simeprevir. The new guidelines also include daclatasvir, an NS5A inhibitor that is likely to receive approval in Europe later this year.
Guidelines panel chair Professor Jean-Michel Pawlotsky, director of the French National Reference Centre for Viral Hepatitis B, C and Delta told reporters that the EASL guidelines were designed to accommodate the diversity of European populations and reimbursement practices. The guidelines were also designed to empower physicians to obtain permission to use new agents under compassionate access arrangements, prior to licensing, said Dr Alessio Aghemo, a member of EASL's Scientific Committee and a professor of medicine at the University of Milan.
The EASL guidelines are another sign that when making prescribing decisions for people with hepatitis C, physicians do not intend to be constrained by licensing indications or the quest of pharmaceutical companies to deliver 'exclusive' drug combinations that require prescribers to use co-formulated direct-acting antivirals from one company.
The guidelines make recommendations for all genotypes, and include all direct-acting antivirals that are expected to be licensed in Europe during 2014, including the protease inhibitor simeprevir (Olysio) and the NS5A inhibitor daclatasvir. Simeprevir is likely to receive marketing approval in May 2014 and daclatasvir in September 2014. Bristol-Myers Squibb, the developer of daclatasvir, has anticipated the European move towards a 'mix-and-match' approach by applying for a licence for daclatasvir alone in Europe. In the United States, it is seeking a licence for daclatasvir in combination with asunaprevir.
The guidelines recommend that the first-generation protease inhibitors telaprevir or boceprevir should be used for treatment of genotype 1 infection only when newer options are not available. For other genotypes, the combination of pegylated interferon and ribavirin is described as 'acceptable' where newer options are not available.
The guidelines will be updated as soon as approval dates for new interferon-free combinations of sofosbuvir/ledipasvir (Gilead Sciences) and ABT-450/ritonavir, ombitasvir and dasabuvir (AbbVie) are known. These are likely to be approved in early 2015.
The full guidelines can be downloaded from the EASL website here.
EASL 2014 recommendations for use of new direct-acting antivirals receiving European approval in 2014

 

Recommendations ranked by strength of clinical trial evidence (A1 – C2)

 

GENOTYPE

OPTIONS FOR THERAPY

Genotype 1

Peg IFN/ribavirin + sofosbuvir 12 weeks (A1)

Previously untreated & prior relapsers: Peg IFN/ribavirin + simeprevir: 12 weeks, followed by 12 weeks  of peg IFN/ribavirin (A1)

Previous partial responders & null-responders: Peg IFN/ribavirin + simeprevir: 12 weeks, followed by 36 weeks of peg IFN/ribavirin (B1)

Sofosbuvir & simeprevir: 12 weeks. (Ribavirin may be added in previous non-responders and people with cirrhosis.) (B1)

Sofosbuvir & daclatasvir: 12 weeks in previously untreated; 24 weeks in treatment-experienced patients. (Ribavirin may be added in previous non-responders and people with cirrhosis.) (B1)

Peg IFN/ribavirin + daclatasvir 12 weeks (genotype 1b only), (B1) followed by 12 weeks  of peg IFN/ribavirin(B2)

Sofosbuvir & ribavirin 12 weeks for interferon-intolerant patients only, where no other IFN-free option available (B2)

Genotype 2

Sofosbuvir & ribavirin: 12 weeks (16-20 weeks in people with cirrhosis, especially treatment-experienced). (A1)

Peg IFN/ribavirin + sofosbuvir 12 weeks for people with cirrhosis and/or treatment-experienced patients. (B1)

Genotype 3

Sofosbuvir & ribavirin: 24 weeks (unsuitable for treatment-experienced people with cirrhosis, no specific alternative proposed). (A2)

Peg IFN/ribavirin + sofosbuvir 12 weeks (A2)

Sofosbuvir & daclatsvir 12 weeks (24 weeks for treatment-experienced patients) (B1)

Genotype 4

Peg IFN/ribavirin + sofosbuvir 12 weeks (B1)

Peg IFN/ribavirin + simeprevir: 12 weeks, followed by 12 weeks  of peg IFN/ribavirin (B1)

Previous partial responders & null-responders: Peg IFN/ribavirin + simeprevir: 12 weeks, followed by 36 weeks  of peg IFN/ribavirin (B1)

Peg IFN/ribavirin + daclatasvir; 12 or 24 weeks (response-guided therapy) (B1)

Sofosbuvir & ribavirin 24 weeks for interferon-intolerant patients (C2)

Sofosbuvir & simeprevir: 12 weeks. (Ribavirin may be added in previous non-responders and people with cirrhosis.) (B2)

Sofosbuvir & daclatasvir: 12 weeks in previously untreated; 24 weeks in treatment-experienced patients. (Ribavirin may be added in previous non-responders and people with cirrhosis.) (B2)

Genotype 5 or 6

Peg IFN/ribavirin + sofosbuvir 12 weeks (B1)

Sofosbuvir & ribavirin: 12 weeks (C2)