Dolutegravir safety in pregnancy: risk is lower than first reported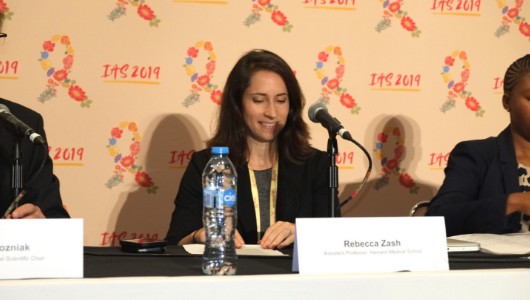 Dr Rebecca Zash, presenting the results of the Tsepamo study at IAS 2019. Photo by Roger Pebody. 
Exposure to dolutegravir at the time of conception or during the first three months of pregnancy is associated with a small increased risk of neural tube defects, longer-term follow-up of a national birth cohort in Botswana has found. The research was presented at the 10th International AIDS Society Conference on HIV Science (IAS 2019), taking place in Mexico City this week.
The risk is lower than preliminary results suggested, and the World Health Organization (WHO) has recommended that dolutegravir should be available for all women (see next story).
A neural tube defect occurs when the spinal cord, brain, or related structures do not form properly. The most common cause of neural tube defects is a lack of folic acid during pregnancy, but defects can also be caused by some medications. The risk of neural tube defects is highest at the time of conception and in the first trimester of pregnancy. Spina bifida – a malformed spinal cord – is the most common neural tube defect.
In 2018, concerns regarding the safety of dolutegravir during pregnancy were raised after an increased rate of neural tube defects was observed in infants exposed to it around conception and in early pregnancy in the Tsepamo study in Botswana. WHO reacted to the findings by issuing guidance that women who could potentially become pregnant should take effective contraception if they opt to take dolutegravir.
The Tsepamo study is a birth outcomes surveillance programme, which started in Botswana in 2014. The programme expanded from 8 hospitals to 18 in 2018 and has now captured data on the outcomes of 119,477 deliveries up to March 2019.
The results presented at IAS 2019 show that the difference in risk between dolutegravir and other antiretrovirals is the equivalent of two extra cases of neural tube defects for every 1000 women exposed to the drug.
A smaller study in Brazil, which included 1468 women who had taken dolutegravir, raltegravir or efavirenz during pregnancy, found no neural tube defects.
Given that lack of folic acid is an important cause of neural tube defects, several speakers at the conference drew attention to the lack of folate supplementation for pregnant women in Botswana and other countries.
Meg Doherty, Coordinator of HIV Treatment and Care at WHO, told the conference, "There is still a risk that we and countries need to monitor closely, but at this point, dolutegravir should be accessible for women of childbearing age due to the overwhelming benefits it offers… What treatment options to pursue is a decision that a woman should make in consultation with her healthcare provider."
Dolutegravir recommended for all in new World Health Organization guidelines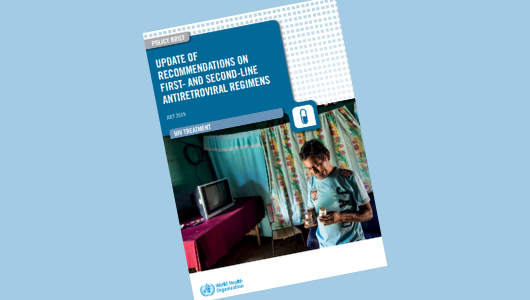 Everyone who starts HIV treatment in lower- and middle-income countries should start treatment with a combination containing dolutegravir, the World Health Organization (WHO) announced at IAS 2019.
The announcement is intended to settle uncertainty over whether women of childbearing age should take dolutegravir (see previous story). The new recommendations from WHO are unambiguous. Dolutegravir-based treatment is recommended as the preferred first-line regimen for all adults and adolescents.
In the updated 2019 guidelines, WHO recommends:
Dolutegravir in combination with two nucleoside reverse transcriptase inhibitors (NRTIs) for first-line treatment of all adults and adolescents.
Efavirenz 400mg plus two NRTIs as an alternative first-line regimen for adults and adolescents.
The guidelines also make two 'conditional' recommendations – meaning the evidence is less certain – for treatment of children and infants:
Weight-based dosing of dolutegravir for children and infants where a dose is approved for the age-band.
Raltegravir-based therapy as an alternative for children and infants where dolutegravir is not available.
The guidelines also recommend that anyone on a failing first-line regimen that does not contain dolutegravir should switch to a second-line regimen of dolutegravir plus a new NRTI backbone.
The new recommendations stress the importance of switching to dolutegravir in settings where resistance to non-nucleoside reverse transcriptase inhibitors (NNRTIs) is rising. Use of efavirenz in these settings is likely to result in treatment failure and further transmission of drug-resistant virus.
Implementing the recommendations is an urgent priority for countries as they work towards achieving the international 90-90-90 targets. Dolutegravir-based treatment has the potential to be cost-saving, better tolerated – leading to better retention in care – and more potent, meaning that fewer people will need to switch to more costly second-line regimens.
People with HIV express high satisfaction with monthly injectable regimen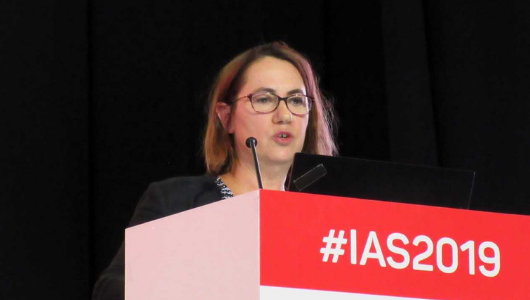 Miranda Murray from ViiV Healthcare presenting the ATLAS study at IAS 2019. Photo by Liz Highleyman.
People who received a combination of two long-acting injectable antiretrovirals once a month expressed a high level of satisfaction with the regimen and almost all said they preferred it to their previous oral therapy, according to two studies presented at IAS 2019. 
The ATLAS (Antiretroviral Therapy as Long-Acting Suppression) trial evaluated injectable cabotegravir plus rilpivirine (sold in pill form as Edurant) with people who switched from a standard oral combination regimen with fully suppressed viral load. The FLAIR (First Long-Acting Injectable Regimen) trial tested the injectable combination with people starting HIV treatment for the first time. Previously presented results have shown the effectiveness of the injectable regimen in suppressing viral load.
The ATLAS study involved 616 people already taking HIV treatment. Participants either continued taking their oral regimen or switched to the injectable cabotegravir and rilpivirine regimen. The two groups had similar physical and mental health outcomes, but the group receiving injections reported higher treatment satisfaction. After 44 weeks on the injectable regimen, 97% of participants who switched said they preferred the long-acting injectable treatment.
The FLAIR study involved 556 people starting treatment for the first time. Participants started treatment with an oral regimen of dolutegravir/abacavir/lamivudine (Triumeq) and then either stayed on the oral regimen or switched to the injectable cabotegravir and rilpivirine regimen. Participants in the group receiving injections expressed a higher level of satisfaction with their treatment, and 99% said they preferred it to oral therapy.
As people who had volunteered to take part in studies of new injectables, the participants may be more motivated and enthusiastic about injections than other people who need HIV treatment.
Statins did not slow atherosclerosis progression in people with HIV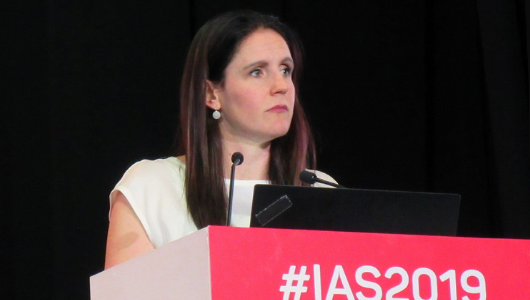 Janine Trevyllian at IAS 2019. Photo by Liz Highleyman.
People with HIV who used the lipid-lowering medication rosuvastatin (Crestor) to prevent progression of cardiovascular disease saw no reduction in atherosclerosis progression, or 'hardening of the arteries', despite a reduction in cholesterol, according to a report at IAS 2019.
Elevated cholesterol and triglyceride levels, which can be a side-effect of some antiretroviral medications, are associated with greater risk of coronary artery disease, heart attacks and strokes. Guidelines recommend that people above a certain risk threshold take statins or other lipid-lowering medications, but one commonly used system, the Framingham Risk Score, is not a very accurate predictor of risk for people with HIV.
This analysis included 84 people living with HIV in Australia and Switzerland. Almost all were men, most were white and the median age was 54 years. Participants were deemed to be at moderate cardiovascular risk. As a surrogate marker of atherosclerosis, the researchers measured intima-media thickness, or the thickness of layers of the arterial lining, in the carotid artery that supplies the brain.
The participants were randomly assigned to take daily rosuvastatin or a matching placebo pill. As expected, total cholesterol and LDL cholesterol levels declined in the group taking rosuvastatin while remaining about the same in the placebo group. Yet there was no significant difference between the groups in carotid intima-media thickness progression from baseline to week 96 of the study.
Participants who used rosuvastatin did have more side-effects, however. There were two deaths and five serious adverse events in the rosuvastatin group, but none of either in the placebo group. 
These findings, from a group of people at modest risk for cardiovascular disease, conflict with those of a prior study showing that statins were beneficial in slowing the progression of atherosclerosis.
REPRIEVE, the ongoing large randomised trial is expected to provide more clarity on statins when it reports its results.
Poorer HIV care outcomes for those using alcohol and drugs in sub-Saharan African countries
Two studies presented at IAS 2019 showed poorer engagement with HIV care for those drinking or using drugs. While it is well-established that alcohol and drug use lead to poorer outcomes for those living with HIV in settings such as Europe and North America, there is a scarcity of data for people living with HIV in sub-Saharan Africa.
Researchers from the University of California, San Francisco aimed to find out how alcohol use affects the HIV care cascade from diagnosis to treatment to viral suppression, using baseline data from SEARCH, a cluster-randomised HIV 'test-and-treat' trial in 32 rural Kenyan and Ugandan communities.
Of the 10,067 people living with HIV who took part in alcohol screening as part of SEARCH's door-to-door census, 16% were alcohol drinkers. Drinkers and non-drinkers had similar characteristics at baseline, with the exception that 71% of drinkers were male, while only 29% of non-drinkers were male. Drinkers were 12% less likely to know their HIV status than non-drinkers. This trend became more pronounced at higher levels of drinking.
For those who were already diagnosed, drinkers were 7% less likely to be on antiretroviral therapy (ART). Among those on ART, high and very high use of alcohol was associated with 12% and 13% lower likelihoods of viral suppression. Comparing all HIV-positive drinkers and non-drinkers, any level of alcohol use was associated with a 20% less chance of being virally suppressed.
A second study, based on data from 2374 people with HIV attending an HIV clinic in a township in Durban, South Africa, revealed similar findings.
At baseline, 50% of men and 21% of women reported recent alcohol use; 11% of men and 1% of women had smoked marijuana; and 2% of men and 1% of women reported other drug use.
Those who drank alcohol had a 30% reduced chance of remaining in care twelve months after enrolment. Those who used drugs other than marijuana had a 78% lower odds of viral suppression. Use of marijuana was not associated with poorer viral suppression.
The researchers presenting the studies emphasised the need for comprehensive interventions that take alcohol and drug use into account for people living with HIV in sub-Saharan Africa in efforts to achieve the UNAIDS 90-90-90 targets in these countries.
Scientific analysis from Clinical Care Options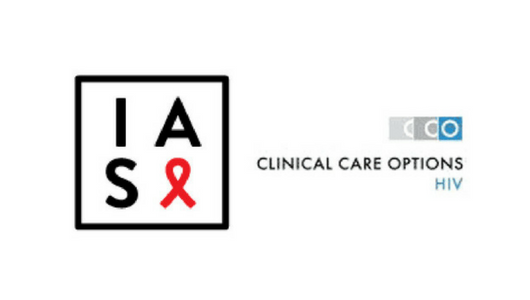 Clinical Care Options is the official provider of online scientific analysis for IAS 2019 through capsule summaries, downloadable slides, rapid expert webinars, and ClinicalThought commentaries.