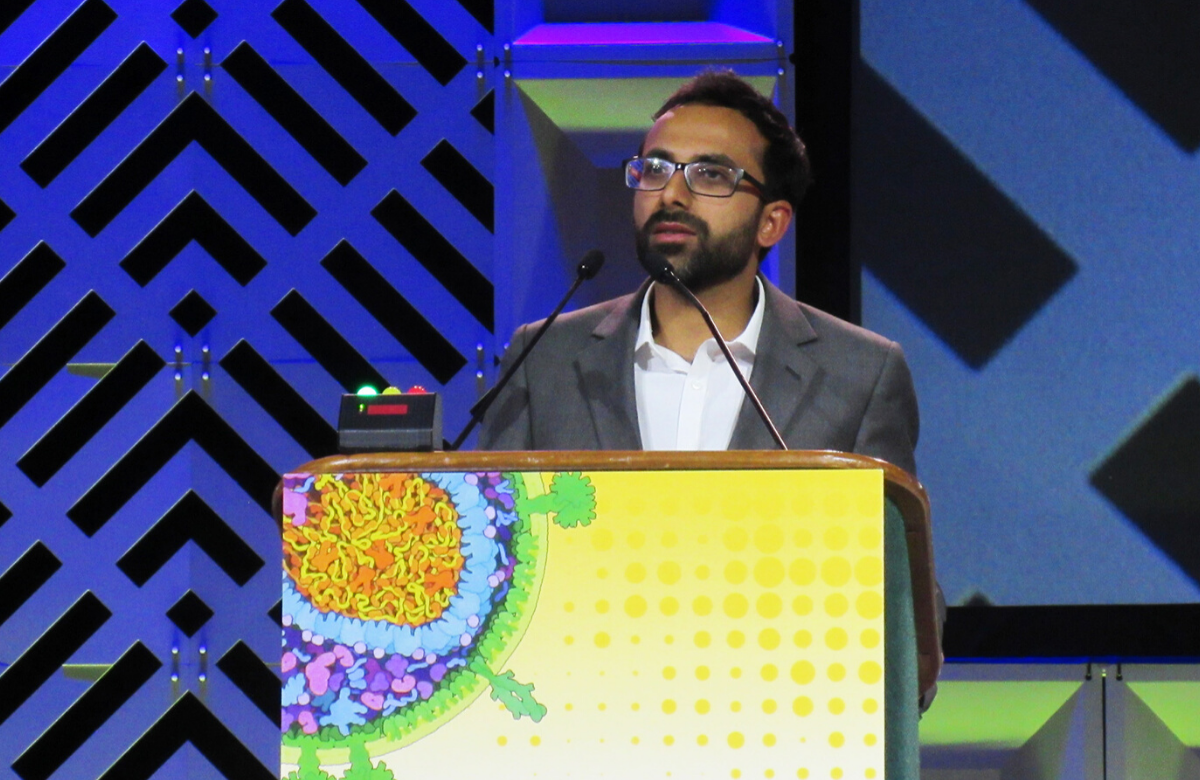 'London patient' remains HIV-free
A London man continues to have no detectable HIV 30 months after stopping antiretroviral therapy, according to a report by Professor Ravindra Gupta of University College London at the Conference on Retroviruses and Opportunistic Infections (CROI 2020). Research is being presented virtually this week after the in-person meeting in Boston was cancelled due to concerns about the new coronavirus, COVID-19.
In 2016, the man underwent a bone marrow transplant to treat lymphoma using stem cells from a donor with natural resistance to HIV. This is a high-risk procedure, which is not an option for people with HIV who do not need the treatment for cancer. However, researchers are working on several approaches to mimic its effect using gene therapy.
Since he stopped HIV treatment in 2017, researchers have been unable to find functional HIV in his blood, semen, lymph nodes, gut tissue or cerebrospinal fluid.
Based on mathematical modelling, Gupta calculated that the probability of "remission for life" is 99% if at least 90% of HIV-susceptible cells retain the donor's CCR5-delta-32 mutation, known as chimerism. When last tested, chimerism was maintained in 99% of the man's peripheral T cells, suggesting that a cure is "almost certain." However, some other experts believe that more time without HIV treatment is needed before we can be sure.
When his case was first presented at CROI 2019, he was known simply as the 'London patient', but on Monday he, Adam Castillejo, went public with an interview in The New York Times. The latest findings strongly suggest that Castillejo has joined Timothy Ray Brown, formerly known as the 'Berlin patient', as the second person to have been cured of HIV.
Related links
---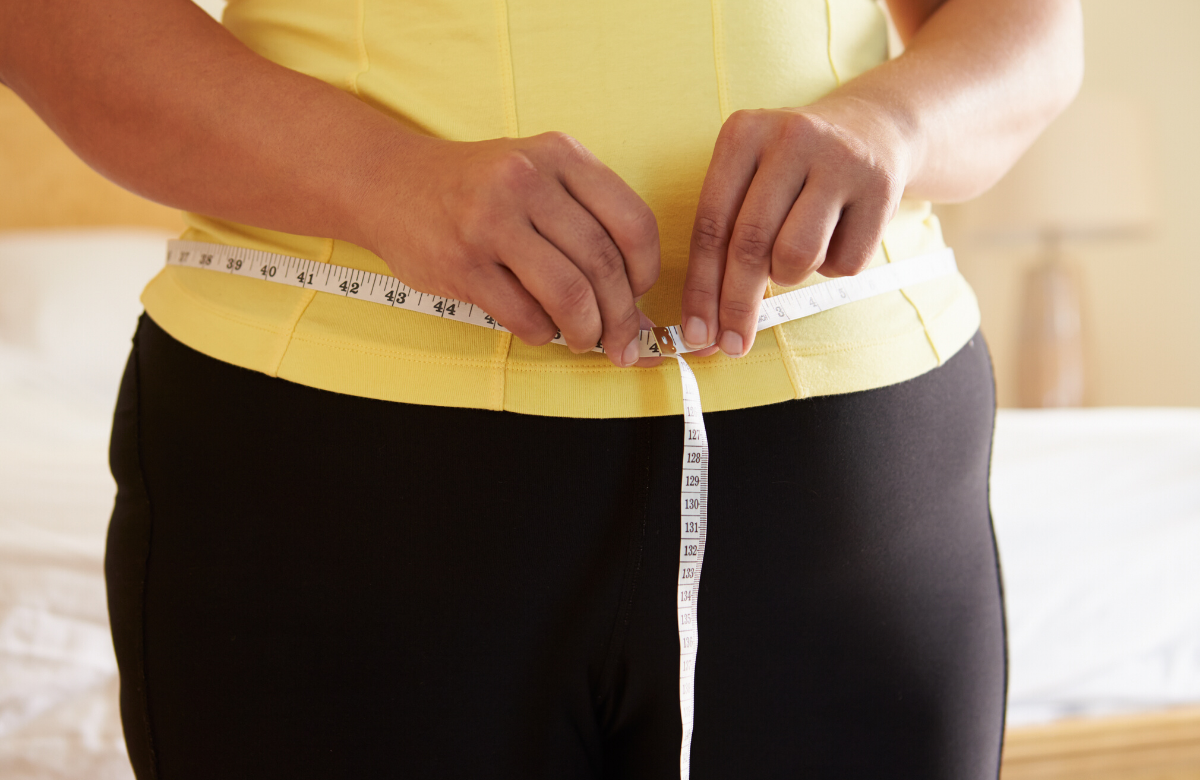 Weight gain on antiretroviral treatment raises risk of diabetes
Weight gain after starting antiretroviral treatment is likely to raise the risk of diabetes but does not push up cardiovascular disease risk, two large analyses presented to CROI 2020 show.
Several randomised clinical trials carried out in sub-Saharan Africa and cohort studies in North America and Europe have shown substantial weight gain occurs after starting antiretroviral treatment, particularly in black women and people exposed to both dolutegravir and tenofovir alafenamide (TAF).
The implications of weight gain are unclear. Higher body mass index (BMI) has been associated with an increased risk of diabetes and cardiovascular disease in some, but not all, studies in the general population and among people living with HIV.
Investigators have now calculated the impact of weight gain while taking antiretroviral treatment on the risk of cardiovascular events or diabetes using data from the ADVANCE trial and the D:A:D observational cohort, which was set up to monitor adverse events associated with antiretroviral treatment.
In both cohorts, they found no significant change in the risk of cardiovascular disease, but an increased risk of diabetes associated with weight gain.
In the ADVANCE trial, the risk of diabetes rose from 0.30% to 0.90% for people taking dolutegravir, TAF and emtricitabine, from 0.30% to 0.70% for people taking efavirenz, tenofovir disoproxil fumarate (TDF) and emtricitabine, and from 0.40% to 0.50% for people taking dolutegravir, TDF and emtricitabine.
In the D:A:D cohort, the risk of diabetes consistently rose 1.5 to 2-fold across all baseline weight categories when body mass increased by at least 2kg/m2 (compared to weight remaining stable).
Related links
---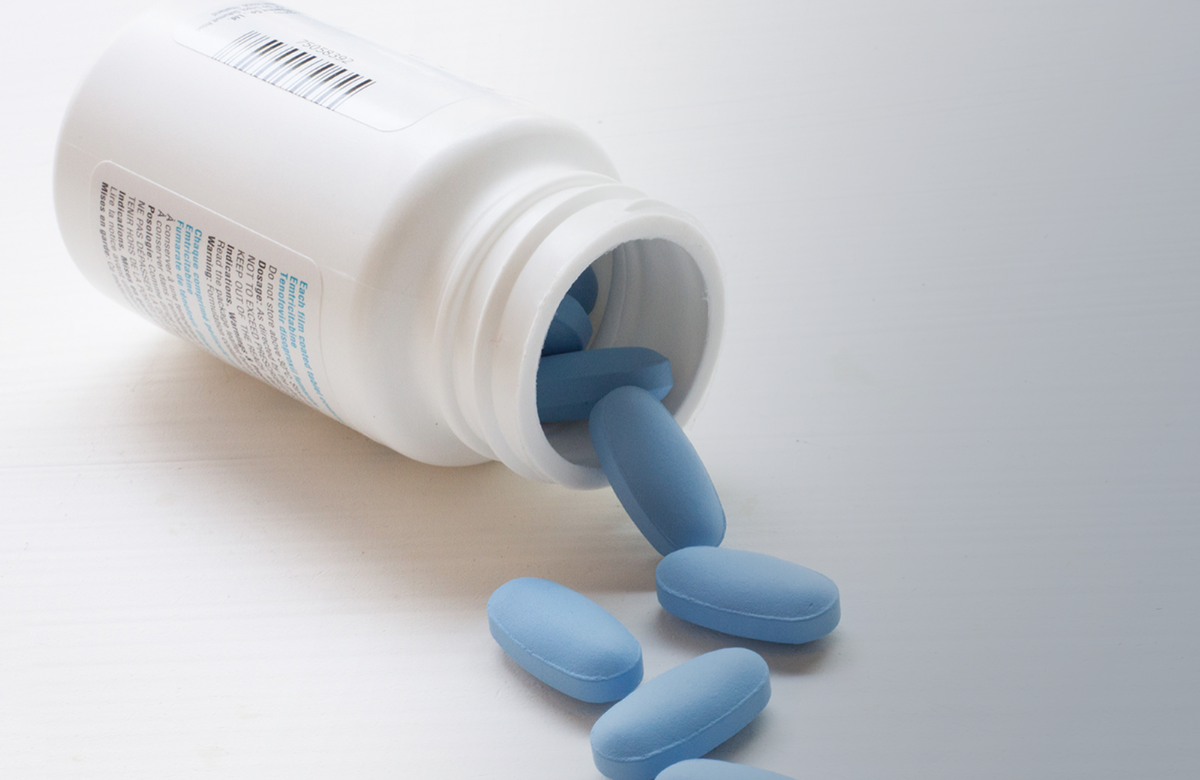 Cost-effectiveness study highlights benefits of generic TDF/FTC for PrEP in the US
The extra price the US health system may pay for a new, branded version of PrEP, rather than an older version whose price is soon due to fall, is not justifiable in terms of its marginally more benign side effect profile, a study conducted by Harvard University researchers and presented at CROI 2020 has found.
The DISCOVER study compared the two drug combinations used for PrEP: the established combination of tenofovir disoproxil fumarate (TDF) and emtricitabine (FTC) which has been marketed as Truvada, and the newer combination of tenofovir alafenamide (TAF) and emtricitabine marketed as Descovy. It found that, although the two drug combinations had equivalent efficacy and safety, there was a decrease in kidney function in people taking Truvada compared with those taking Descovy.
As a newer drug, Descovy is still under patent and costs around $16,600 a year in the US. The drugs in Truvada, TDF/FTC, will come off patent in the US at the end of 2020. These are already off patent in most of the rest of the world, and generic versions cost around $210-$720 a year.
Dr Rochelle Walensky and colleagues developed a cost-effectiveness model that calculated the cost per side effect avoided if patients used Descovy for PrEP rather than generic TDF/FTC. The model deliberately built in a series of assumptions weighted in favour of Descovy, including that Descovy had no side effects and that the side effects from TDF/FTC had been under-reported.
The model found that even in these circumstances, the cost of using Descovy rather than generic TDF/FTC on the grounds of avoiding side effects far exceeds what would be considered cost-effective to the health system. If TDF/FTC's cost was reduced by 50% to $8300 a year, then the maximum extra price that would be worth paying for Descovy would be $8670 a year - only $370 more.
Walensky highlighted the potential for wider availability of PrEP if its costs are reduced, "TDF going generic presents us with an amazing opportunity to get more people onto this effective prevention method."
Related links
---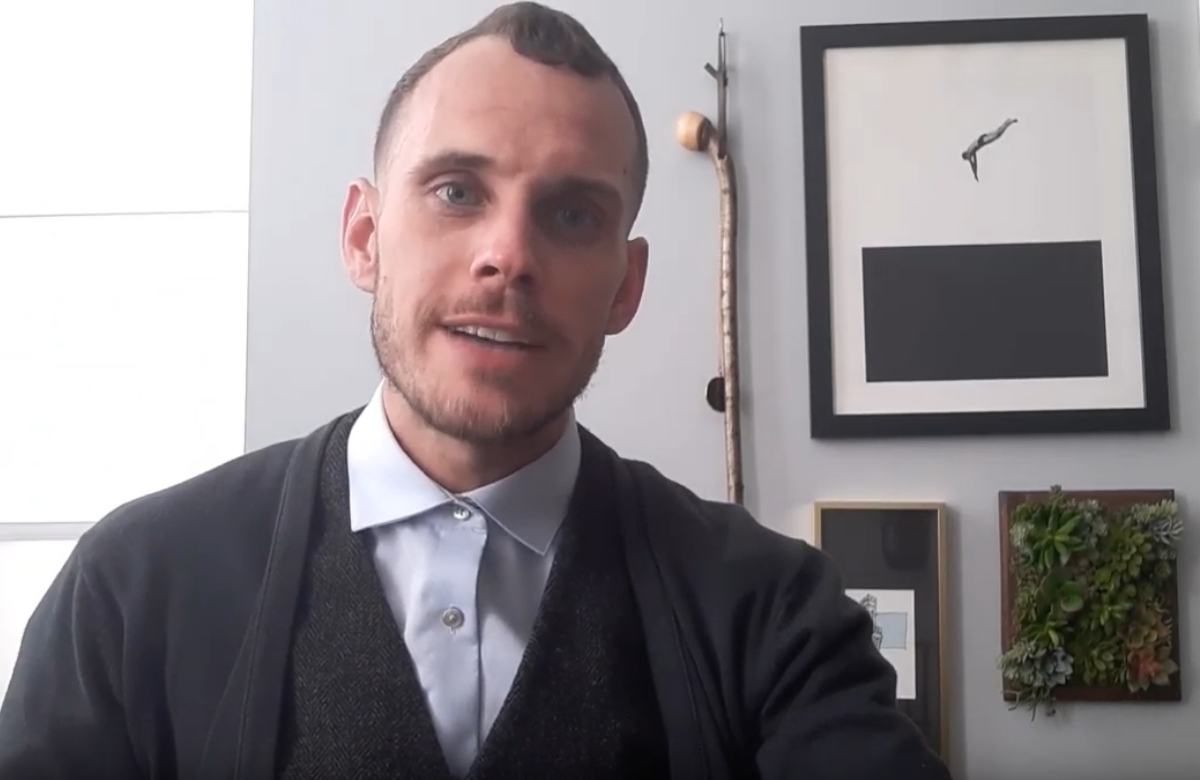 HIV incidence falls by three-quarters in Australian gay and bisexual men, strongly associated with treatment as prevention
HIV treatment as prevention, as measured in community-level viral suppression, was strongly associated with a large drop in the number of new HIV infections among gay and bisexual men in Australia, even before PrEP was available. This study was presented by Dr Denton Callander from the University of New South Wales at CROI 2020.
Despite the clear benefits of treatment as prevention (or Undetectable = Untransmittable, U=U) at the individual level, no large-scale studies have evaluated the community-level effects of treatment as prevention (TasP) on direct measures of HIV incidence among gay and bisexual men.
Data for this study came from around 115,000 gay and bisexual men in New South Wales and Victoria. Two measures were used to estimate community level viraemia: individual clinical viral load results from men living with HIV and the estimated number of men with undiagnosed HIV.
HIV incidence was established by looking at repeated HIV tests and new annual HIV diagnoses for the period 2012 to 2017. The correlation between community viraemia and annual HIV incidence was calculated both prior to the widespread availability of PrEP in Australia from 2012 to 2015 and for the entire period 2012 to 2017.
There was a large reduction in HIV viraemia among diagnosed gay and bisexual men from 17% in 2012 to 4% in 2017, due to increased uptake of HIV treatment, while the proportion of men living with undiagnosed HIV decreased slightly from 11% to 9%. Taken together, annual community prevalence of HIV viraemia decreased from 29% in 2012 to 13% in 2017, while HIV incidence decreased from 0.88/100 person-years in 2012 to 0.22/100 person-years in 2017.
The research shows that the decreased level of community viraemia was strongly associated with a reduction in the number of men diagnosed HIV positive and that this relationship existed prior to the introduction of PrEP in these states.
Related links
---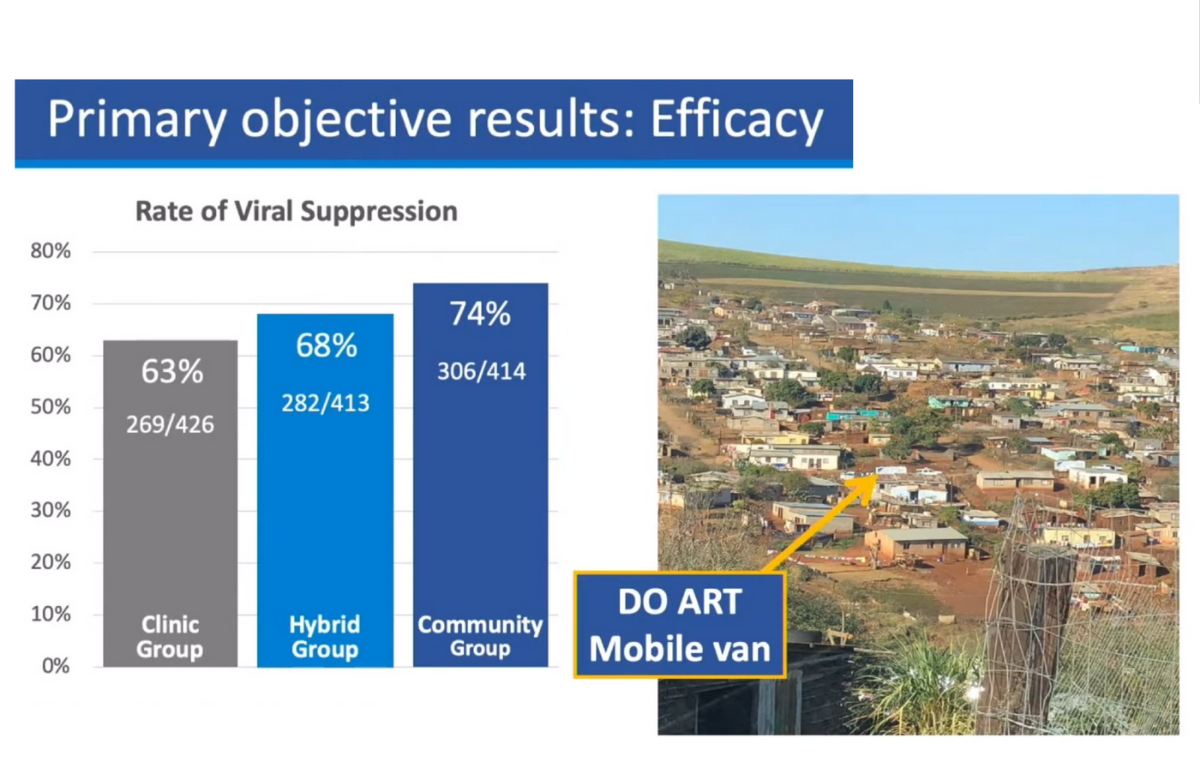 Community-based HIV treatment superior to clinic-based care for men in South Africa
Starting antiretroviral treatment on the day of diagnosis in a community setting and picking up medication from a mobile van resulted in superior rates of viral suppression, especially in men in South Africa, the randomised DO ART trial has found.
Men living with HIV in sub-Saharan Africa are less likely to be diagnosed, less likely to be in care and, in some settings, less likely to be on antiretroviral treatment. Engaging men in care has proved challenging in many countries.
To test the impact of several models of community-based testing and treatment, Dr Ruanne Barnabas of University of Washington and colleagues in South Africa and Uganda designed the Delivery Optimization for Antiretroviral Therapy (DO ART) study. It compared clinic-based care, community-based HIV testing and treatment, and a hybrid model, in which HIV treatment was started at a clinic, with medication refills provided in the community.
Viral suppression was superior after 12 months in participants randomised to community care and dispensing when compared to clinic-based care (74% achieved viral suppression in the community group compared to 63% in the clinic group). When the two models of community delivery were analysed in South African men, both were found to be superior to clinic-based care (community vs clinic, 72% vs 51%).
Across the study population, community or hybrid ART delivery eliminated gender differences in viral response.
Related links
---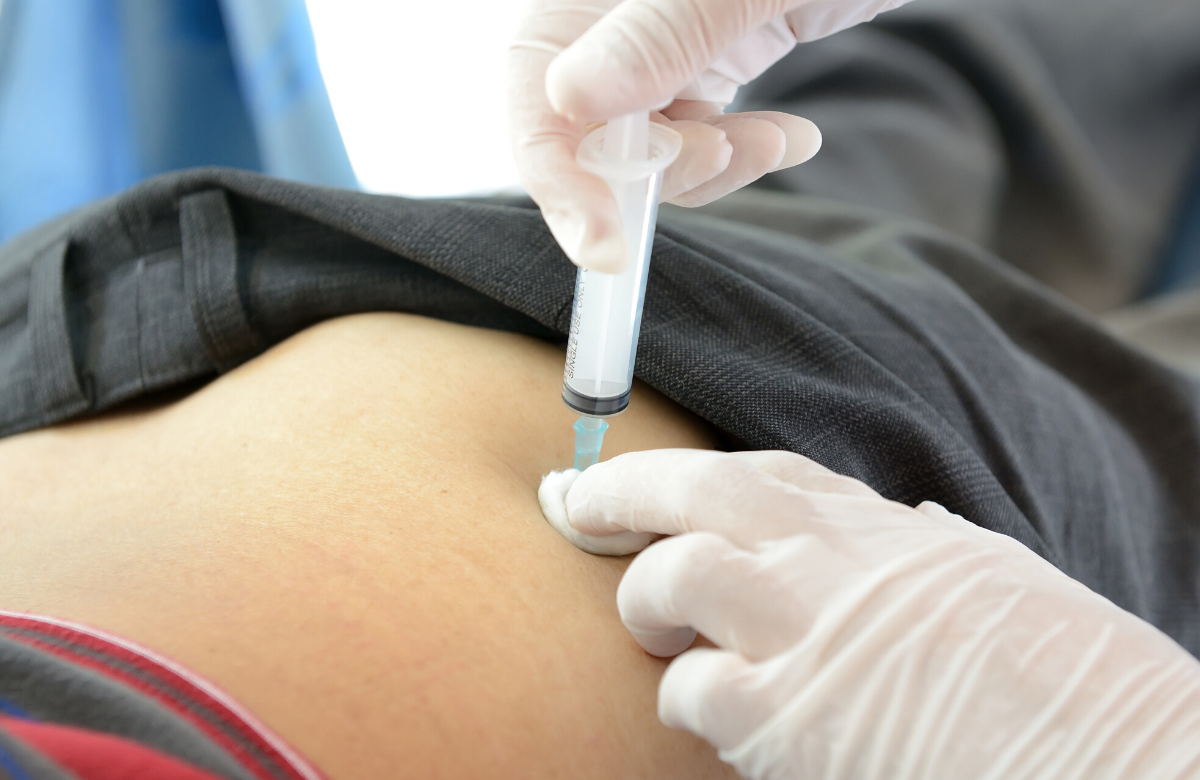 Long-acting injectables might be administered every two months
A combination of two long-acting injectable drugs administered every two months suppresses HIV viral load as well as monthly injections, according to a report at CROI 2020.
Treatment that can be taken every other month would improve convenience and possibly adherence. However, in this study, those who received the every-other-month regimen were more likely to develop resistance if they did not maintain viral suppression.
Long-acting cabotegravir plus rilpivirine has been under study for several years. Previous research has shown that drug levels are maintained in the body for more than a month, encouraging investigators to test the every-other-month regimen.
The new study, ATLAS-2M, included 1045 participants who were randomly assigned to receive injections of 600mg cabotegravir and 900mg rilpivirine every other month (522 people) or 400mg cabotegravir and 600mg rilpivirine every month (523 people).
After 48 weeks of treatment, 94.3% of participants taking the every-other-month regimen and 93.5% of those taking the monthly regimen continued to have undetectable viral load.
However, eight people (1.5%) taking the every-other-month regimen and two people (0.4%) on the monthly regimen experienced confirmed virological failure, defined as two consecutive viral loads above 200 copies/ml, and those using the less frequent regimen were more likely to have drug resistance mutations.
Treatment was generally safe and well tolerated, with the most common side effect being injection site reaction. Almost all study participants said they preferred injections to daily oral treatment.
These findings indicate that long-acting cabotegravir plus rilpivirine given every other month could be an attractive treatment option, although the higher likelihood of drug resistance could be a concern.
Related links
---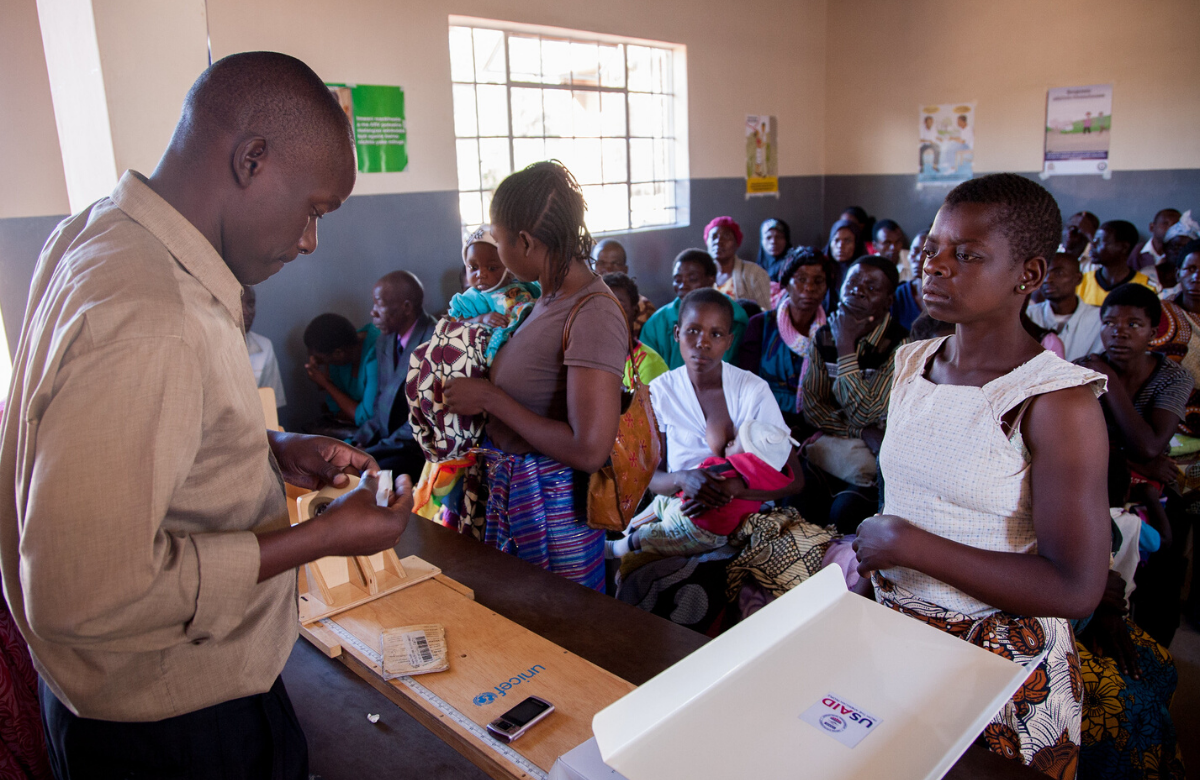 Good retention in care with six-monthly clinic visits in Lesotho
Dispensing antiretroviral drugs to people with suppressed viral load every six months is just as effective as dispensing medication every three months, a study in Lesotho has found. People who picked up their medication every six months from a community dispensing point were no more likely to be lost from care than people who attended an adherence club or clinic every three months to pick up medication.
Reducing the frequency of clinic visits to collect medication could help people who are stable on HIV treatment to stay engaged in care and maintain adherence.
Related links