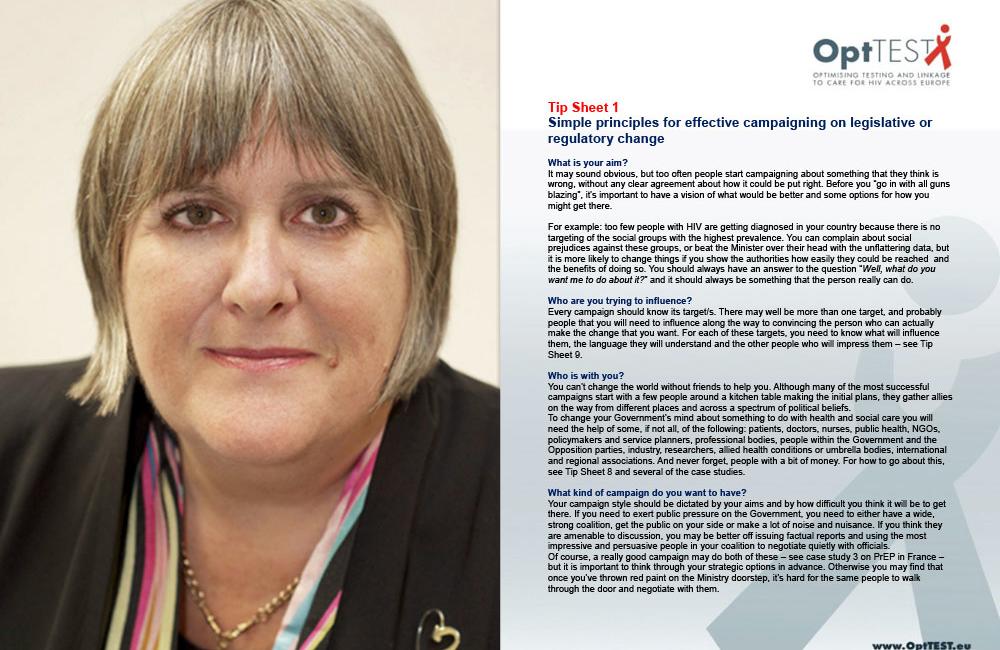 At the recent International AIDS Society conference in Paris, the Europe-wide project OptTEST launched an advocacy toolkit, focused on addressing and overcoming legal and regulatory barriers to HIV testing and access to HIV care. OptTEST is a three-year EU-funded programme, with the aim of reducing late HIV diagnosis and increasing access to treatment and care once people are diagnosed. It was funded for countries in the European Union, but has had some co-funding, notably from GNP+, which has meant that parts of the project could be opened up to cover the whole of the World Health Organization European region.
Lisa Power worked as an independent consultant on the project, researching legal and regulatory barriers and writing the resulting advocacy tools. Lisa has worked extensively in HIV and LGBT rights throughout her career. We spoke to her about the advocacy toolkit and the research that underpins it.
What kind of barriers to HIV testing and access to care exist in Europe?
'There are the obvious legal barriers in some countries that everyone has heard of. For example, if you are subject to being arrested as a sex worker or as an injecting drug user, then you are unlikely to disclose those things. You are unlikely to seek help if you have to disclose those things as part of seeking help. There are other legal barriers which we hear much less about, such as the legal barriers for trans people. In some countries, people literally cannot get registration in their correct gender, and therefore cannot access the treatment that they need for HIV. Trans people also tend to disappear in the data – they are often counted as gay men.
'Another legal barrier we discovered that hasn't had any focus on it, is the age of medical consent – the age at which someone can consent to have an HIV test without needing parental consent. It varies enormously between different countries. And then there are anomalous things – did you know that in Turkey, you actually can't get married without taking an HIV test?
'I think the big shocker in the work I did was discovering how hopeless most countries are about migrants and universal access to care. The laws and regulations are incredibly variable and frankly sometimes racist. Did you know that Armenia will only give you free treatment if you are an ethnic Armenian? Kim Kardashian can get free treatment in Armenia but most of the rest of us can't.
'Then on the other hand, there are some countries which can't afford to give free treatment to everyone, but where they have made some very sensible exceptions. In Turkey, you can get free treatment if you're Syrian. People from Syria are fleeing persecution and they clearly have no way of getting treatment any other way, so they've been formally included.
'While legal barriers are very important, particularly for some key populations, I actually think there is a greater universality to regulatory barriers – the ingenuity with which some countries manage to restrict people's access to testing is quite remarkable. For example, in Germany, anyone can do an HIV test, but there has to be a doctor in the building – they don't have to be in the same room, they don't have to be on the same floor, but they have to be in the building. It means that if you're a community testing project, you have to pay for a doctor. Many of the regulatory barriers are like this, in that they pile on the cost associated with providing testing.'
How are people addressing or overcoming barriers like these?
'Addressing barriers sometimes requires some creativity. In Ukraine, the community was told that they couldn't do tests without a doctor present, but when they looked at the legislation they discovered that it didn't cover self-testing. So, they've developed a project whereby peer supporters go into people's houses with test kits and the person does their own test, but there is someone there to help them read the result and support them through it.
'I've written ten case studies for the toolkit and they are all about ways in which people successfully tackled barriers. Three of them are specifically about the law around criminalisation of HIV transmission and exposure, and different ways in which European countries have tackled that, but there's a range of other things including: how the Greeks persisted in trying to remove legal constraints around the way that sex workers were treated; how the Ukrainians got round their testing laws; and the story of Portugal completely reforming their laws around injecting drug use and massively reducing their HIV transmission rate as a result.
'These little stories of how people did things are incredibly useful and there are lots of lessons to be drawn from them. There are so many lessons to be learnt from the activism around PrEP in France – for me, the primary one is that it's extremely difficult to be both the sober lobbying group that the government will talk to and also to be the group that pours fake blood on the steps of the ministry. There's a need for groups to work across that divide and there is a need for both street activism and behind-the-scenes suits lobbying. I think that's a really important lesson.
'There's a great lesson from the UK too, about how to get genuine universal free HIV treatment in a country, including for undocumented migrants, which is one of the biggest problems across Europe. We're not going to hit the UNAIDS 90-90-90 targets if we keep pretending that there are no undocumented migrants who need treatment. In England, that barrier was overcome through the efforts of a coalition which included everyone from NGOs, public health people, sympathetic and supportive HIV clinicians, through to finding the right supportive government minister. It was all about getting people together.'
What can people find in the toolkit you've produced?
'My work involved doing a literature review, which gave me priority topics for the case studies and tip sheets in the toolkit. It also led to a survey with the Global Network of People with HIV (GNP+), the results of which became the Barring The Way To Health website with GNP+ and the European AIDS Treatment Group. The website lists and cross references a series of key barriers in each country and is interactive.
'The case studies are 3-4 pages long and they are the stories of how various people overcame laws and regulations and each of them has a number of lessons that can be learned from it.
'The subjects for the tip sheets came out of areas that people clearly were looking for support around. Again, they are very simple, just a couple of pages long and they're written in bullet points. The simplicity is deliberate so that they can be adapted and used for the widest possible range of circumstances. You can download any separate element of it.
'They include: Getting the evidence for policy changes; Building alliances between community, clinicians and public health; Preparing for a meeting with a Government Minister or high-level official; and What can we do when politicians ignore the evidence?'
What advice would you give to an activist who is facing a challenging barrier in their country?
'Most European countries have some pretty interesting barriers to testing and care, one way or another. The lesson that I want every activist to learn is that if you are facing a barrier, bring it to light. Document it, publicise it, make the people who are insisting on maintaining the barrier feel as daft as they are.
'Take that barrier to an international conference and present it. Show the evidence of the stupid things that are happening because of an unnecessary barrier. In the nicest possible way, get people to put peer pressure on your government, on your clinical system, and flatter people into working with you to make that change. Let them think it's their idea, do anything you have to, to get the change. Find someone else who's solved the problem elsewhere, if they're out there and you may be able to learn from them.
'And what I've learned in 30 years of working on HIV in the UK, is the bright idea that you have this year, that you get shouted at for voicing or told is impossible by the people that it doesn't benefit, that bright idea will be standard practice in five years' time if it's genuinely a good idea. Just persist. When I worked at Terrence Higgins Trust, I can't tell you the number of times we were told that community testing would never happen, that we'd never get treatment for undocumented migrants, that we'd never reform the way that the Crown Prosecution Service prosecuted people. We and others did not listen. There was a lot of disapproval, including from the community, of things that have effectively become standard. Self-testing for example, and PrEP.
'Persist and have the courage of your convictions.'
All the tools produced as part of the OptTEST project are available on the OptTEST website. Some of the tools are being translated into several European languages.
The legal and regulatory barriers identified are mapped on the interactive website, 'Barring The Way To Health'.
This eFeature appeared in the September 2017 edition of the Eurobulletin.