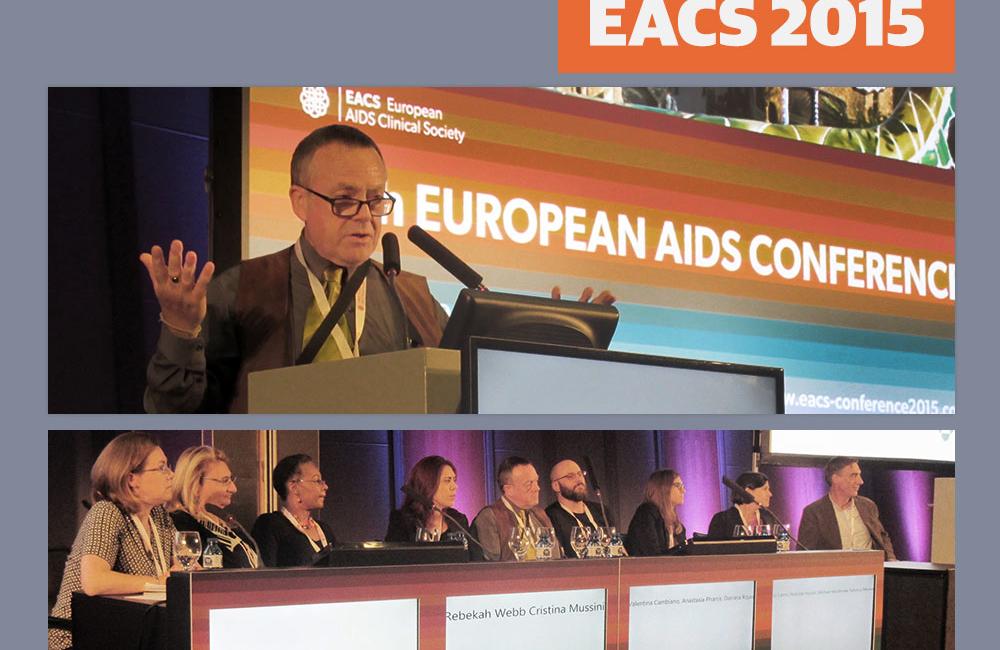 Pressure is mounting at community level for access to pre-exposure prophylaxis (PrEP) in Europe and is likely to continue to increase in the absence of decisions by funding authorities and regulators, leading to more informal use, speakers at a session at the 15th European AIDS Conference said on Thursday.
At the moment, PrEP is not being funded by national or regional governments in Europe, and any use that is occurring is either the result of individual arrangements with doctors, private prescribing outside the public health systems, or informal and unmonitored use.
Grassroots demands for PrEP are emerging through social media at a rapid pace, with men exchanging advice on how to obtain Truvada for PrEP by asking for post-exposure prophylaxis (PEP), or by buying the drug online. In the United Kingdom, for example, the IWantPrEPNow website contains information and advice on how to get hold of Truvada (or its generic equivalents, tenofovir and emtricitabine). In France, national organisation AIDES has already resolved to facilitate safe access to PrEP for anyone who needs it, in advance of a decision by a national committee (the Morval report) which recommended PrEP for men who have sex with men at high risk of HIV infection, and also for migrants, sex workers and drug users at high risk.
Making informal use of PrEP safe and effective is likely to become a growing part of the work of community organisations which – apart from AIDES in France – have been slow to respond to the need for explicit advice on how to use tenofovir and emtricitabine (Truvada) safely as PrEP when they are not prescribed by a doctor for this purpose.
Plans for implementing PrEP as a fully-funded component of national HIV prevention strategies are still at an early stage, even in countries where research has been very active, such as France and the UK. A single European approach to implementation of PrEP in Europe is going to be far from straightforward because of the variety of health care systems and funding mechanisms for health across the continent, as Anastasia Pharris of the European Centre for Disease Prevention and Control showed.
Whereas the UK has a long-established network of sexual health clinics – which were integral to the design of the PROUD study – men who have sex with men in Germany and other countries in Western Europe were more likely to have taken their last HIV test at a general practitioner's office, and would probably approach these providers for PrEP. And while services in some countries in Western Europe – especially community organisations – are well-adapted to the needs of marginalised groups such as men who have sex with men, research by the European Union Agency for Fundamental Rights (FRA) has shown extremely low levels of disclosure of sexual orientation to health care providers in Eastern Europe and in Central European countries such as Romania, owing to stigma and discrimination.
PrEP access should not be viewed in isolation from other prevention and care needs when thinking about its delivery, several speakers pointed out. Session chair Rebekah Webb noted the urgent need to scale up opportunities for testing in the context of new guidelines recommending antiretroviral therapy for all, while Michael Meulbroek described the work of the Barcelona Checkpoint service, a community HIV testing clinic which has been providing rapid HIV testing and linkage to care for over ten years. As a result of its extensive experience in providing HIV testing and sexual health services, Checkpoint is able to use data on testing patterns and HIV incidence to predict who is at highest risk of HIV infection and who should be the highest priority for an offer of PrEP.
But even where the infrastructure already exists to deliver PrEP to those who need it, regulatory and funding barriers still prevent people from getting access to PrEP.
Licensing of Truvada for use as PrEP by the European Medicines Agency might help speed up access to PrEP in some countries such as Germany, where the Federal Health Ministry awaits European registration of Truvada for PrEP to make a recommendation on its use. But, as Dr Sheena McCormack, lead investigator on the PROUD study pointed out, physicians all over Europe have been using antiretroviral drugs for PEP for sexual exposure without any debate about the need for a special indication from regulatory authorities for at least 15 years. Although some of the wish for a PrEP indication by policymakers may derive from concerns about long-term toxicity, Gus Cairns from the UK reminded delegates that the results of the Ipergay study could shift the debate in this respect, because the study showed that intermittent PrEP, with much lower levels of total exposure to tenofovir, was highly effective.
Paradoxically, the insistence on a specific licensing indication is likely to drive people who want PrEP to gain access to it by circumventing regulations. German PrEP activist Nicholas Feustel pointed out that in the UK it is not illegal to order generic medicines online for personal use, and those who can afford to pay £50-60 for a 30-tablet bottle are already free to import a generic version of Truvada ordered from internet pharmacies for personal use. Bulk importation of generics for resale is illegal. On the other hand, German law forbids the import of generic drugs for personal use ordered online, but does permit the import of drugs sufficient for three months of personal use by travellers. In other words, it is illegal for Germans to order drugs for PrEP over the internet, but not illegal to order drugs to be delivered to an address in the UK and then subsequently imported into Germany.
But for many countries the issue remains one of cost. Despite evidence that PrEP is cost-effective in some circumstances, for example in the UK, funding authorities are dragging their feet. Aidsmap has learnt that a decision on PrEP availability is unlikely to be made before June 2016 – over 18 months after results of the PROUD study showed that PrEP was highly effective – and safe – in preventing HIV infections among gay men. Despite cost-effectiveness analysis which showed that with careful risk assessment, PrEP could be cost-saving at current prices for men who have sex with men, PrEP cost-effectiveness is likely to teeter on the borderline of affordability for many European countries, depending on HIV incidence, HIV testing rates and frequency or duration of use, until a generic version of tenofovir and emtricitabine becomes available, probably in late 2017 or 2018.