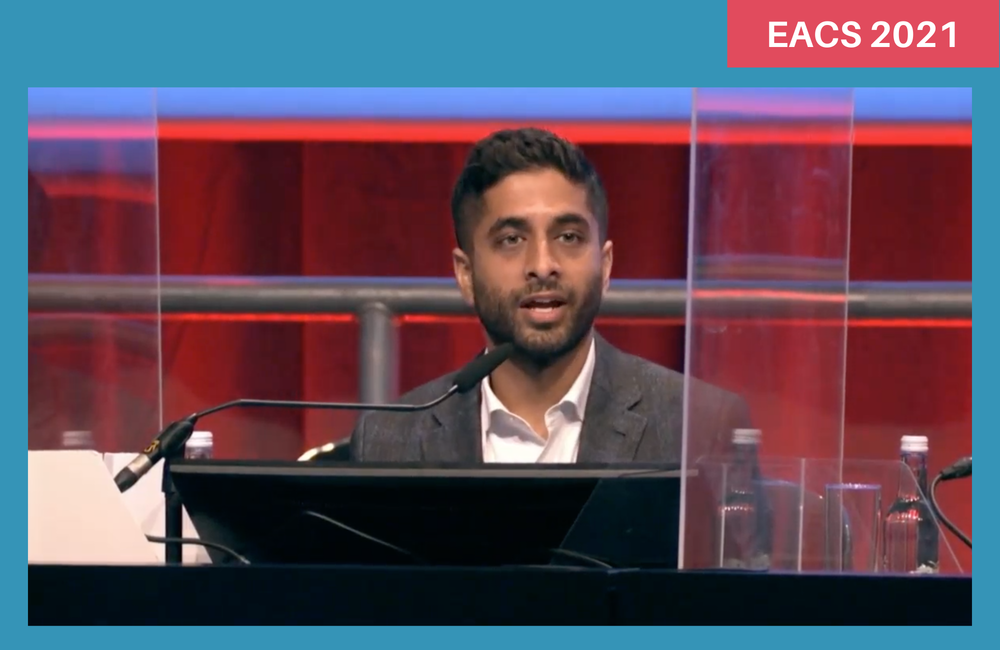 People with HIV who are severely immunosuppressed may have prolonged periods of shedding SARS-CoV-2 without clinical symptoms, a case report presented at the 18th European AIDS Conference (EACS 2021) last week suggests.
But it's unclear how infectious people in this situation might be, and current guidance on isolation and social distancing may have significant clinical and psychosocial costs for the people affected, Dr Irfaan Maan of University College London Institute for Global Health told the conference.
He described the case of a 28-year-old woman with HIV who was diagnosed with B-cell lymphoma (a form of the cancer non-Hodgkin lymphoma) in mid-2020, with a CD4 count of 30 and a viral load of 354,814 copies/ml.
The patient had a long history of suboptimal antiretroviral therapy adherence and low CD4 counts, and her adherence may have been affected by COVID-19 service changes. The lymphoma diagnosis came after a ten-month unplanned break from antiretroviral treatment.
She resumed antiretroviral treatment with dolutegravir, tenofovir alafenamide and emtricitabine and had an undetectable viral load within four weeks. She also commenced R/CHOP chemotherapy and achieved remission after three cycles.
This encouraging response to therapy was complicated by testing positive for SARS-CoV-2 on a PCR test, which meant that she had to self-isolate at home. Unusually, she continued to test positive at day 15, again at days 22 and 37, and remained positive on PCR and transcription mediated amplification (TMA) assays until 164 days after her first positive test. An antibody test at day 64 was negative, suggesting a lack of immune response to infection. Throughout the time she tested positive, she had no COVID-19 symptoms.
During chemotherapy, the woman maintained a very low CD4 count – 20 cells at month 3, 20 cells at month 7 when remission was identified, rising to 90 cells by month 10.
After an initial reduction in anxiety following the initiation of chemotherapy, the woman began to experience low mood and frustration as repeated positive tests required her to isolate. She missed social contact and needed support from clinicians and clinic psychologists to improve her mood and outlook on her situation.
Eventually she tested negative and by mid-2021 was back at work and had a CD4 count of 720.
Implications
Prolonged viral shedding has been reported previously in a person with HIV, in people receiving cancer chemotherapy and in people who have undergone organ transplants. What's unclear is whether the viral shedding is sufficient to pose a risk of infection to others.
In this case, "She was living with her mother and younger sister at this time, neither of whom became infected, so it probably points towards the idea it is not," said Dr Maan.
For the woman in question, lack of knowledge about whether the virus being detected could be passed on to others had serious consequences. She was forced to isolate for over five months, even after completing chemotherapy and being told she was in remission.
How can clinicians determine when immunosuppressed patients are unlikely to be infectious?
If they lack access to viral culture that can show if SARS-CoV-2 is replicating, clinicians are forced to use PCR cycle numbers (CT number) to judge the risk of infectivity in someone persistently testing positive for SARS-CoV-2. A low cycle number indicates the presence of much more viral material, requiring fewer amplification cycles to detect it.
Dr Michael R Tom and Professor Michael J Mina of Harvard Medical School have proposed that people without symptoms and a CT value of 34 or above on a positive test should be treated as non-infectious and should not need to isolate.
In the case of the London woman with prolonged positivity, CT values fluctuated between 24 and 32, but critically, three different PCR testing platforms were used to test her samples. Guidance from Public Health England warns that CT results from different platforms are not interchangeable, so they cannot be compared.
Another possible means of determining infectiousness is to carry out an antigen test on blood. "It's a good marker of replicative virus," conference chair Dr Sanjay Bhagani commented.
Antiviral treatment for SARS-CoV-2 might be appropriate in circumstances where immunosuppressed people are having to endure prolonged isolation, a conference panel discussion agreed, although more data are needed on the use of remdesivir in immunosuppressed people.
Although this case is unusual, it highlights the need to understand more about SARS-CoV-2 and COVID-19 in immunosuppressed people, not just vaccination responses.
References
Maan I. Prolonged SARS-CoV-2 shedding in a person living with advanced HIV and diffuse large B-cell lymphoma. 18th European AIDS Conference, London, Clinical Case session, 2021.