High rates of liver fibrosis observed in individuals with normal body weight and NAFLD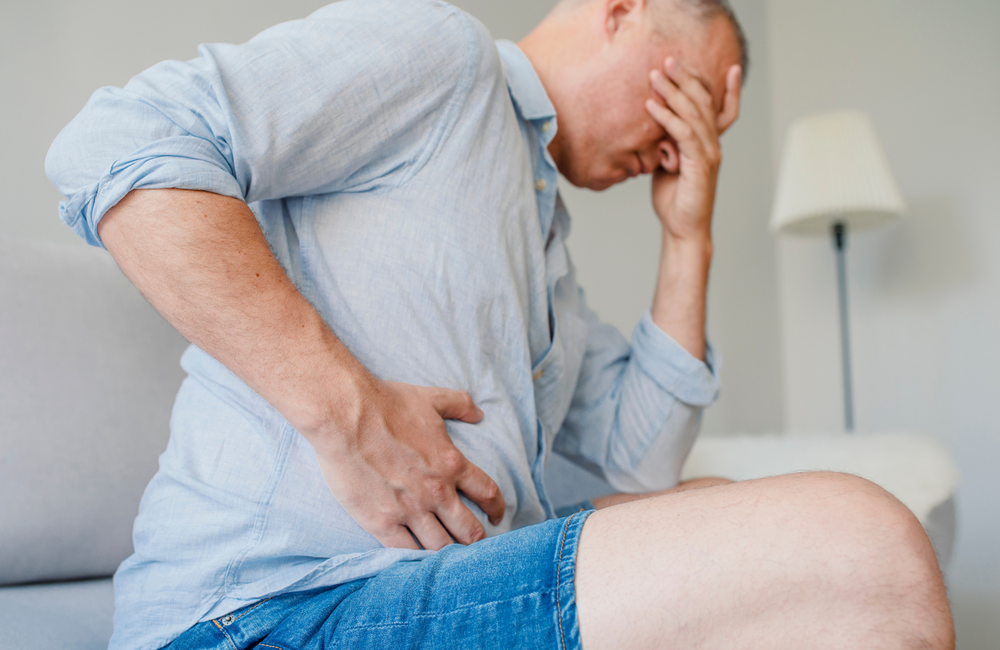 A quarter of people living with HIV with normal body weight have non-alcoholic fatty liver disease (NAFLD), Italian and Canadian investigators report in Clinical Infectious Diseases. Risk factors were older age, high blood lipids and disturbed liver function. Significant liver fibrosis was observed in 16% with NAFLD, and this progressed in a significant proportion of individuals at a rate comparable to that seen in overweight or obese study participants.
NAFLD is normally associated with excess weight and obesity. This study shows that it is also a concern for lean people living with HIV. The authors recommend that older patients should be screened for NAFLD, especially if they have elevated blood lipids and abnormal liver function.
"Lean NAFLD had significant liver fibrosis and cirrhosis in 11.9% and 3.8% of cases, respectively," comment the investigators. "This result highlights that…in the setting of HIV infection, lean NAFLD should not be considered a benign condition."
NAFLD is defined as liver fat accumulation above 5% in liver cells in the absence of excess alcohol consumption. It can lead to fibrosis, cirrhosis and serious liver disease.
The prevalence of NAFLD among HIV-positive people who do not have co-infection with viral hepatitis is uncertain. Estimates vary between 13% and 65%. But a key risk factor, as in the general population, is excess weight.
Despite this, NAFLD has been reported in people living with HIV with a normal body weight – defined as a body mass index (BMI) below 25kg/m2. The mechanisms of NAFLD may differ between lean and overweight individuals.
A team of Canadian and Italian researchers led by Dr Adriana Cervo of McGill University, Montreal, wanted to establish the prevalence and risk factors of NAFLD among lean people with HIV. They therefore merged the results of three cohort studies: two retrospective cohorts from Italy and a prospective cohort from Canada.
Recruitment was restricted to adults who did not have co-infection with hepatitis B or C, other significant liver disease or excess alcohol consumption. NAFLD and fibrosis were assessed using transient elastography (such as FibroScan), a non-invasive tool used to measure liver stiffness.
A total of 1511 people were included in the investigators' analysis. They were predominantly male (75%) and white (84%), with a mean age of 50. Just over half (57%) had a BMI below 25kg/m2 and were classified as lean.
The overall prevalence of NAFLD in lean participants was 24%.
Comparison between lean participants with and without NAFLD showed that those with NAFLD were older, had higher BMI, had been diagnosed with HIV for longer, were more likely to have had a nadir CD4 cell count below 200, and had a history of treatment with older antiretrovirals that can cause liver damage (stavudine and didanosine).
There was a higher prevalence of metabolic abnormalities (diabetes, high blood pressure, raised lipids) among lean individuals with NAFLD compared to those without NAFLD (62% vs 49%). Elevations in ALT – a key marker of liver function – were also more prevalent among individuals with lean NAFLD compared to lean participants without NAFLD (37% vs 24%).
"Clinicians should maintain a high degree of suspicion for NAFLD in lean HIV mono-infected patients, especially in the presence of dyslipidemia or elevated ALT."
After taking into account potential confounders, the factors associated with lean NAFLD were older age (aOR = 1.29; 95% CI, 1.04-1.59), higher triglycerides (aOR = 1.34; 95% CI, 1.11-1.63) and higher ALT (aOR = 1.15; 95% CI, 1.05-1.26). In contrast, higher HDL ('good' cholesterol) was protective against NAFLD.
Significant liver fibrosis was detected in 16% of lean participants who had NAFLD. This was twice the rate (8%) observed in lean individuals without NAFLD.
Fibrosis progression occurred in 27% of the study population overall. There was no statistically significant difference in the rate of progression between lean and overweight/obese participants with NAFLD.
"Lean NAFLD is a frequent occurrence in HIV mono-infected patients," conclude Cervo and colleagues. "Our study shows that those patients can present with significant liver fibrosis and cirrhosis. Clinicians practicing HIV medicine should maintain a high degree of suspicion for NAFLD in lean HIV mono-infected patients, especially in the presence of dyslipidemia or elevated ALT."