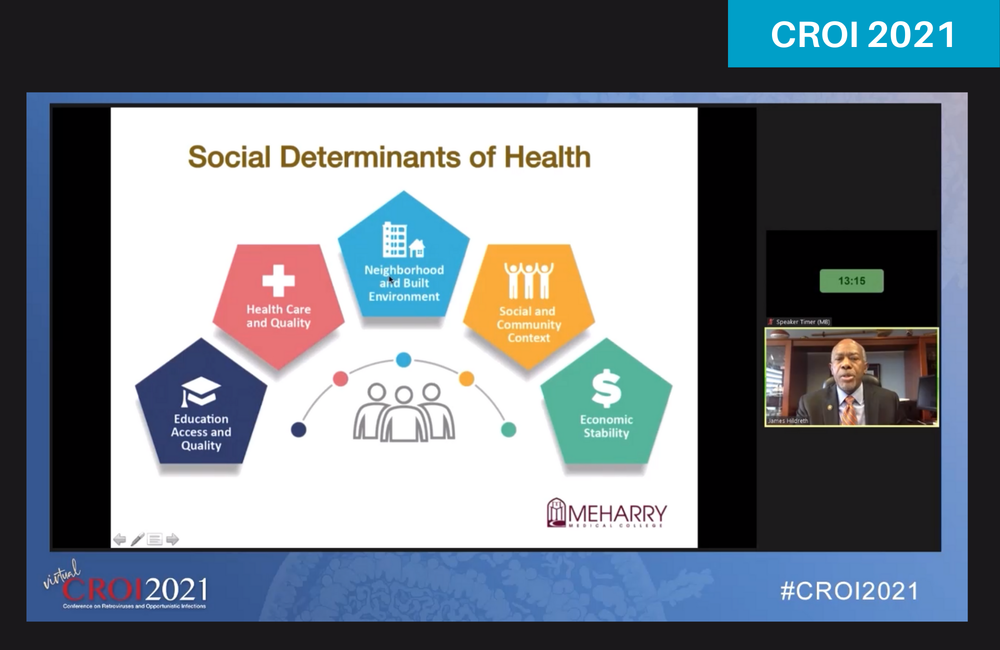 Professor James Hildreth made a strong case for attending to the social determinants of health in order to address pronounced racial disparities in both the HIV and COVID-19 pandemics in the US, during a plenary session at the virtual Conference on Retroviruses and Opportunistic Infections (CROI 2021) yesterday. Hildreth is president of Meharry Medical College in Tennessee and a member of President Biden's COVID-19 Health Equity Taskforce.
Black people living in the US continue to be disproportionately affected by HIV. In 2018, despite only comprising 13% of the US population, they made up 43% of all new HIV diagnoses while Black men who have sex with men (MSM) alone made up a quarter of all new HIV diagnoses. Whereas infections in White MSM have decreased in recent years, infections in Black and Latino MSM have remained stable or have increased – for instance, there were significant increases in new diagnoses among Black MSM aged 25 to 34 from 2014 to 2018.
Hildreth highlighted that the number of Black people presenting with AIDS (stage 3, or a CD4 count below 200) continued to increase even when antiretroviral therapy (ART) become more widely available in the mid-1990s – at a time when AIDS diagnoses for White people were steeply declining. Today, AIDS remains far more prevalent in Black communities. He said there is a 'chasm' in health status between White people and those of other races in the US and this has once again been brought to the fore by stark COVID-19 racial disparities.
Poor access to health information, delayed medical care, poorly managed chronic conditions, mass incarceration and economic instability are some of the factors which act as social determinants of health, he said.
New data presented at the conference indicated that while racial differences have continued to decrease from 2012 to 2018, Black people living with HIV are still significantly less likely than White counterparts to receive ART within a month of entering care. A second study from three Deep South states indicated that while overall viral suppression trends are improving, young Black men continue to take longer to achieve viral suppression than other groups. Interestingly, time to viral suppression was longer for heterosexual males than MSM. A third study demonstrated how increased funding in certain jurisdictions provided an opportunity to correct some of these disparities.
Disparities in receiving ART
Dr Jun Li from the Centers for Disease Control and Prevention (CDC) and colleagues looked at the likelihood of receiving an ART prescription within a month of newly entering HIV care ('timely ART') between 2012 and 2018, using data from the large North American AIDS Cohort Collaboration on Research and Design (NA-ACCORD, which collects HIV-related indicators from most US states). Individuals were considered as 'newly' entering care if they had not received ART in the past, had a viral load above 500 copies/ml and did not have a longstanding AIDS diagnosis.
Among 11,853 eligible adults who attended two or more clinic visits within a year of entering care, nearly half were MSM and Black (48% and 45% respectively), most were under the age of 50 (77%), and just over half lived in the South (51%). While a quarter of all individuals presented with a mental health diagnosis, 11% had a history of drug abuse or dependence and a small percentage had a recent AIDS diagnosis (5%). During the 2012 to 2018 period, 6688 individuals entering care received timely ART, a median of nine days after entering care.
"There is a 'chasm' in health status between White people and those of other races in the US."
Overall, receiving timely ART significantly improved between 2012 and 2018, jumping from 42% to 82%. While Black people living with HIV had a lower rate of receiving timely ART when compared to White people between 2012 to 2015, this difference was no longer apparent for the second half of the period leading up to 2018. However, when analysing data from the entire period, Black people, those living in the South and those with a history of drug abuse or dependence were at a significantly higher risk of not receiving timely ART, regardless of factors such as mental health illness or the year of entering into care. As expected, those with higher viral loads and lower CD4 counts upon entering care were more likely to receive timely ART.
While Li acknowledged that this study was not able to account for why a person might not have received timely ART (for instance, whether it was due to clinical factors or the patient's choice), it indicates that there have been substantial improvements since 2012, when treatment guidelines were changed to recommend that all people living with HIV receive ART. It also coincides with a period of implementation of the Affordable Care Act, in the form of expansion of Medicaid (health insurance for those with low incomes). Although the disparity gap in terms of timely ART continues to close, he said it is important to continue monitoring progress for specific subpopulations and to prioritise interventions, such as for people who use drugs and in the South.
Disparities in viral suppression
The Deep South has the highest rates of new HIV diagnoses, the largest number of people living with HIV and the lowest rates of viral suppression in the country.
Dr Aadia Rana from the University of Alabama at Birmingham presented data on time to viral suppression in Alabama, Louisiana and Mississippi. She explained that time to viral suppression is one of the best indicators of the effectiveness of combined HIV continuum activities and the integration of services, ranging from clinical care, public health efforts and those provided by community-based organisations. She also emphasised the great amount of variation seen in the Deep South – even between neighbouring states – and the need to understand why these differences exist. 
Rana and colleagues conducted analyses to look at time taken to achieve viral suppression for people newly diagnosed with HIV between 2012 and 2019. From a cohort of 16,818 people (49% in Louisiana, 30% in Alabama and the remainder in Mississippi), the majority were Black males (approximately 75%), approximately half were aged 25-44, half were MSM and around a quarter had an AIDS Stage 3 diagnosis.
Time to viral suppression was shorter in 2016-2019 than 2012-2015 in all three states. Younger age (13-24), male sex at birth, non-white race, and not being MSM were associated with longer time to viral suppression. Additionally, presenting with advanced (and likely symptomatic) disease at diagnosis was associated with shorter time to viral suppression.
However, Mississippi lagged behind the other two states, with less than 40% of people achieving viral suppression by 2019, whereas Louisiana and Alabama achieved viral suppression in over 60% by 2019. Louisiana saw a large leap for those diagnosed after 2016. For all three states, the median time to viral suppression improved dramatically between 2012 to 2019 – going from around 271 days or more to 91-180 days in most public health areas. This indicates the variation seen between and within states, with most areas showing drastic improvements in decreasing the time to viral suppression (for example, all parts of Alabama) while those in underserved areas with inequitable access to care (such as in the Mississippi Northwest Delta region) continued to take longer to achieve viral suppression.
Rana concluded by emphasising that overall trends in time to viral suppression show improvements in the Deep South, and that this could be linked to the universal test and treat guidelines also cited by Li. Additionally, Louisiana's successes may be related to increased health coverage in the form of Medicaid expansion there in 2016 as well as local interventions, such as rapid-start ART programmes.
Working to correct disparities
Regarding interventions to reduce disparities and their related negative outcomes, Dr Kashif Iqbal from the CDC presented results from the five-year THRIVE demonstration project. This provided increased funding to jurisdictions with high numbers of Black or Latino men living with HIV, specifically to enable health departments to develop comprehensive community-based HIV prevention and care services in tandem with healthcare, behavioural health and social service providers.
Various activities were conducted in order to support PrEP implementation, ranging from increased HIV testing, supporting community-based organisations to provide services such as PrEP screening and counselling, social media campaigns, healthcare provider training and ongoing evaluation to improve the quality of services.
Iqbal and colleagues analysed the number of new HIV diagnoses among Black and Latino MSM aged 13 and older between 2014 and 2018 in seven THRIVE-eligible jurisdictions that received funding for this period (including Baltimore, Philadelphia, Washington DC and New Orleans). Comparison was made with twelve THRIVE-eligible jurisdictions that did not receive this funding (such as Dallas, Atlanta and Orlando). From 2015 onwards, THRIVE has provided HIV prevention services for 9494 Black MSM and 3528 Latino MSM.
In terms of overall new HIV diagnoses among Black MSM, there was an estimated 4.2% reduction from 2014 to 2018 in THRIVE-funded jurisdictions, whereas those not receiving funding saw a consistent number of new diagnoses with no percentage change. The project had the greatest impact in the 25-34 age group.
Overall, for Latino MSM, there was a 1.7% increase in those cities not receiving funding compared to a 2.7% reduction in those that did. The best results were seen in men aged 35-44.
While Iqbal concluded by warning that causation cannot be guessed at from this study, and that there may be other important factors at play (such as rates of viral suppression over time), this type of collaborative model that makes more funds available for health department-led interventions with community-based organisations shows promise.
"The goal should be for each person to achieve their personal best health and wellness," Hildreth concluded at the end of the plenary. "Achieving health equity means recognising and meeting individual and community needs – the same approach cannot be assumed to work for all."
References
Hildreth J et al. Disparities in health: from HIV to COVID-19 and beyond. Conference on Retroviruses and Opportunistic Infections, abstract 15, 2021.
Li J et al. Disparities in timely receipt of ART prescription in HIV care in the US, 2012-2018. Conference on Retroviruses and Opportunistic Infections, abstract 104, 2021.
Rana A et al. Geographic differences in time to viral suppression in the Deep South, 2012-2019. Conference on Retroviruses and Opportunistic Infections, abstract 105, 2021.
Iqbal K et al. Decreased HIV diagnoses among MSM of color in THRIVE-funded jurisdictions, 2014-2018. Conference on Retroviruses and Opportunistic Infections, abstract 106, 2021.