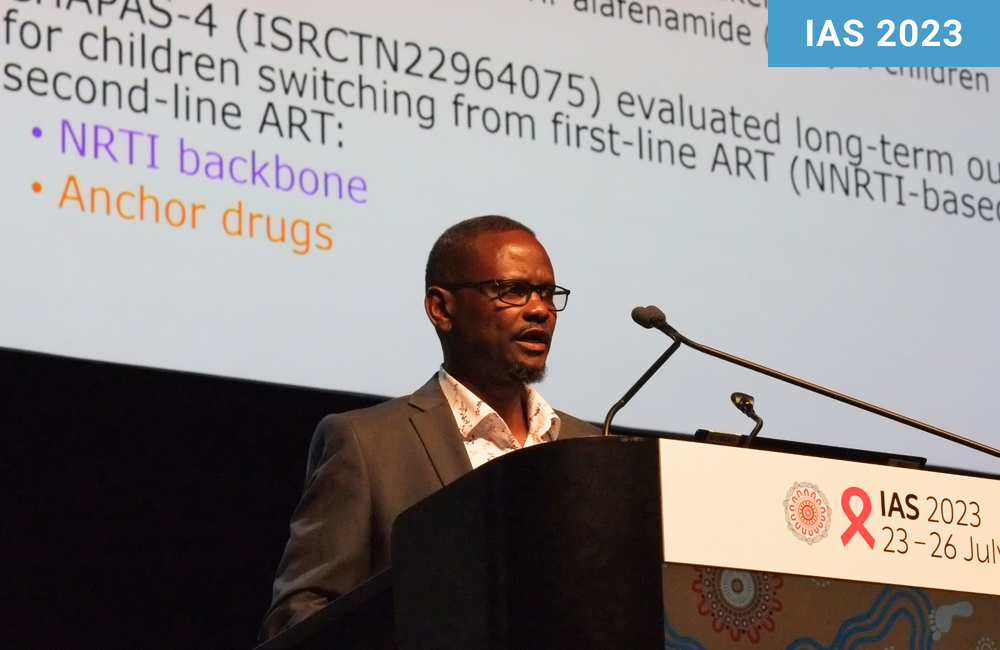 A study which evaluated the outcomes of children switching from a first-line NNRTI-based treatment to a second-line treatment shows viable options that would increase access to safe and effective second-line antiretroviral therapy (ART). The findings highlight the need to develop a child-friendly fixed-dose combination of tenofovir alafenamide fumarate (TAF) and emtricitabine plus dolutegravir as an anchor medicine. Alternatively, darunavir or atazanavir could be used as the anchor.
The findings of Children with HIV in Africa – Pharmacokinetics and Acceptability of Simple second-line ART (CHAPAS-4) were presented by Dr Victor Musiime of Makerere University today at the 12th International AIDS Society Conference on HIV Science (IAS 2023), held virtually and in Brisbane, Australia.
Current options for second-line treatment are very limited for children living with HIV. Boosted lopinavir/ritonavir is taken twice daily, and there are minimal data on TAF in children. A recent review found that initial evidence suggested minimal safety concerns for children on TAF for 24-48 weeks, but that more data on longer term effects on weight and other metabolic changes was needed. The use of tenofovir disoproxil fumarate (TDF) in children has caused concerns around long-term bone health.
The research took place at six trial sites in Uganda, Zambia, and Zimbabwe. A total of 919 participants took part, aged between 3 and 15, with a median age of 10. There were 497 boys and 422 girls. Rates of malnutrition in the group were moderate.
Most children (778) could be defined as having 'early stage disease', in line with the World Health Organization (WHO) guidelines. The average CD4 count was 669, with an average viral load of 17,573 copies/ml. Most children had spent around six years on NNRTI first-line treatment.
The study's primary endpoint was a viral load of less than 400 at 96 weeks. All children were randomised to take one of two NRTI backbone medicines:
TAF and emtricitabine, taken once daily.
The current standard of care, which was lamivudine combined with whichever of abacavir or zidovudine was not taken as first-line treatment.
Almost all (910) were also randomised to one of four anchor medicines:
dolutegravir
darunavir/ritonavir
atazanavir/ritonavir
lopinavir/ritonavir, which was the standard of care
Results
Viral load suppression was defined as below 400, which remained high at 80% or above across all arms of the study. The study found five key things:
Children had better viral suppression on TAF and emtricitabine compared to the standard of care (abacavir/lamivudine or zidovudine/lamivudine) (89% vs 83%).
Dolutegravir was better as an anchor medicine, in comparison to lopinavir/ritonavir and atazanavir/ritonavir (92% vs 83%).
Atazanavir/ritonavir had similar results to lopinavir/ritonavir (84% vs 81%).
There was also a trend of darunavir being better than atazanir/ritonavir and lopinavir/ritonavir (88% to 83%).
There were no weight gain problems with dolutegravir or TAF, but children on lopinavir/ritonavir had poor weight gain and the least favourable lipid profiles.
CD4 cell counts increased across all arms and there was no evidence of a difference according to either the NRTI or anchor regimen randomisation.
The CHAPAS-4 trial confirms WHO guidelines which recommend dolutegravir as a second-line treatment in children.  
References
Musiime V et al. Increasing second-line antiretroviral therapy options for children with HIV in Africa: week-96 efficacy and safety results of the CHAPAS-4 randomised trial. 12th IAS Conference on HIV Science, Brisbane, abstract OALBB0503, 2023.