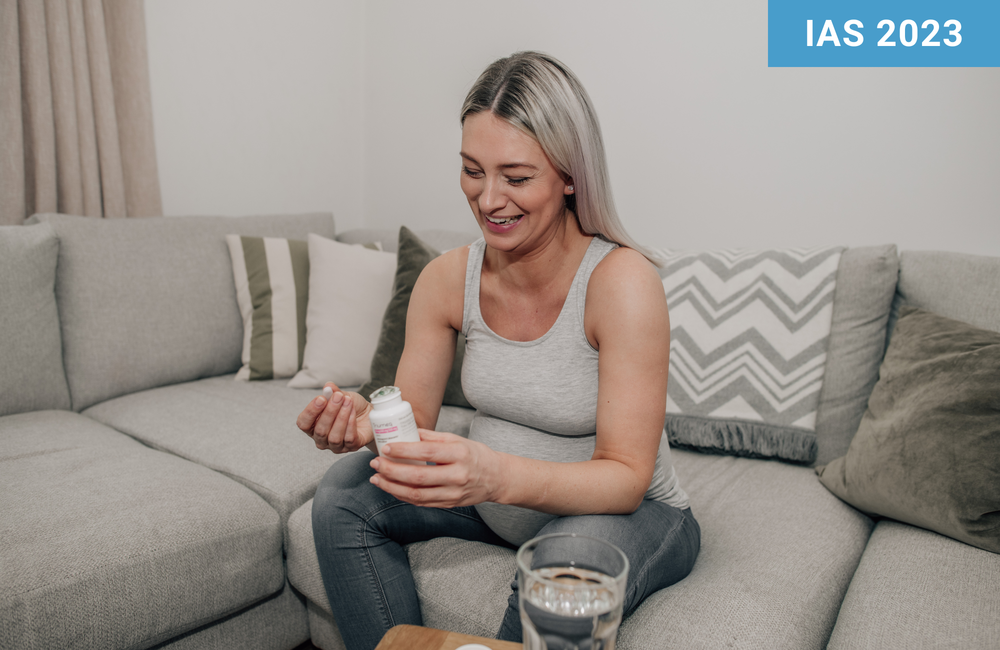 Bictegravir levels remain adequate during pregnancy and no dose adjustment is needed, a study of Biktarvy pharmacokinetics during pregnancy has found. The findings were reported on Monday at the 12th International AIDS Society Conference on HIV Science (IAS 2023) in Brisbane, Australia.
The study also showed that the combination of bictegravir, tenofovir alafenamide and emtricitabine (Biktarvy) maintained viral suppression during pregnancy and the postpartum period and did not lead to serious adverse events.
Biktarvy is recommended for adult antiretroviral treatment but until now there have been no data regarding its safety and efficacy in pregnancy. Bictegravir is highly protein bound and metabolised by the UGT1A1 and CYP3A4 enzymes. The activity of both enzymes is increased during pregnancy and protein binding is reduced, potentially leading to lower concentrations of drugs metabolised by these pathways.
Dr Dhananjay Marathe of Gilead Sciences presented results of a study of the safety, efficacy and pharmacokinetics of Biktarvy in 33 women with HIV who had achieved suppressed virus on their existing antiretroviral regimen for at least six months. All switched to Biktarvy in the second or third trimester of pregnancy. The study also tested infants for HIV and measured levels of bictegravir and tenofovir alafenamide after delivery to assess how long the drugs remained in infants' bodies.
The study measured levels of bictegravir, emtricitabine and tenofovir alafenamide in several ways to assess whether drug levels changed during pregnancy and if they were substantially lower than in previous pharmacokinetic studies. Levels of some antiretroviral drugs fall during pregnancy so doses may need to be adjusted, especially in the third trimester.
Samples of blood were taken at regular intervals over 24-hour periods in the second and third trimesters and at weeks 6 and 12 after delivery. Sampling showed that steady-state concentrations of bictegravir were lower during pregnancy than after delivery, but that trough concentrations remained approximately six times higher than the inhibitory quotient (the IQ1). One participant, who was taking iron and calcium supplements, had slightly lower bictegravir levels during the second trimester.
Total and unbound concentrations of bictegravir were 59% and 41% lower in the third trimester of pregnancy when compared to 12 weeks postpartum. But total concentrations in the third trimester were only 41% lower than levels reported in non-pregnant adults with HIV.
Emtricitabine and tenofovir alafenamide levels were lower during pregnancy than in the postpartum period but did not differ substantially from changes seen in previous studies of these agents during pregnancy. Tenofovir diphosphate levels in peripheral blood mononuclear cells were similar during pregnancy and the postpartum period.
In infants, the time taken for bictegravir levels to fall by half was 43 hours, more than twice the half-life observed in adults (18 hours).
Participants switched to Biktarvy on entering the study and all 32 participants maintained viral suppression below 50 at delivery and the end of the 18-week postpartum observation period. One participant withdrew due to a study protocol violation. No infants born to participants in the study had detectable HIV-1 RNA. CD4 counts increased by a median of 159 during the study period.
One drug-related adverse event (false labour) was reported during the study but there were no discontinuations of Biktarvy. Other adverse events in the study were typical of pregnancy, including four cases of gestational diabetes, three of pre-eclampsia (onset of dangerous high blood pressure during pregnancy) and three cases of anaemia. One participant with gestational diabetes developed glycosuria (excretion of glucose in urine). None of the infants experienced drug-related adverse events.
References
Zhang H et al. Pharmacokinetics, safety and efficacy of bictegravir/emtricitabine/tenofovir alafenamide (B/F/TAF) in virologically suppressed pregnant women with HIV. 12th International AIDS Society Conference on HIV Science, Brisbane, abstract OAB0104, 2023.
View the abstract on the conference website.
Update: This article was amended to correct some details of the study design and results on 27 July 2023.