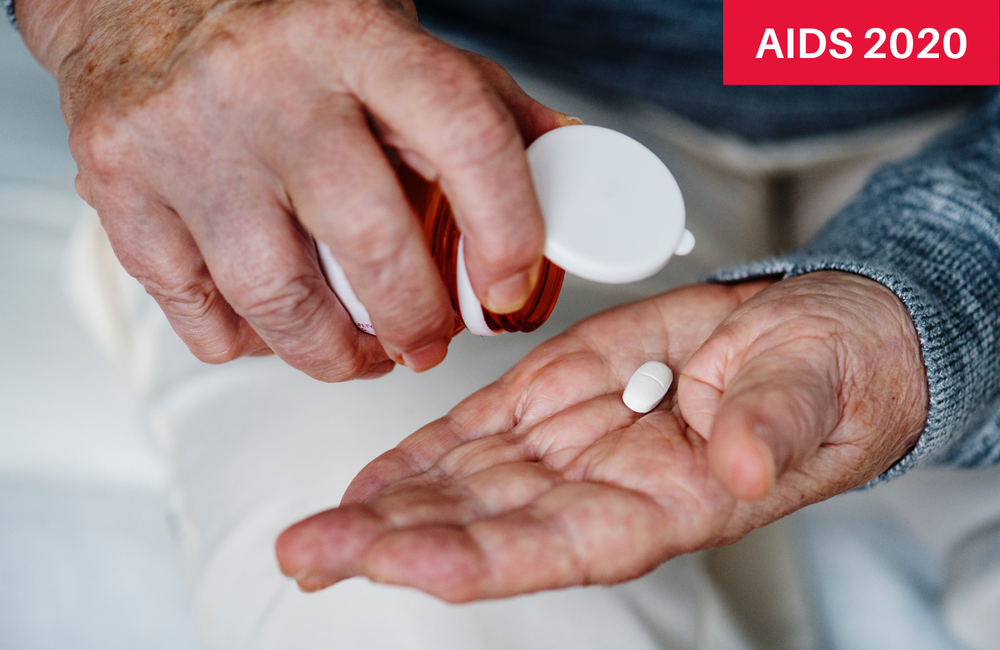 People aged 65 or older who switched to the Biktarvy single-tablet regimen had a high probability of maintaining an undetectable viral load, researchers reported this week at the 23rd International AIDS Conference (AIDS 2020: Virtual). What's more, the treatment was generally well tolerated even in this older population.
As people with HIV live longer thanks to effective antiretroviral therapy, they are more likely to develop additional health conditions and to be taking multiple medications.
"As the number of older adults living with HIV grows, it's critical to optimize therapy to fit the unique needs of this key population, including those with chronic conditions who may be on multiple medications," Dr Moti Ramgopal of Midway Immunology and Research Center in Florida said in a Gilead Sciences press release. "By 2030, it is projected that up to 70% of people living with HIV will be 50 years or older, the majority of whom will have at least one other comorbidity."
Biktarvy, approved in Europe in 2018, is an all-in-one antiretroviral regimen that contains the integrase inhibitor bictegravir, tenofovir alafenamide (TAF) – a newer formulation that is easier on the kidneys and bones but may lead to higher lipid levels and weight gain – and emtricitabine. Prior research showed that the combination has few interactions with other drugs.
Dr Ramgopal presented findings from a pooled analysis of four international trials in which previously treated people with viral suppression switched from their current regimen to Biktarvy.
This analysis focused on the 140 participants in these studies who were aged 65 or older. When they entered the study, they had had undetectable viral load (below 50 copies/ml) on their current antiretroviral regimen at two screening visits, and they had kidney function within the normal range, with an estimated glomerular filtration rate (eGFR) of 30 ml/min or higher.
Three of the studies were randomised controlled trials in which a combined 54 participants either switched to Biktarvy or stayed on their current regimen. These regimens consisted of:
dolutegravir (Tivicay) plus tenofovir disoproxil fumarate (TDF)/emtricitabine (the drugs in Truvada),
dolutegravir plus TAF/emtricitabine (the drugs in Descovy),
dolutegravir/abacavir/lamivudine (the drugs in the Triumeq single-tablet regimen), or
boosted atazanavir (Reyataz) or darunavir (Prezista or Prezcobix) plus two nucleoside/nucleotide reverse transcriptase inhibitors.
The fourth study was a single-arm trial in which 86 people over 65 switched from elvitegravir/cobicistat/TAF/emtricitabine (Genvoya) or another third agent plus TAF/emtricitabine.
"By 2030, it is projected that up to 70% of people living with HIV will be 50 years or older, the majority of whom will have at least one other comorbidity."
Nearly 90% of the participants were men, most were white and the median age was 68 years. The median CD4 count was 629, indicating well-preserved immune function, and the median eGFR was 74 ml/min, indicating good kidney function. Many participants had other health conditions, including abnormal blood lipids (59%), hypertension (55%), cardiovascular disease (24%) and diabetes (22%). About one in five reported that they currently smoked.
Before switching, the most frequently used regimens were Genvoya (56%), boosted atazanavir plus abacavir/lamivudine (18%) and Triumeq (10%).
At 48 weeks after switching to Biktarvy, 92% maintained viral suppression. None experienced virological treatment failure with a viral load of 50 copies/ml or higher; virological data were missing for 11 people.
The median CD4 count gain was 13 cells/mm3, reflecting the fact that most already had high CD4 cell levels.
Biktarvy was generally safe and well tolerated. Two people experienced moderate side effects, and none had severe or life-threatening drug-related adverse events. One in 10 developed severe laboratory abnormalities. Only one participant stopped taking Biktarvy due to a drug-related adverse event (abdominal discomfort), and there was one death deemed unrelated to the study drug.
Looking more closely at kidney-related adverse events, eGFR declined by a median of 2.9 ml/min by week 12, remaining around that level for the remainder of the study. No cases of proximal renal tubulopathy, a type of serious kidney dysfunction, were reported.
Total cholesterol, harmful LDL cholesterol and triglyceride levels declined by a small amount after starting Biktarvy, reflecting a modest improvement. Favourable HDL cholesterol did not change. Sixty people (43%) were taking lipid-lowering medications at study entry, and six more (4%) started during the study.
Finally, participants had a median weight gain of 1.0kg by week 48, consistent with other studies suggesting TAF may be linked to weight gain.
"Switching to [Biktarvy] is safe, effective and well tolerated in virologically suppressed adults ≥65 years through 48 weeks," the study authors concluded. "These data support the use of [Biktarvy] for treatment of adults ≥65 years who could benefit from a small single-tablet with few drug-drug interactions and an established safety profile."
References
Ramgopal M et al. Pooled analysis of 4 international trials of bictegravir/emtricitabine/tenofovir alafenamide (B/F/TAF) in adults aged >65 or older demonstrating safety and efficacy: week 48 results. 23rd International AIDS Conference, abstract OAB0403, 2020.