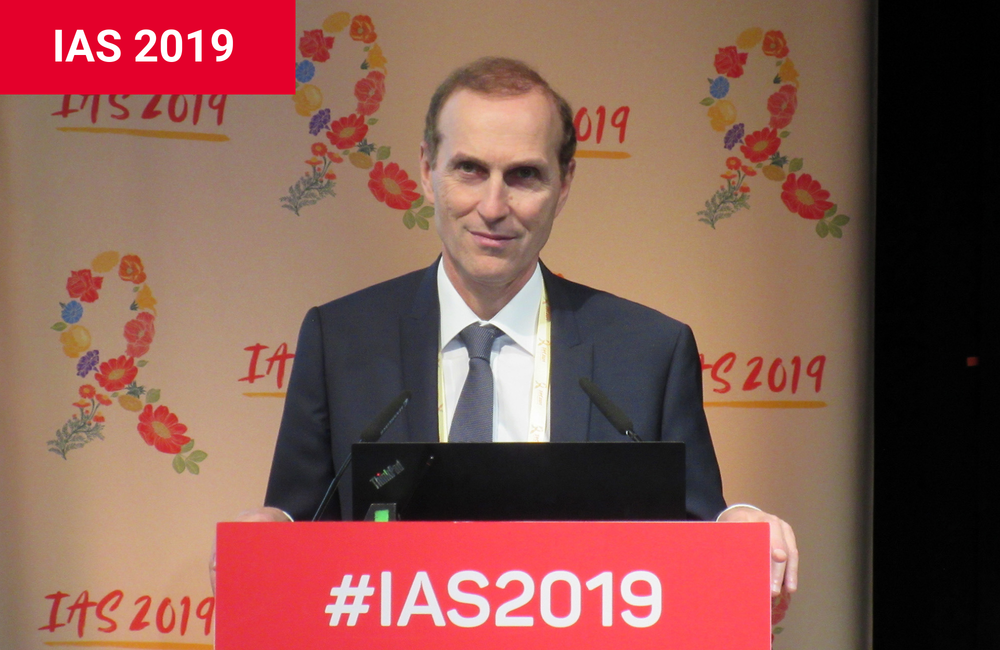 The World Health Organization (WHO) has updated its recommendation for pre-exposure prophylaxis (PrEP) to include event-driven PrEP taken before and after sex – also called on-demand PrEP or the 2+1+1 schedule – as an HIV prevention option for men who have sex with men.
The update was announced at the 10th International AIDS Society Conference on HIV Science (IAS 2019) in Mexico City. The conference featured numerous presentations on PrEP, including a report that no participants in the French Prévenir study who consistently used either daily or event-driven PrEP have acquired HIV.
Event-driven PrEP involves taking a double dose (two pills) of Truvada (tenofovir disoproxil fumarate/emtricitabine) between 2 and 24 hours before sex is anticipated, and then, if sex occurs, one pill 24 hours after the double dose and another 24 hours later. If sex occurs several days in a row, one pill should be taken each day, until 48 hours after the last event.
In 2015, Dr Jean-Michel Molina of the University of Paris reported that event-driven PrEP reduced the risk of HIV infection by 86% among gay and bisexual men in the French Ipergay study – equalling the protective effect of daily PrEP in the UK PROUD study.
Following Ipergay, Molina's group embarked on the Prévenir study, which aims to show that putting an additional 3000 men in the Paris region on PrEP would lead to a 15% reduction in HIV diagnoses among men who have sex with men. Study participants could opt to take Truvada either daily or according to the event-driven schedule, and they could switch during the study.
At last year's International AIDS Conference in Amsterdam, Molina reported that no new HIV infections had occurred among men taking either PrEP regimen. Yesterday, he presented an update showing that PrEP remains effective with longer follow-up.
As of early May 2019, Prévenir had enrolled 3057 men at 26 sites, exceeding the original target. Almost all were men who have sex with men, but 30 self-identified as heterosexuals and 13 transgender people were also included. Most (85%) were white and the median age was 36. Over half the participants did not have a regular sexual partner. They had a median of 10 sexual partners during the past three months and a median of two acts of condomless sex in the past month. Chemsex, or use of recreational drugs when they last had sex, was reported by 14%.
About half the men opted for event-driven PrEP, and this proportion remained consistent over 18 months of follow-up. About 15% switched regimens, with an equal number changing from daily to intermittent and from intermittent to daily dosing.
Almost all men (97%) in the daily PrEP arm, but only 82% in the event-driven arm, said they had taken PrEP as directed the last time they had sex. The most common reason for not taking PrEP was feeling like the sex was low risk. About 20% in both groups reported using condoms when they last had sex.
Two men seroconverted during follow-up, both in the event-driven group, for an HIV incidence rate of 0.09 per 100 person-years. The incidence was very low in both groups: 0 and 0.2 per 100 person-years, respectively, among those taking daily and intermittent PrEP. Molina estimated that use of PrEP had averted 143 new HIV infections.
Both men who seroconverted had stopped taking PrEP several weeks before and had condomless sex in the interim. One 52-year old man had started on-demand PrEP in April 2016 and enrolled in Prévenir in February 2018. The other, age 47, had started daily PrEP in June 2016 but opted for intermittent dosing when he joined Prévenir in June 2017. Neither showed evidence of resistance to the drugs in Truvada.
The number of sex acts and number of sexual partners was higher in the daily PrEP users compared with the intermittent users. In both groups, the frequency of sex rose by 43% after starting PrEP but then levelled off. Conversely, the number of sexual partners declined by 20% after starting PrEP.
Molina reported that bacterial sexually transmitted infections (STIs) were common, rising by 38% from the start of the study to month 18. The overall incidence rate was 86 per 100 person-years. STIs were more common in the daily PrEP arm both at the start of the study and at 18 months. He also said that nine men on daily PrEP and 11 on intermittent PrEP contracted hepatitis C virus during follow-up. He commented that the viral hepatitis incidence rate of 1.04 per 100 person-years – which included one case each of hepatitis A, B and E – was quite high and researchers were trying to address this issue.
Both daily and event-driven PrEP were well-tolerated. Drug-related adverse events were uncommon and similar in both groups. Only three people stopped taking Truvada due to gastrointestinal side-effects.
Molina was part of the group that developed the WHO's technical brief on event-driven PrEP.
In 2015, WHO recommended that oral PrEP "should be offered as an additional prevention choice for people at substantial risk of HIV infection as part of a combination prevention approach," but did not endorse the on-demand regimen.
The update says that event-driven PrEP dosing is an option for men who have sex with men. This regimen is appropriate for men who would find intermittent PrEP more effective and convenient, those who have sex less frequently and those who can plan for sex at least two hours in advance.
At this time, event-driven PrEP is not recommended for cisgender or transgender women, transgender men who have vaginal/frontal sex or men having sex with women. For cisgender women, higher loading doses or co-formulation with integrase inhibitors may be needed for the drug to quickly reach protective levels in the female genital tract. Additional research is needed.
It is also not suitable for people with chronic hepatitis B. Tenofovir is active against hepatitis B virus as well as HIV, and people with hepatitis B should take tenofovir or another antiviral continuously.
The WHO brief lays out benefits of event-driven PrEP, including convenience for gay men who have a high HIV risk for a brief period (for example, on holiday) or have sex infrequently; a lower pill burden and lower cost. But it also carries potential risks. The brief says that caution should be taken when documenting event-driven PrEP use in places where same-sex sexual activity is criminalised.