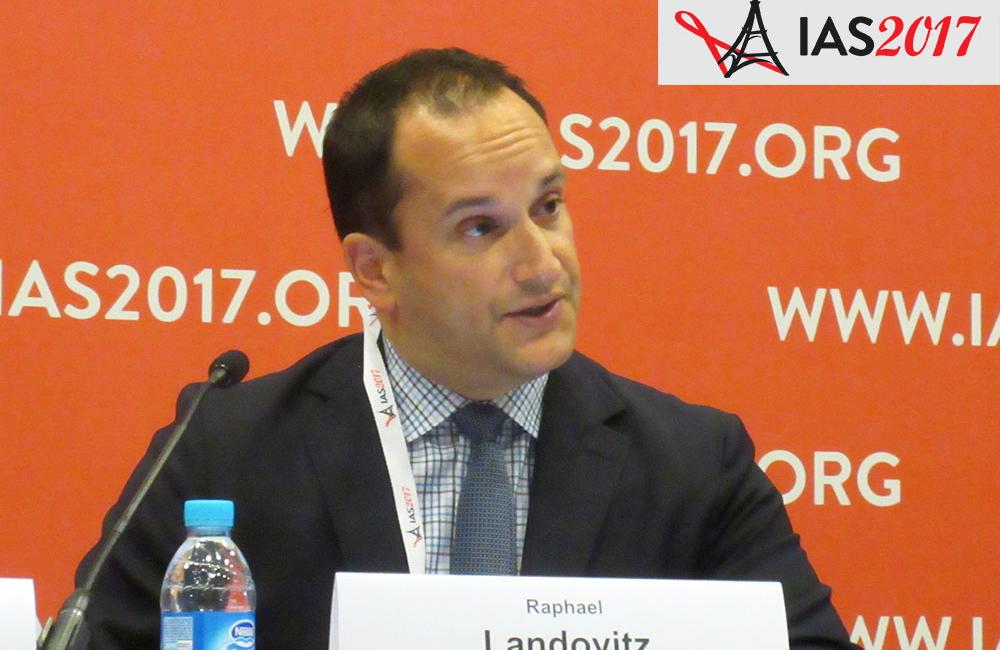 A long-acting injectable formulation of cabotegravir given every 8 weeks produces high enough drug levels in both men and women to offer protection against HIV, according to results from the HPTN 077 study presented this week at the 9th International AIDS Society Conference on HIV Science (IAS 2017) in Paris. But another injectable prevention candidate, long-acting rilpivirine, has been abandoned.
"Having more options for HIV prevention is critical, especially those that need not be used on a daily basis." Raphael Landovitz
The effectiveness of antiretroviral drugs for HIV pre-exposure prophylaxis (PrEP) is heavily dependent on maintaining good adherence. Some individuals may find it easier to take PrEP consistently if they could get an injection every month or two as opposed to taking pills every day or when they plan to have sex.
Raphael Landovitz of the University of California at Los Angeles presented the first findings from the HIV Prevention Trials Network's HPTN 077 study. This study is looking at the safety, tolerability and acceptability of long-acting injectable cabotegravir, an experimental integrase inhibitor being developed by ViiV Healthcare. As a phase 2a trial, it is not designed to evaluate prevention efficacy. (The conference also heard promising data on long-acting cabotegravir for HIV treatment.)
HPTN 077 is a follow-up to the phase 2a ECLAIR trial, which tested the safety and acceptability of long-acting cabotegravir injections in a group of mostly gay and bisexual men at low risk for HIV. That study also did not evaluate efficacy.
ECLAIR participants received three injections of 800mg cabotegravir given in the buttocks every 12 weeks. Interim data presented at last year's Conference on Retroviruses and Opportunistic Infections showed that cabotegravir was absorbed faster and did not last as long in the body as expected. And while injection site reactions were more frequent and prolonged than expected, three-quarters of participants said they would like to continue taking injectable cabotegravir for PrEP.
Informed by these findings, the ongoing HPTN 077 study is evaluating both the same dosing regimen used in ECLAIR and 600mg cabotegravir shots given every 8 weeks.
This study enrolled 199 HIV-negative participants at low risk for HIV infection at eight sites in Brazil, Malawi, South Africa and the United States. The average age was approximately 30 years. Overall, two-thirds were women. Most US participants were men, while the women were distributed across the three countries. Six trans men and one trans woman were included. Just over 40% were black, 27% were white and 24% were Latino or Hispanic.
Participants were randomly assigned in a 3-to-1 ratio to receive cabotegravir or placebo (saline) injections. They first received cabotegravir pills to ensure safety, as the injectable drug cannot be removed if side-effects occur. Cohort 1 received three 800mg doses of injectable cabotegravir, given as two 2ml intramuscular injections every 12 weeks. Cohort 2 got five 600mg doses, given as a single 3ml injection. The second 'loading dose' was given 4 weeks after the first injection, with the rest given every 8 weeks.
The dosing period lasted 41 weeks. Follow-up was initially planned to last 52 weeks, but this was extended after results from ECLAIR showed that a small number of men still had measurable cabotegravir levels a year after their last injection. This 'long tail' could lead to cabotegravir drug resistance if people contract HIV after stopping PrEP, as explained here.
Overall, 94% of participants completed the oral phase of the study, 89% received at least one cabotegravir injection and 75% completed all injections. Men and women had equally high completion rates. Reasons for stopping the study included clinical adverse events (about 8%), a change in risk behaviour and becoming pregnant.
Looking at drug pharmacokinetics (PK), in Cohort 1 cabotegravir levels in plasma usually remained above the IC90 level, but sometimes fell below the 4 x IC90 threshold thought to be protective, especially in men. In Cohort 2, plasma cabotegravir levels were higher overall, with most people staying above the 4 x IC90 level, and a majority above 8 x IC90.
At week 41, 68% of men in Cohort 1 were above the 4 x IC90 threshold, compared with 89% of men in Cohort 2. Women achieved high drug levels using either dosing schedule, with 100% and 97%, respectively, above the 4 x IC90 threshold.
With both dosing schedules, men saw a steeper drop-off in drug levels after each injection than women. Cabotegravir levels rose a bit over time, suggesting some accumulation of the drug.
"The 800mg dose did not consistently meet PK targets, but 600mg did for both males and females," Landovitz said.
Most participants experienced injection site reactions, but the "overwhelming majority" of these were mild to moderate, Landovitz said. Moderate or worse injection site pain was reported more frequently by people who received cabotegravir injections compared to saline shots (34 vs 2%). Reactions became less common over time, falling from nearly 90% after the first injection to 60% after the fifth injection. Only one participant stopped the study for this reason, according to Landovitz.
Otherwise, the most common moderate or worse adverse events were respiratory tract infections (about 25%) and a decline in kidney function (about 45%), but these were equally common in both the cabotegravir and placebo arms. More people on cabotegravir reported headaches (15 vs 2%), but no other adverse events differed significantly between the two arms.
Although HPTN was not intended to assess prevention efficacy, Landovitz reported that one participant experienced HIV seroconversion at 48 weeks after their last injection, at which time they had an undetectable cabotegravir level.
"Having more options for HIV prevention is critical, especially those that need not be used on a daily basis," Landovitz said in a press release issued by FHI360. "The next step is to evaluate in larger studies whether the dose of cabotegravir identified will work to prevent HIV infection."
HPTN 083, the first phase 2b/3 trial to study the efficacy of injectable cabotegravir compared to oral Truvada (tenofovir/emtricitabine) for PrEP is now underway.
Injectable rilpivirine
As the same session, Ian McGowan University of Pittsburgh presented findings from a phase 1 study of multiple doses of long-acting injectable rilpivirine, another potential PrEP candidate, following up on an earlier single-dose study.
There was "modest but significant accumulation," or an increase in drug levels in tissue biopsy samples over time. Rilpivirine levels were lower in cervical tissue compared with rectal tissue, and cervical samples were not protected from infection when exposed to HIV in the laboratory. McGowan noted that development of long-acting rilpivirine was stopped at the phase 2a clinical trial stage.
However, McGowan also reported acceptability data that may inform the ongoing development of injectable cabotegravir.
Most of the eight women and four men in the study experienced modest injection site reactions, but none were severe. Asked about barriers to using a long-acting injectable product for HIV prevention, most did not express reluctance to receive shots, but said that side-effects and cost were their biggest concerns. Interest fell by more than half when the proposed price went from US$25 to $50 dollars per injection, and at $100 there was little interest.