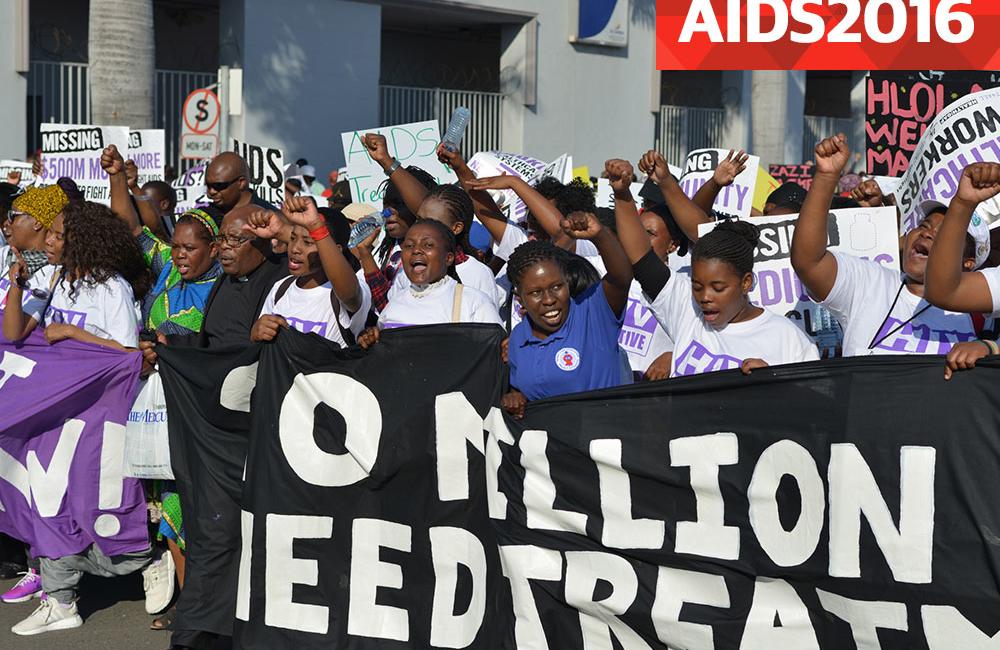 Participants at the 21st International AIDS Conference (AIDS 2016), taking place this week in Durban, South Africa, reviewed the remarkable gains that have been made in access to HIV treatment and new prevention tools since the conference was last held here 16 years ago. But researchers, activists and government officials agreed that this progress could be reversed if stakeholders do not commit to increased funding and respect for the human rights of key populations at risk.
Effective combination antiretroviral therapy (ART) debuted in the mid-1990s, but it was not until the Durban conference in 2000 that widespread access to effective treatment for people in low- and middle-income countries was put forward as a global priority. This year's theme – Access, Equity, Rights Now – recognises that barriers must still be overcome to achieve universal access to prompt diagnosis, effective treatment and biomedical prevention methods such as pre-exposure prophylaxis (PrEP).
"We call for AIDS 2016 to finish what we started in 2000," United Nations Secretary-General Ban Ki-moon said at an opening press conference on Monday. "We must close the gaps that keep people from accessing services and living with dignity. We can end stigma and discrimination, prevent the spread of HIV and save lives."
"The 2000 conference was a catalyst for historical change and launched a global movement to bring lifesaving treatment to people around the world," AIDS 2016 co-chair Olive Shisana of the South African Human Sciences Research Council said in her opening remarks. But "progress is precarious," and "we must bring about structural changes in laws and policies" that determine who has access to the latest HIV prevention and treatment advances.
UNAIDS recently announced that an estimated 17 million people with HIV were receiving antiretroviral therapy (ART) at the end of 2015. South Africa – which has the world's largest treatment programme – now has about 3.4 million people on therapy. But both globally and locally, over half of those who need antiretrovirals to preserve their own health and prevent HIV transmission to others are not yet receiving it.
"Despite tremendous progress, there are still people being left behind," said AIDS 2016 co-chair Chris Beyrer of Johns Hopkins Bloomberg School of Public Health. "New infections among adults have stalled and not fallen in five years, new tools like PrEP are out of reach, and the human rights of key populations are persistently violated."
Speaker after speaker highlighted the importance of reaching vulnerable populations including women and girls, youth, gay and other men who have sex with men, transgender people, sex workers, prisoners and people who inject drugs. While past conferences often focused on scientific advances in the areas of effective treatment and biomedical prevention, many sessions at AIDS 2016 look at how to translate these breakthroughs into widespread practice – a challenge that will require social, cultural, political and legal changes.
In advance of the conference the International AIDS Society (IAS) released the Second Durban Declaration, highlighting five key scientific advances made to date and five key structural barriers yet to be overcome. Supporters are encouraged to sign on to the statement.
Preceding the AIDS 2016 opening ceremony on Monday, several thousand AIDS activists from around the world held a march to demand universal access to treatment and prevention services for all who need them.
At the end of the march, which wound from Durban City Hall to the convention centre, activists presented memoranda to leaders including UNAIDS executive director Michel Sidibé (on behalf of Mr Ban), US Ambassador Patrick Gaspard and Global AIDS Ambassador Deborah Birx, and South African deputy president Cyril Ramaphosa and minster of health Aaron Motsoaledi.
"Our political leaders want to talk about the millions who are on treatment – which is a far cry from the last Durban AIDS conference," said Anele Yawa of the Treatment Action Campaign. "But we know that instead we have to tell the truth about the majority who still lack access."
UNAIDS has set a goal that 90% of people with HIV be tested, 90% of those will start treatment and 90% of those on treatment will achieve viral suppression by 2030. But large international donors are pulling back on their commitment, and while low- and middle-income countries are stepping up, they may not be able to manage on their own.
Mr Sidibé, who gave the keynote speech at the AIDS 2016 opening plenary Monday evening, said he was "fired up" about the challenges ahead, but also scared about the consequences if we stop focusing on HIV and devoting enough resources to stop the epidemic.
"Our progress is incredibly fragile," he said. "If we do not act now we risk resurgence and resistance."
A diverse programme
The International AIDS Conference, sponsored by IAS, is held every other year, alternating with the smaller IAS Conference on HIV Pathogenesis, Treatment and Prevention. This year's meeting brings together some 18,000 delegates from 180 countries around the world.
The programme features more than 2000 scientific abstracts, with about a third coming from African researchers, Dr Beyrer said. For the first time ever, he noted, a majority of conference presenters are women.
This year the meeting featured an expanded programme of integrated 'pre-conferences' including the IAS Towards an HIV Cure Symposium, the Third International HIV/Viral Hepatitis Co-Infection Meeting, the two-day TB2016 conference, the Global Forum on MSM & HIV (MSMGF) pre-conference meeting, a meeting of the Global Network of Transgender Women and HIV, and the Global Network of People living with HIV's Positive Leadership Summit.
Participants at the Towards an HIV Cure and TB2016 meetings offered some highlights at a press conference on Saturday.
"After many years we now have a cohort of competent and committed scientists working in this field, and as difficult as it is, I'm confident we're going to make progress that will be impressive," said US National Institute of Allergy and Infectious Diseases director Anthony Fauci, who gave a keynote address at the cure symposium that emphasised synergies between HIV and cancer research. However, he added, "I can't tell you when we're going to have a cure, because I can't be sure if we're going to have a cure."
Speakers made clear that the quest for a cure is not in competition with efforts to get everyone currently living with HIV on effective treatment.
"It will be easier to keep the virus suppressed if people start with a lower viral load and a stronger immune system – the global effort to get everyone on treatment as soon as possible is really part of the cure agenda," said symposium co-chair Steven Deeks of the University of California.
TB2016 co-chair Jens Lundgren of the University of Copenhagen summarised the research presented at the meeting, noting that individualised treatment is the wave of the future. The current standard of care for drug-susceptible tuberculosis is six months, but "probably many don't need that long," he said.
Yet minister of health Motsoaledi was not alone in asking, "Why has world woken up to the threat of AIDS but completely forgotten about TB?"
The full AIDS 2016 conference programme is available online. Abstracts will be posted as they are released from embargo and selected sessions will be webcast throughout the conference. Follow conference news on Twitter using hashtag #AIDS2016.