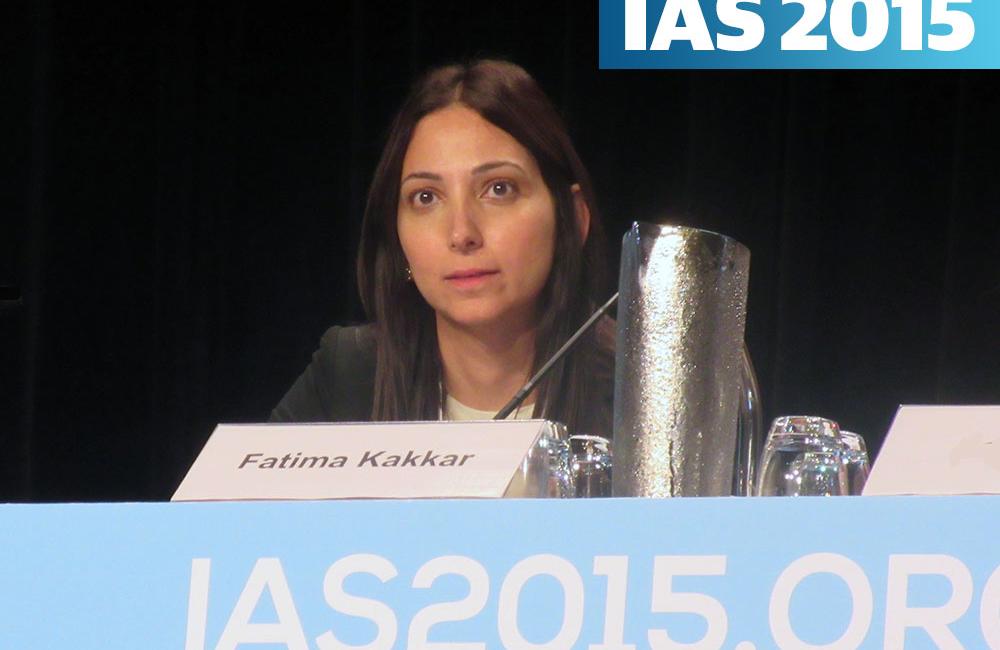 Combination antiretroviral therapy containing the integrase inhibitor raltegravir (Isentress) appears safe and effective and may be an attractive option for treatment for pregnant women with HIV – and potentially their infants – to prevent perinatal HIV transmission, according to study findings presented at the 8th International AIDS Society Conference on HIV Pathogenesis, Treatment and Prevention (IAS 2015) last week in Vancouver, Canada.
It is well known that women taking HIV treatment during pregnancy and giving HIV treatment to new-born infants can dramatically reduce the risk of HIV transmission during pregnancy and delivery. Older drugs such as zidovudine (Retrovir), nevirapine (Viramune) and lopinavir/ritonavir (Kaletra) have the most data about their use during pregnancy.
Fatima Kakkar of the University of Montreal presenting findings from a retrospective case series of infants born to mothers who took raltegravir during pregnancy.
While antiretroviral prophylaxis has reduced the overall risk of perinatal transmission in wealthy countries to below 1%, vertical (mother-to-child) transmission has not been eliminated, Kakkar noted as background. Canadian perinatal surveillance during 1997-2014 revealed that 15% of pregnant women with HIV were not under treatment and 3% had detectable viral load at the time of delivery. New strategies are needed to manage these high-risk situations, she said.
Current European and US guidelines generally recommend that pregnant women should receive the same type of combination antiretroviral therapy (ART) as other adults with HIV; however the US guidelines consider raltegravir an 'alternative' option because less is known about its use during pregnancy. Raltegravir is listed as FDA pregnancy category C. Drugs in this category have data from animal studies suggesting they may have an adverse effect on the foetus, but there are no adequate and well-controlled studies in humans.
Studies have shown that raltegravir crosses the placenta. One study found that rabbits exposed to three times the standard human dose developed extra ribs. But there are limited data on long-term outcomes among children exposed to raltegravir during gestation.
Raltegravir has been used in exceptional cases for prevention of mother-to-child-transmission, Kakkar said. It may be particularly beneficial for women with HIV who present for care late during pregnancy without having received prenatal care and who need to quickly bring down their viral load before delivery, or for women who experience treatment failure during pregnancy or have drug-resistant virus.
This analysis included 18 women in the Centre Maternel et Infantile sur le Sida mother-child cohort at CHU Sainte-Justine in Montreal who gave birth between 2010 and 2015. They received raltegravir during pregnancy at the standard dose of 400mg twice daily as part of a combination ART regimen.
Most women started taking raltegravir while pregnant, usually after the first trimester when the risk of harm to the foetus is greatest. They started raltegravir at 32 weeks of gestation on average, with some women beginning before conception and the latest at 40 weeks. Indications for raltegravir use included viral load >1000 copies/ml during the third trimester despite treatment (seven women), late initiation of ART during pregnancy (seven women) and drug resistance (six women).
Of the 18 women in the study, 14 achieved undetectable viral load after starting raltegravir. At the time of delivery, the women had a mean CD4 cell count of 370 cells/mm3 (ranging from 105 to 656 cells/mm3) and four still had detectable viral loads (40, 248, 910 and 55,000 copies/ml). None of the pregnant women experienced adverse events related to raltegravir use.
None of the infants born to these high-risk mothers acquired HIV. In comparison, rates of infection among babies born to mothers who present to care late in pregnancy and are not on treatment in similar cohorts range from 4.3% to 8.8%.
Infants were born at a mean gestational age of 38 weeks and had an average birth weight of 3.1kg (about 7lb), well within the normal range. APGAR scores, length and head circumference were comparable to those of infants exposed to Kaletra or boosted atazanavir (Reyataz) during gestation. None of the infants born to the seven women who were on raltegravir at the time of conception were born with congenital anomalies or birth defects.
There were also no clinical adverse events noted among the raltegravir-exposed infants followed for up to six months. Laboratory values were similar to those of Kaletra- and atazanavir-exposed babies, except that those exposed to atazanavir had higher bilirubin levels. Long-term follow-up of the infants is ongoing.
In addition, the study also looked at two infants who received raltegravir prophylaxis themselves soon after birth. They received raltegravir granules for suspension (via special access from Merck) as part of a three-drug regimen. This formulation is currently being evaluated in a clinical trial (IMPAACT P1110).
Kakkar noted that new-born prophylaxis is a challenge for infants born to women who themselves acquired HIV perinatally. Women in this situation may have had a lifetime of exposure to antiretrovirals and may have developed resistance to the drugs usually used for this purpose, such as nevirapine, zidovudine and lamivudine (Epivir).
One of these infants was born to a mother with detectable viral load during the third trimester (480 copies/ml), a history of poor adherence, and resistance to NRTIs, NNRTIs and protease inhibitors. The other was born to a woman who refused antiretroviral therapy during pregnancy, had high viral load at delivery (83,000 copies/ml) and also had a history of non-adherence and multidrug resistance.
Neither of these extra high-risk infants acquired HIV, as confirmed with HIV RNA and DNA testing through 4 months. Raltegravir was well-tolerated and neither baby experienced notable adverse events or laboratory abnormalities. However, drug levels varied considerably between the two, suggesting the need for therapeutic drug monitoring and dose adjustment.
"Raltegravir in pregnancy may have a role to play in prevention of mother-child transmission in high-risk situations," the researchers concluded. "However – if this strategy is to be used, until further pharmacokinetic and toxicity data becomes available, careful monitoring during pregnancy, therapeutic drug monitoring during treatment of new-borns [and] long-term follow-up of exposed infants is necessary."
These findings are in accord with those of another recent study of raltegravir use during pregnancy, published in the May 5 early edition of Clinical Infectious Diseases.
That study, conducted by researchers with the Pharmacokinetics of Newly Developed Antiretroviral Agents in HIV-Infected Pregnant Women Network, included 22 pregnant women giving birth at 10 European hospitals, 15 of whom started raltegravir during pregnancy.
As they approached the time of delivery, 86% had undetectable viral load (<50 copies/ml). None of the babies acquired HIV. Here too, raltegravir was well tolerated. Although drug levels during pregnancy were found to be highly variable, the study authors concluded that, "Raltegravir can be used in standard dosages in HIV-infected pregnant women."
Taken together, these studies indicate that raltegravir may offer a safe and effective new option for prevention of mother-to-child HIV transmission, especially in cases where viral load needs to be brought down rapidly prior to delivery.
References
Trahan MJ (Kakkar F presenting) Raltegravir for prevention of mother-to-child transmission of HIV. 8th International AIDS Society Conference on HIV Pathogenesis, Treatment, and Prevention (IAS 2015), Vancouver, abstract TUAB0105, 2015.
You can download the slides of this presentation from the conference website.
A webcast of this presentation is available on the conference YouTube channel.
Blonk MI et al. Raltegravir in HIV-1-infected pregnant women: pharmacokinetics, safety, and efficacy. Clinical Infectious Diseases, 2015.
Where available, you can view details of sessions, view abstracts, download presentation slides and find webcasts using the conference 'Programme at a Glance' tool.
You can also download a PDF of the abstract book from the conference website.