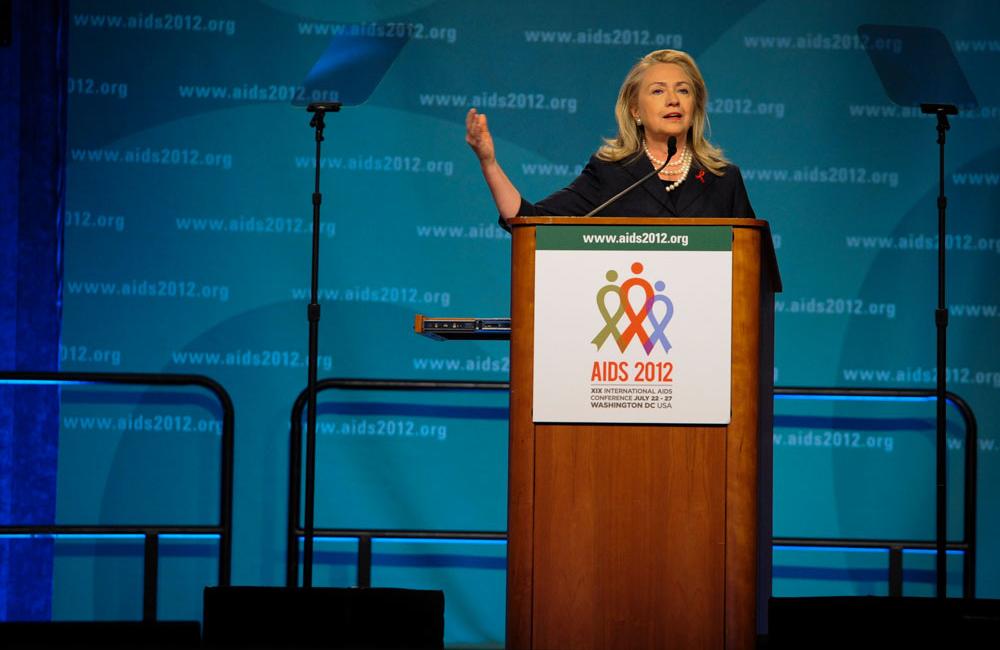 US Secretary of State Hillary Clinton received a relatively warm reception yesterday at the 19th International AIDS Conference (AIDS 2012) in Washington DC, as she supported the reproductive rights of women with HIV, unveiled a $37m programme to help injecting drug users and gay men in parts of the world where HIV is running out of control in those populations, supported the provision of generic drugs and promised an extra $80 million to prevent mother-to-child HIV transmission in Africa.
At first interrupted by demonstrators from Médecins sans Frontières and other groups protesting US support for restrictive trade agreements, Clinton brushed off the protests, joking that, "If it's an international AIDS conference, there has to be a demo." She said she supported the provision of generic drugs (at least outside the US) and that PEPFAR had saved $380 million last year alone by switching to generics.
She said that ending the HIV epidemic was a possibility but needed a co-ordinated and strategically thought-out programme. "If we are going to end AIDS, we have to stop treating it as an emergency," she said.
Such an approach would include "hard conversations about things leaders don't want to change such as drug pricing and their attitude to injecting drug users", although she made no mention of the visa restrictions that have kept drug users and sex workers out of the conference.
She promised more co-ordination between PEPFAR and the Global Fund and said they would work on join programme agreements which would decide "who is going to pay for treatment and who for distribution".
"I've heard voices questioning America's commitment to an AIDS-free generation. I promise we will fight for the resources necessary to achieve this historic milestone," she said. For her, an AIDS-free generation would consist of ensuring that no child anywhere was born with HIV, that young people facing adulthood would have their risk of acquiring HIV significantly reduced, and that, if they did get HIV, they had access to treatment.
However, she urged the HIV movement and affected countries to co-operate and contribute too: "I think we need a little preaching to the choir right now - and for the choir to keep singing," she said. "I'm here to boost your commitment too."
She stressed the need for affected-country governments to contribute resources and noted, as an example, that for the first time the Ministry of Health in Haiti is funding part of its own treatment programme.
She said that since last November the US has refocused a lot of its funding on combination prevention: condoms, counselling and testing, treatment as prevention, medical male circumcision, and the prevention of mother-to-child transmission. "We have shifted our investment to encourage countries to provide the right mix of interventions for their epidemic."
She announced $40m to support the national rollout of medical male circumcision in South Africa, and $80m to provide treatment to prevent mother-to-baby transmission in Africa, committing the US to a target of eliminating mother-to-baby transmission by 2015. A particularly important consideration was to establish clinics nearer to where women lived, she added.
The funding should enable 1.5 million more mothers to be reached, she said, and MTCT programmes were already working better: mother-to-baby transmission had been halved in Zambia last year, for instance.
"It's no surprise that I want to highlight the role women play," said Clinton. She earned the loudest cheer during her speech when she declared: "Every woman should be able to decide when and whether to have children. This should be whether she is HIV positive or not. There should be no controversy about this. Women need and deserve a voice in the decisions that affect their lives."
The US would contribute $90m for research into microbicides, she added.
She then turned her attention to what have been called the most at-risk populations: sex workers, IDUs and gay men/men who have sex with men (MSM). She noted that a synthesis of surveys of female sex workers in low- and middle-income countries; that people who inject drugs form a third of new infections outside Africa; and that "men who have sexual relations with men" are, globally, 19 times more likely to have HIV than the general population.
"Over the years I have understood how difficult it is to talk about a disease that is transmitted the way AIDS is; but we can't avoid talking about reaching the people at highest risk," she said.
"Few countries provide prevention services to these groups, and some take actions that, far from discouraging risky behaviour, drive people into the shadows. When key groups are marginalised, the virus spreads rapidly into those groups," she said.
"We are seeing this now in eastern Europe and south-east Asia," she added, referring to uncontrolled HIV infections in injecting drug users and gay men/MSM in some of those countries.
She announced three new US-funded initiatives for these groups: $15m for implementation research to determine the exact mix of prevention these groups need in different countries; a $20m challenge fund to provide treatment to the key populations, and $2m to the Robert Carr Memorial Fund which, named after the Jamaican gay activist who died last year, bolsters the efforts of civil society groups to reach key populations.
Clinton finished by once again urging governments and donors in low- and middle-income countries to pay for the HIV crisis in their own countries, and then finished by recalling her visit to the AIDS quilt, noting that at first she had sought out individuals she knew personally who had died of AIDS, but had been defeated by the sheer number of people commemorated. Noting that every single one of these people had been a member of a family, she urged the world not to exclude people with HIV from the global family.