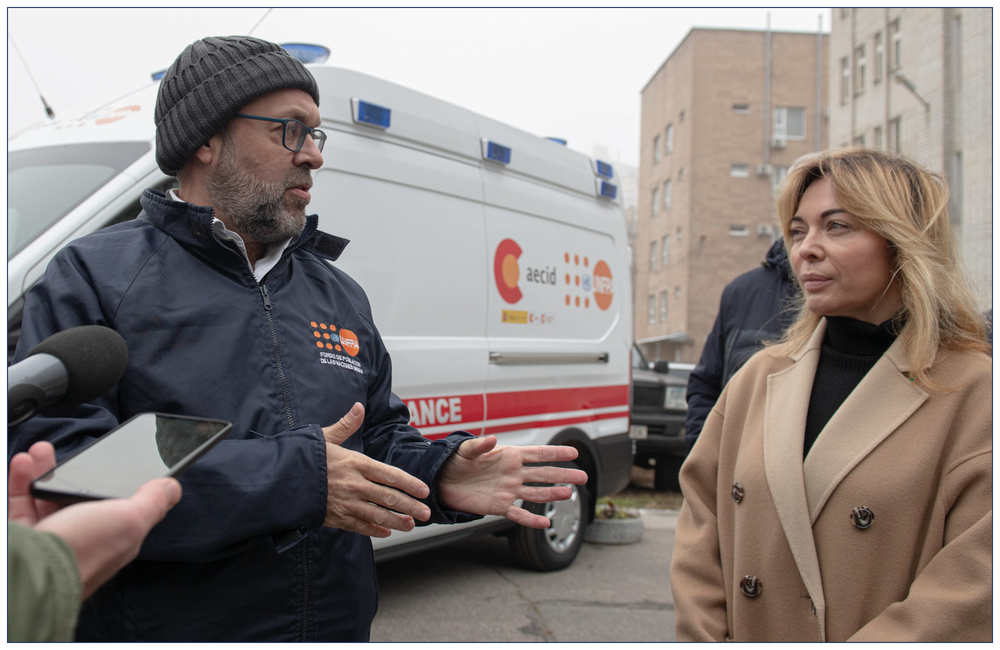 The United Nations Population Fund (UNFPA) is the UN's sexual and reproductive health agency. We spoke to Jaime Nadal, UNFPA representative in Ukraine, about its life-saving work, supporting sexual and reproductive health services in a time of war.
How would you describe the situation you are responding to in Ukraine?
When the war started, we all saw the news reports of women giving birth in metro stations, in makeshift shelters, in the basements of hospitals, often under shelling. This is what we saw.
There were many things we didn't see. We didn't see women not daring to go to hospital when they needed to, because they were scared of what was happening on the street. We didn't see that.
We didn't see people living with HIV not being able to access antiretroviral therapies or health facilities to seek assistance and care. There were many things we didn't see but that were happening and were extremely complicated at an individual level. There are still many of those situations.
I would describe the situation in Ukraine now as being characterised by the destruction of health infrastructure and health systems in the community and massive disruption in the provision of services.
I recently visited health facilities in Kharkiv, Poltava, Izyum and Balakliya, and it is heart-wrenching. Hospitals completely destroyed. Health facilities completely destroyed. The investment that will be required to rebuild what was there just a few months ago will be massive. We also have to think about the rebuilding of people's lives, the lives of women and girls, the lives of older people, many of them left behind in those areas because they didn't have anywhere to go.
Before the war, Ukraine was doing relatively well in terms of sexual and reproductive health. Most indicators were similar to those in neighbouring countries.
Now, when we talk to doctors, nurses, and the staff working in ambulances and in the mobile clinics we've set up, they tell us that they see women with serious nutritional problems, with anaemia, and women who do not have access to basic hygiene products. Women arrive in hospitals in a very dire condition, physically exhausted, emotionally drained after so many months of war and it has an impact. Doctors tell us that the number of miscarriages has increased. The number of complicated deliveries and emergency obstetric procedures that they have to provide has increased significantly.
What approach do you take to supporting services?
Health personnel in Ukraine – doctors, nurses, ambulance drivers, you name it – they are really heroes. They have been providing services with bombs raining over their heads and they were there; they were there providing those services for the population.
But of course, they need supplies, so our primary focus has been to provide the supplies.
In terms of services, we aim to strengthen national capacity. We don't believe that the solutions lie in bringing in providers from outside. The health system is struggling to survive, so what we need to do is provide support so that it does survive.
What is UNFPA delivering in Ukraine?
We work in the area of sexual and reproductive health, and also in the area of gender-based violence. In sexual and reproductive health, our primary focus is on three aspects: supplies, services and access.  
We try to make sure that maternity centres (called perinatal centres in Ukraine) have all the required supplies to remain functional. Manufacturing capacity and supply chains have been severely disrupted.
Since the war began, we have supplied over 100 metric tonnes of sexual and reproductive health kits. For example, a kit designed for emergency obstetric care contains everything needed for the safe performance of a caesarean section.
We also provide a kit for the clinical management of rape. It includes post-exposure prophylaxis, and everything required for small reconstructive surgery when there has been damage.
These kits are designed to provide supplies for treating unsafe abortion, miscarriages, emergency obstetric care, caesarean sections – conditions that are life-threatening. These are situations in which sexual and reproductive health services are life-saving for the women and girls involved.
Some of the kits also include contraception, so women in these circumstances can plan their pregnancies. An unplanned pregnancy in a context like this can evolve into a life-threatening situation.
What services are you focusing on?
We are putting in place mobile units that are linked to the perinatal centres. They go to areas that are difficult to access. We have delivered four mobile units so far and we are about to launch an additional 30 units.
We focus on women of reproductive age. For example, in spite of everything that has happened in Kharkiv, there are still around 80,000 women of reproductive age there who need access to these services. But our services are not only for women of reproductive age. We have seen instances of rape and sexual violence against children as young as four, and women over 70. Our services are intended for anyone who has been exposed to sexual violence and that includes men.
We have also delivered the first of three 'maternitainers'. These are containers that are converted and equipped with everything needed for a health provider. The teams in the maternitainers will provide primary health care, but they could even conduct a caesarean section in them, if it's needed in a remote area. This service is the result of a partnership with civil society organisations, local governments, local health authorities and the UN.
Our third focus is access. We try to provide services and supplies to the areas that are accessible, but we are very aware that there are areas where we don't have access. We know that in areas currently under occupation, access to medicines and health care has been severely undermined, far more than in areas under government control. We are putting supplies in position close by, so the moment these areas are liberated we can provide that lifeline of supplies.
How do you work with partners in Ukraine?
In this very complicated moment, we are trying to be innovative and complement the existing, often depleted, capacity of the government. Other partners can provide services, but also a connection to communities. Civil society organisations play a very important role in that respect.
We are implementing the mobile clinics in partnership with an organisation called 100% Life. This is a large network of people living with HIV in Ukraine. It's a highly functional, very strong and vocal network, which includes not only activists, but also health providers. They understand better than anybody else the importance of integrated sexual and reproductive health, with HIV provision, with gender-based violence services. We don't have to persuade or convince them. They know how services should be delivered and what the community needs.
It's an interesting approach to blending government-run services with civil society support. Our role as UNFPA is to provide a platform so they can work together. We can bring everybody around the table and make sure we build on what they have to offer to each other.
This feature first appeared in the December 2022 edition of the Sexual Health and HIV Policy Eurobulletin.