When international HIV funding decreased, Thai organisations found new domestic funding and developed social enterprises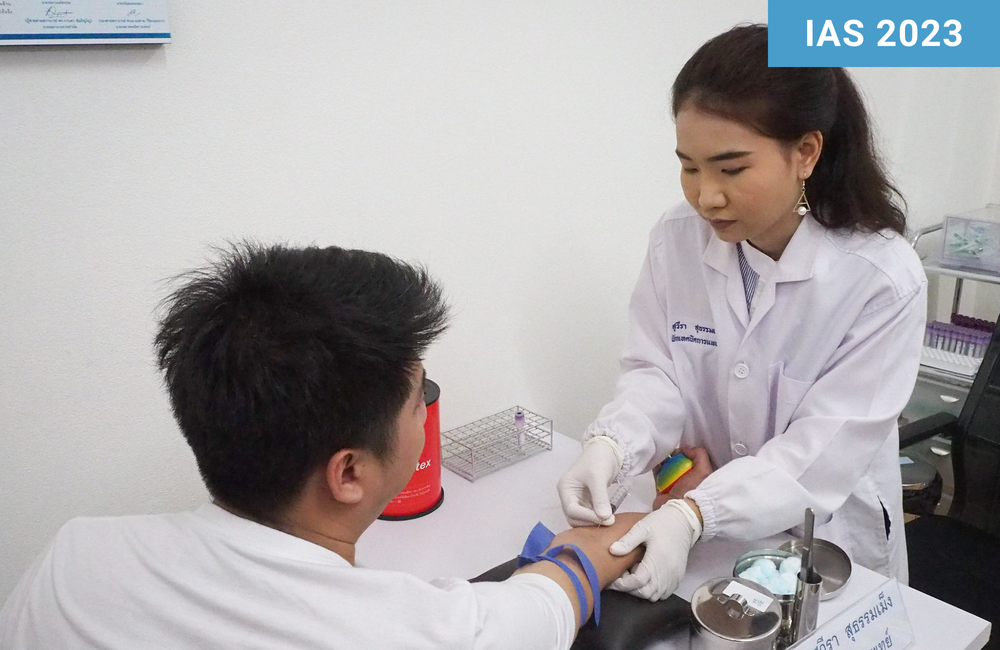 A study presented at the 12th International AIDS Society Conference on HIV Science (IAS 2023) by Satayu Sittikarn of the Caremat Foundation in Thailand shows how eleven key population-led organisations sustained themselves despite their international funding being slashed from 84% of their budget in 2016 to 50% in 2022.
They adopted dual strategies to sustain themselves and continue delivering HIV services. Firstly, they tapped more into domestic resources, and secondly, they established and successfully ran social enterprises.
It is important to shine a spotlight on the scale of contribution which key population-led organisations have made in Thai HIV response. Key populations are groups of people who are disproportionately affected by HIV. In Thailand, these are men who have sex with men, people who use drugs, transgender women, and sex workers. About half of new HIV infections in Thailand are among key populations.
Key populations are also key to the HIV response in Thailand. Many clinics and services are led and staffed by members of the community that they serve. Almost half (47%) of new HIV diagnoses among key populations in Thailand occur in one of the key population-led organisations. Every four out of five people in the country accessing PrEP do so from one of these services (Thailand has Asia's largest PrEP programme).
"Apart from contributing towards new case finding, key population-led health services have found them when they had a higher CD4," Satayu Sittikarn told aidsmap. "However, people who get diagnosed with HIV at a government-run centre often go for HIV testing when symptoms appear, and hence have a lower CD4 at the time of diagnosis."
Early diagnosis of HIV is important so that people can access lifesaving antiretroviral therapy and avoid opportunistic infections, remain virally suppressed and make 'Undetectable equals untransmittable' (U=U) a reality.
These organisations have demonstrated their proven capacity to drive new HIV case detection, linkage to care, retention, HIV prevention, psychosocial support, and community-led monitoring of services.
Tapping more domestic resources
When international funding for HIV programmes decreased, it was not easy for these organisations to tap into domestic resources.
The National Health Security Office (NHSO) of the Thai government has been reimbursing organisations for providing HIV and other health services. But there was no certainty that annual contracts or targets would be renewed year to year.
Under a new agreement, if an organisation gets accredited with the Department of Disease Control at the Ministry of Public Health of Thailand, it would get dual benefits. Firstly, it could work with the NHSO on an ongoing basis, and secondly, the NHSO would allow it to have a free-flow target and reimburse it based on its performance.
NHSO now reimburses these organisations for "HIV-related reach and recruit activities", with an annual reimbursement per person of 1800 Thai baht or around US$51, with a higher rate for people who inject drugs.
One caveat is that this is only for individuals covered by Thailand's Universal Coverage Scheme, which covers around 80% of the population. As aidsmap reported in February, the government's decision in December 2022 prevents reimbursement to people protected by other types of health insurance or no coverage at all.
"We are also in the process of registering as a voluntary counselling and testing centre under NHSO so that we can get an additional 147 baht ($4.17) for every HIV test done," explained Satayu.
Despite this support, reimbursement from NHSO falls short of the organisation's operational costs. "Caremat had to combine many different sources of funding in order to close the gap created by a decline in international funds," Satayu told aidsmap.
One way for organisations to increase domestic support from NHSO is to expand their range of services to claim more reimbursement. Caremat, in addition to services like provision of HIV testing and PrEP now also provides services for non-communicable diseases and mental health. They have received funding from the Thai Red Cross Princess Soamsawali HIV Prevention Fund to support their work with young key populations and youth in schools, provide testing for HIV and other STIs, and sexual and reproductive health services (such as for unplanned pregnancies). Other organisations, like MPLUS Foundation, have registered their clinic as a polyclinic so that they can provide additional services.
Service providers and team members had to undergo extensive training and capacity building to get the required skills needed to manage the whole range of services effectively. This was supported by the Department of Disease Control of Ministry of Public Health, FHI360, USAID, the Institute of HIV Research and Innovation (IHRI), and partners.
Some organisations are registering their clinics with the government as medical technologists' clinics so that they can provide laboratory testing services and get reimbursed for them. But these clinics are not allowed to dispense any medication. However, the government has granted permission to the eleven organisations working on the USAID supported EpiC project to dispense PrEP and antiretroviral medicines under the supervision of a partner government hospital. This has allowed key-population led services to continue, despite the restrictions on who can prescribe medication reported by aidsmap in February.
Other organisations have expanded the areas they work in. Starting with one province (Chiang Mai) in 2017, the MPLUS Foundation has expanded its work to ten provinces by 2022. Its annual domestic support from NHSO also increased in the same proportion – from 5% in 2017 to 50% in 2022 of its total budget.
Business models for social good
The second strategy is to establish and run social enterprises. For example, about six years ago, one of the Caremat's team members developed a web-based application to resolve challenges which they were facing in paper-based data collection system – such as illegible handwriting and some parts of the form being left blank.
They created a web-based application which allows for data collection and tracking of service recipients across the continuum of HIV care services: reach, recruit, test, treat, prevent, and retain. As well as being used internally by Caremat, the organisation set up Accelerate Community Technology Social Enterprise (ACTSE) to generate income by providing it to other organisations.
The data collection tools developed by ACTSE are now used by other EpiC project partners in Thailand, including the MPLUS Foundation and Rainbow Sky Association of Thailand. Thai organisations working on HIV projects funded by the Global Fund are also using these applications.
In 2022, ACTSE had a turnover of USD 100,000 and made a profit of USD 20,000. Incidentally, soon after the formation of ACTSE, Thai government had developed a legal framework for social enterprises which gave them tax benefits too.
"Caremat and MPLUS Foundation are now shareholders of this successful social enterprise ACTSE," Thirdchai Sattayapanich of FHI360 told aidsmap. "We are also in the process of developing two more social enterprise models – one for Rainbow Sky Association of Thailand (which includes a training centre for gender sensitivity to cater to the private sector, an exhibition area, and a merchandise section), and the other one for Service Workers in Group or SWING Foundation (which is a bakery shop)."
Sustainable HIV financing is vital to end AIDS
The fragility of HIV programmes which are dependent on international funding is a pressing issue. Satayu asserts that collaboration between key population-led organisations and government agencies is vital.
"Organisations have built and leveraged their expertise in finding hard to reach people and bringing them into the cascade of care services. On the other hand, government agencies also play an indispensable role towards public healthcare. We need to convince the government about our demonstrated capacity to provide HIV services to key populations," he said. "No one can end AIDS alone – we must work together and support each other."
Sharing knowledge among those working on sustainable HIV financing is also important.
"After several unsuccessful attempts in the past to present at the IAS conferences, this was the first time that Caremat was able to present its work," Duangkamol Donchaum of FHI360 told aidsmap.
"Key population-led organisations are doing important work on HIV care and control, as well as making headways on sustainable financing and funding diversification," she continued. "They must get space to present, learn and share at global meetings."
References
Sittikarn S et al. Sustaining key population-led HIV services as international donor funding declines: fragile success in domestic financing and social enterprise development in Thailand. 12th IAS Conference on HIV Science, Brisbane, abstract EPE0879, 2023.
View the abstract on the conference website.
Full image credit: Mplus extends HIV services with public financing to Chiang Rai. Image by Wiraporn Srisuwanwattana, USAID. Available at www.flickr.com/photos/usaidasia/27234729458 under a Creative Commons licence CC BY-NC 2.0.