Welcome to the June 2020 Sexual Health & HIV Policy EUROBulletin.
Our eFeature in this edition is an interview with Ricardo Fernandes, Executive Director of GAT Portugal. We spoke to Ricardo about the impact of COVID-19 on GAT's services and how he and his team have responded, rapidly adapting so they could continue to meet the needs of the communities they serve.
The team at GAT is one of many across Europe which has risen to the challenge of COVID-19 and the restrictions introduced by national governments to limit its spread. The sexual and reproductive health community has adapted services to continue to meet people's needs wherever possible, undertaken rapid research to better understand the situation, and applied pressure to governments to keep sexual and reproductive health high on the agenda. All of this while also dealing with the effects in our personal lives.
The pandemic has highlighted once again that our societies are not equal; its impacts falling hardest on people from black, Asian and ethnic minority communities, people on low incomes, and other vulnerable groups. While many of us feel compelled to do more to tackle the systemic issues that result in these inequalities, ultra-conservative pressure groups and governments are trying to use this time to roll back progress, particularly targeting LGBT and women's rights, as we have seen in Hungary, Lithuania and Poland.
This edition of the EUROBulletin captures early research on COVID-19 and HIV, assessments of its impact on sexual and reproductive health services, and highlights key advocacy work in this area.
Other items to look out for in this edition include: new data on gonorrhoea, LGV and syphilis in Europe, a big step towards injectable PrEP, and new mapping of LGBT rights in Europe.
Not your copy of the bulletin? Click the link below to subscribe. 
---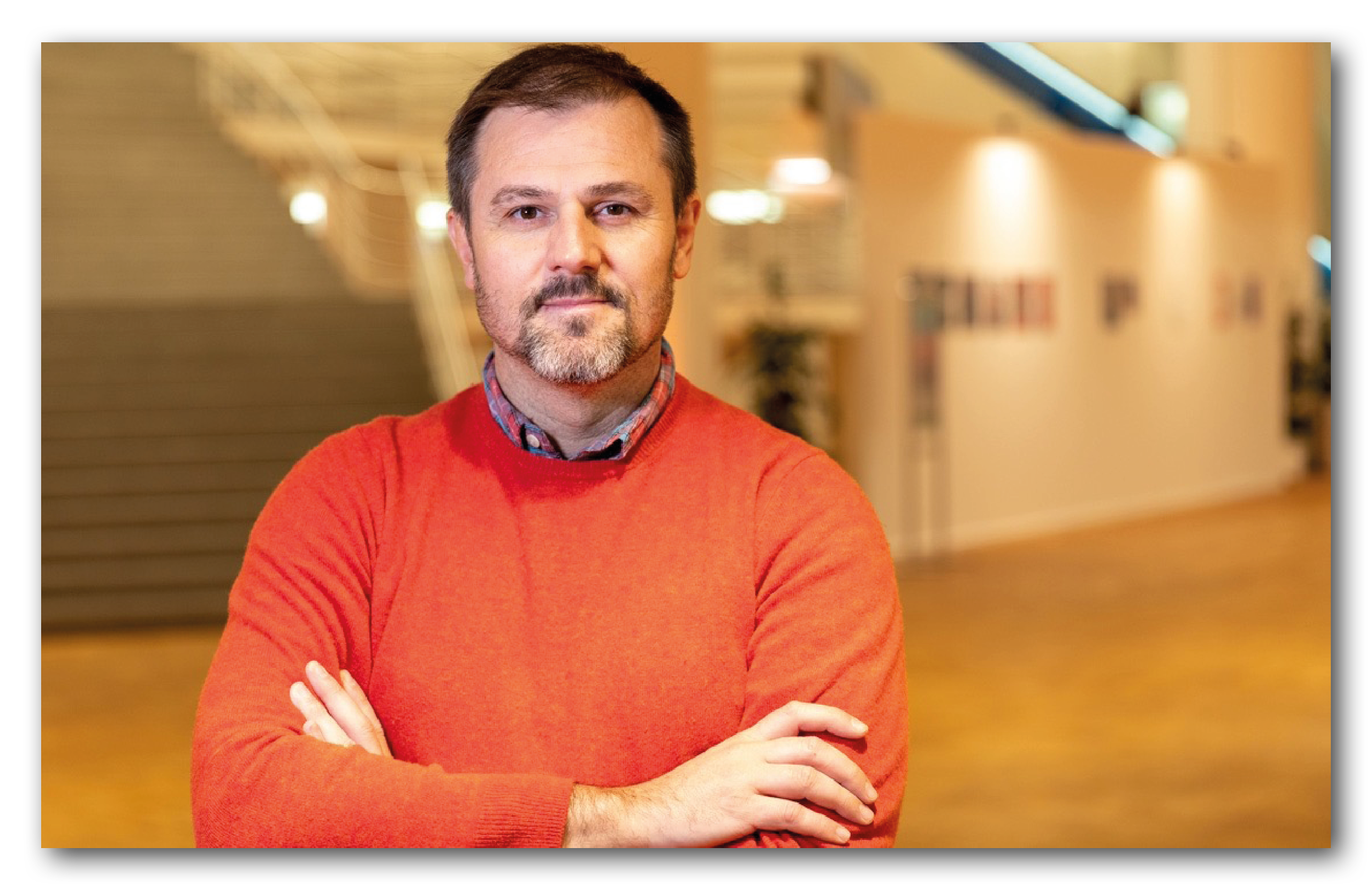 eFeature
Ricardo Fernandes is the Executive Director of GAT Portugal, an organisation which provides peer-led HIV and sexual health services, alongside national and international advocacy work
In this eFeature interview, we spoke to Ricardo about the impact of COVID-19 on GAT's services and how he and his team responded.
---
Treatment & service guidelines
Adapting services during COVID-19
Clinical services around Europe have been rapidly adapting to continue providing HIV treatment and sexual and reproductive health (SRH) services in the context of COVID-19 and social distancing requirements.
An editorial in The European Journal of Contraception & Reproductive Health Care proposed several measures, such as remote consultations and extended use of long-acting contraception, which have also been reflected in national guidance.
The World Health Organization (WHO) has developed a series of answers to questions about contraception and COVID-19 that women accessing care and service providers may have. It is available in English, French and Portuguese.
HIV treatment, care and support services have also been affected. Laboratory capacity is affected in some areas and there is a reduction in staff capacity, with some staff redeployed elsewhere. Many European countries have rapidly changed their HIV services to provide telephone or online consultations for the majority of patients and have introduced or expanded delivery of treatment.
---
Evidence, data & research
Research on COVID-19 and HIV
As the COVID-19 pandemic has spread in regions with significant numbers of people living with HIV, clinicians and researchers have tracked the impact of the new coronavirus on people with HIV. A clear picture has not yet emerged.
By mid-April, data collected in Barcelona's main hospital from people living with HIV who had acquired COVID-19 showed that the symptoms and clinical course of COVID-19 was the same as for HIV-negative people. A case series from Germany published in May also concluded that there was no indication of a higher risk of severe illness or death from COVID-19 in people living with HIV. This supports the World Health Organization (WHO) assessment of the risk for people living with HIV.
In late May, more detailed information began to emerge. A large hospital in London reported that black people with HIV were more likely to be admitted to hospital with COVID-19 than other people with HIV. In Madrid, researchers found that COVID-19 was diagnosed more often in people with HIV who had underlying conditions than others with HIV. A case series from New York found higher frequency of bacterial pneumonia in people living with HIV who were diagnosed with COVID-19.
In late May, the European AIDS Clinical Society (EACS) and national bodies in Germany, Poland, Spain and the UK released a joint statement on the risk of COVID-19 for people living with HIV. It highlighted that current evidence on COVID-19 in the general population indicates that the risk of severe illness increases with age, male gender and medical problems such as cardiovascular disease, chronic lung disease, obesity and diabetes. They point out that although HIV may not increase the risk, many people with HIV in Europe are over 50 and have other chronic conditions that could increase their risk.
Data reported in June in South Africa, where there is a large population of people living with HIV, showed a slightly higher COVID-19 death rate for people with HIV whether or not they were on treatment. The researchers caution that the increase could be an over-estimate, as they may not have identified all confounding factors.
---
Injectable PrEP study closes early
The large HPTN 083 trial, testing an injectable form of HIV PrEP with men who have sex with men and trans women, was terminated early due to high efficacy. The trial randomised its 4600 participants to receive either an injection of cabotegravir every two months plus daily placebo PrEP pills, or daily tenofovir and emtricitabine pills plus a placebo injection every two months. The injections were found to have stopped 69% more HIV infections than the pills.
HPTN 084, a companion trial with cisgender women which started a year later than HPTN 083, continues and is expected to report some results in November.
---
New data on gonorrhoea, syphilis and LGV in Europe
The European Centre for Disease Prevention and Control (ECDC) has published two new reports on gonorrhoea in Europe. Its Annual Epidemiological Report for 2018 shows there were over 100,000 confirmed cases in Europe in 2018. Men who have sex with men made up almost half (48%) of cases and higher rates were reported in northern Europe.
A second annual publication reports on the 2018 results of a surveillance programme which studies gonorrhoea strains in Europe, monitoring resistance to treatment. The authors conclude that signs of decreasing susceptibility (i.e. increasing resistance compared to 2017 results) to azithromycin, combined with the identification of ceftriaxone resistance "is a major concern and threatens the effectiveness of the currently highly effective dual-therapy regimen". The level of cefixime resistance remained stable.
ECDC also released new annual reports for syphilis and lymphogranuloma venereum (LGV). Almost 34,000 cases of syphilis were reported in 2018, roughly the same as in the previous year. This levelling-off follows six years of increases. There was a 19% increase in LGV cases, with 2389 recorded in 2018.
---
Gaps in the HIV cascade for MSM in five eastern European countries
An analysis of HIV prevention and treatment services available to men who have sex with men (MSM) in Armenia, Belarus, Georgia, Kyrgyzstan, and North Macedonia has found low coverage of HIV testing. The research by ECOM, the Eurasian Coalition on Health, Rights, Gender and Sexual Diversity, found that in Armenia and Macedonia, only 54% of the estimated number of MSM living with HIV know their status, 26% in Georgia, 19% in Kyrgyzstan, and 6% in Belarus.
---
Reports & resources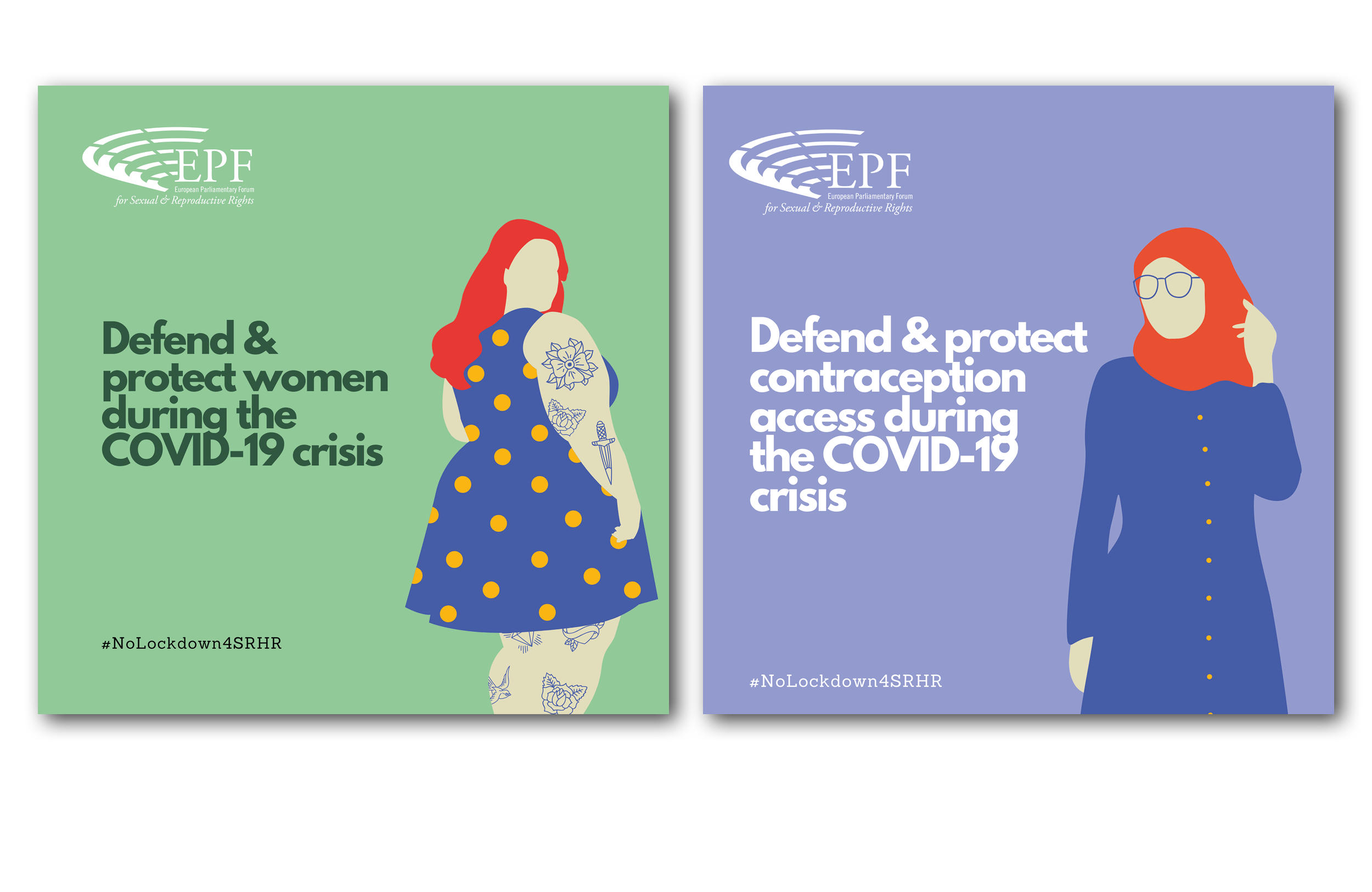 Impact of COVID-19 on sexual and reproductive health
In April, the European Parliamentary Forum for Sexual and Reproductive Rights (EPF) and the European Network of the International Planned Parenthood Federation (IPPF) jointly published a snapshot report on the early impact of COVID-19 on sexual and reproductive health care in Europe, based on a survey of their stakeholders.
They reported a huge reduction in clinical services, with many vulnerable women and girls left unable to access contraception, abortion care, HIV and STI testing, and maternal healthcare, alongside a surge in gender-based violence.
One of the few tentatively positive reports came from Europe's largest HIV and sexual health clinic, 56 Dean Street in London. It reported in May that prescriptions for PEP (emergency treatment to prevent HIV infection) had dropped dramatically during lockdown. It could indicate that people are having less sex that involves HIV exposure. The Dean Street clinic has been running a social media campaign encouraging people to test for HIV at home before they start having sex again. With testing and appropriate treatment and care, lockdown may present an opportunity to break chains of transmission.
---
COVID-19 in central and eastern Europe
During April, ECOM, the Eurasian Coalition on Health, Rights, Gender and Sexual Diversity, ran a rapid assessment of how COVID-19 and the related restrictions were affecting organisations working in LGBT health in central and eastern Europe and central Asia. Respondents came from 25 cities in 11 countries.
Over half the respondents said their organisation had stopped offline work, with a third reducing testing services and around a quarter reducing condom provision and counselling services. Although organisations were concerned about their future financial sustainability, most organisations were continuing to operate and were adapting their services and ways of working to meet the quarantine requirements in their country.
In early June, AFEW International published a report looking at the impact of COVID-19 policies on key populations vulnerable to HIV, TB and hepatitis in eastern Europe and central Asia. It highlighted key issues including social isolation and stress, reduced incomes and food insecurity, domestic and gender-based violence, and increased barriers to sexual and reproductive health care access, alongside key examples of creative responses from civil society organisations and governments in the region.
---
COVID-19 survival guides for young LGBTQ people
The International Lesbian, Gay, Bisexual, Transgender, Queer & Intersex Youth and Student Organisation (IGLYO) and trans creatives Fox and Owl have published an online COVID-19 survival guide for young people. It covers topics such as living in lockdown with unsupportive family members, accessing hormones and health care, and privacy and space to speak with queer friends.
---
HIV criminalisation database
The HIV Justice Network (HJN) is a hub for advocates working to end the inappropriate use of criminal law to regulate and punish people living with HIV. HJN recently launched a new website which includes a global HIV criminalisation database. It includes three key elements: information and analysis of HIV criminalisation laws; reported HIV criminalisation cases; and organisations working against HIV criminalisation.
---
Parliament & other European institutions
Call for European nations to guarantee SRHR
In April, the European Parliament called on European Union member states to guarantee safe and timely access to sexual and reproductive health and rights (SRHR) for their citizens. In a resolution on co-ordinated action to combat COVID-19, Parliament drew attention to the need for access to contraception and abortion care.
In May, the Commissioner for Human Rights at the Council of Europe also called on its member states to ensure access to sexual and reproductive health and rights, setting out eight key areas, from ensuring full access to SRHR information and services to preventing legislative rolling-back of women's rights.
---
Sexual health rights & advocacy
Advocacy for SRHR during COVID-19
As the impacts of COVID-19 on sexual and reproductive health and rights (SRHR) became apparent, SRHR advocates and activists around the world swung into action, putting pressure on governments to safeguard rights.
In early April, the Center for Reproductive Rights co-ordinated the release of a joint statement by over 100 European civil society organisations on ensuring access to abortion care during COVID-19. The US-based Center also released a global statement on sexual and reproductive health services, spelling out the issues and required action at national government level.
In late May, the European Network of the International Planned Parenthood Federation (IPPF) jointly published a report along with Amnesty International and Women's Link Worldwide. It is a guide for European decision-makers and advocates, setting out the measures required to protect the rights of women and girls, including their sexual and reproductive health rights, during COVID-19 and in post-COVID Europe, as we enter recession. The report is available in English, French and Spanish.
---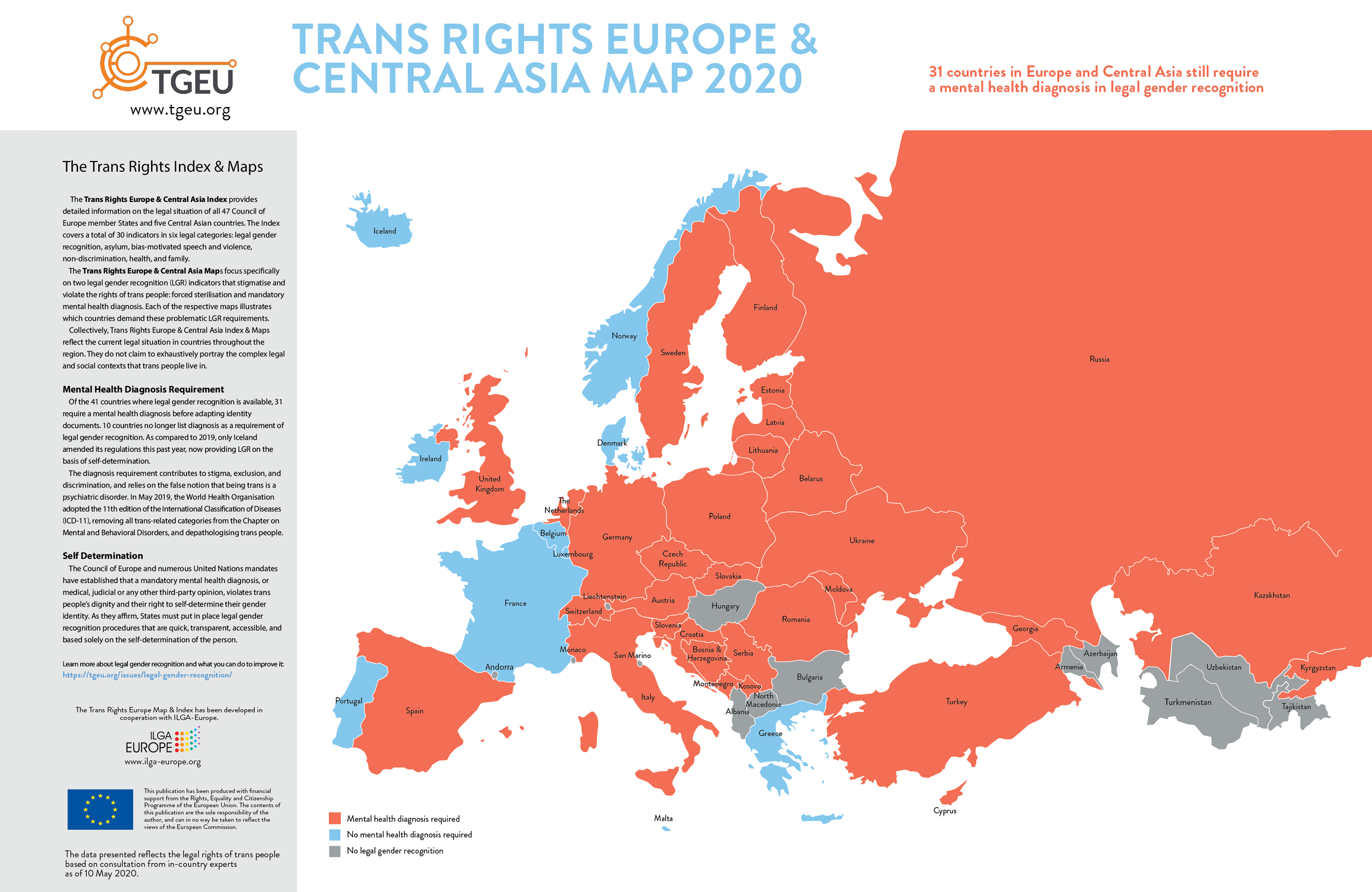 LGBT rights in Europe
The European Region of the International Lesbian, Gay, Bisexual, Trans and Intersex Association (ILGA-Europe) has released its annual Rainbow Europe index and map. Rainbow Europe ranks countries according to LGBTI rights, assessing the legal and political landscape in each country and making recommendations for continued progress. For the second year in a row, some countries have moved backwards, removing previous protections. ILGA highlights that although there is worrying regression, advances are being made on trans and intersex rights in some countries.
Transgender Europe has also published its 2020 Trans Rights Europe & Central Asia index & maps, highlighting information on the legal context affecting trans people in 52 countries. The maps highlight the fact that forced sterilisation of trans people is still a legal requirement for people seeking gender recognition in 13 countries in the region and 31 countries require a mental health diagnosis.
---
Campaigns & other news
Webinar – Contraception in COVID time
The European Society of Contraception and Reproductive Health (ESC) is hosting a webinar on Tuesday 30 June at 4pm CET / 3pm BST. Titled Contraception in COVID time, it will feature speakers on challenges in reproductive health and contraception during COVID and new oestrogen-free contraceptive choices.
---
Country-specific news
Greece | Early results of an assessment by the World Health Organization have found there are large variations in quality between the public and private health sectors in Greece, in delivery of sexual, reproductive, maternal, newborn, child and adolescent health. The assessment aims to identify recommendations for Greece to support it in achieving universal health coverage.
Hungary | In spite of widespread international criticism, in May, Hungary introduced into law a change which will make legal gender recognition impossible for trans people. The change means the civil registry will read 'sex assigned at birth' rather than 'sex' and means that trans people cannot have their gender legally recognised on identity documents.
Ireland | The Irish Family Planning Association reports that women who live in Ireland are still having to travel to the UK to access abortion services. UK abortion statistics show that 375 women left Ireland to access abortions in UK clinics last year, although abortion services became available in Ireland in January 2019.
Kazakhstan | A joint statement from three networks of LGBTI and trans organisations calls on the parliament of Kazakhstan to protect trans people's rights to health and legal gender recognition.
Lithuania | A new contraceptive reimbursement scheme, approved in April, has now been halted by the Lithuanian Minister of Health, following interventions from religious groups.
North Macedonia | The International Lesbian, Gay, Bisexual, Trans and Intersex Association (ILGA) in Europe and the Equal Rights Association for the Western Balkans and Turkey (ERA) have expressed their disappointment at the decision of the North Macedonian Constitutional Court to repeal a law on protection against discrimination. The law explicitly prohibited discrimination on the grounds of sexual orientation and gender identity, and its repeal means LGBT people are no longer protected against discrimination in law.
Poland | Poland already has some of the most restrictive access to abortion in Europe, but, in April, bills aiming to introduce a total ban on abortion and the criminalisation of sex education were once again brought before the Polish parliament. Similar bills were previously rejected following mass public protest. Many suspected that they were deliberately re-introduced while the COVID-19 pandemic restrictions prevented protests from taking place. On the day, the bills were neither rejected nor introduced, instead they were referred to parliamentary committees.
Russia | The Inter Press Service reports that as HIV centres in Russia have been mobilised to support the COVID-19 response, many people living with HIV are experiencing problems accessing treatment and care.
The Netherlands | In Amsterdam, a strategy to detect and treat acute HIV has been shown to dramatically reduce the length of time between someone being diagnosed and their viral load being undetectable. The proportion of acute HIV infections (of all new HIV diagnoses) increased from 0.6% to 11% after implementation of the strategy and the average time from diagnosis to viral suppression was almost halved.
UK | A second COVID-19 survey by the British Association for Sexual Health and HIV (BASHH) has reported that in-person sexual health services have continued to shrink during the pandemic. An initial survey had reported an 80% reduction in capacity to see patients in person. Most clinics are also asking all patients to phone first for assessment, rather than just turn up. Some of the healthcare staff who contributed to the survey thought a number of the changes could become permanent.
Uzbekistan | Following a review, the United Nations Human Rights Committee has expressed concern at the reports of discrimination, harassment and violence against the LGBT community and urged Uzbekistan to repeal article 120 of its criminal code, which criminalises consensual same-sex relations between men.