Dolutegravir dual therapy works well for both first-line and maintenance treatment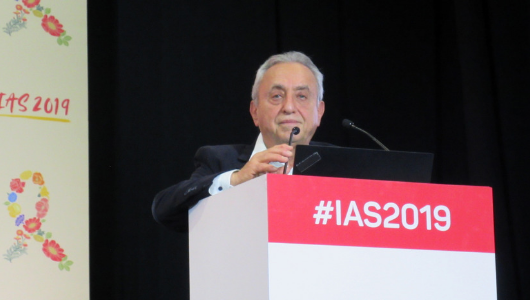 Pedro Cahn at IAS 2019. Photo by Liz Highleyman.
People starting HIV treatment for the first time with a two-drug combination of dolutegravir and lamivudine were just as likely to have an undetectable viral load after 96 weeks as people taking a standard three-drug combination. The two-drug combination also maintained viral suppression in those who switched from a standard regimen.
These findings from the GEMINI and TANGO studies were reported at the 10th International AIDS Society Conference on HIV Science (IAS 2019) last week in Mexico City.
HIV treatment is a life-long commitment and lowering the number of medications people have to take could potentially reduce side-effects and cost. But two-drug antiretroviral therapy requires medications that are strong enough to keep viral load fully suppressed and prevent the development of drug resistance.
The ongoing GEMINI 1 and 2 studies are phase III clinical trials that have enrolled 1433 people in Europe, the Americas, Asia, Australia, Russia and South Africa who were starting HIV treatment for the first time. Participants were randomly assigned to receive either dolutegravir plus lamivudine – the antiretrovirals in the Dovato co-formulation – or dolutegravir plus tenofovir disoproxil fumarate (TDF) and emtricitabine.
Dr Pedro Cahn presented 96-week results, showing 86.0% in the dolutegravir/lamivudine group and 89.5% in the dolutegravir/TDF/emtricitabine group had an undetectable viral load, showing that the two-drug regimen was non-inferior to the three-drug regimen.
Results from the TANGO study were also reported. This is an ongoing phase III trial comparing the safety and efficacy of switching to the dolutegravir/lamivudine fixed-dose co-formulation versus staying on a three- or four-drug regimen containing tenofovir alafenamide fumarate (TAF), the newer version of tenofovir.
TANGO enrolled 741 participants in Europe, North America, Australia and Japan. Participants were randomly assigned to either switch to dolutegravir/lamivudine or stay on their current TAF-containing regimen. At 48 weeks, 93.2% of people who switched to dolutegravir/lamivudine and 93.0% of those who stayed on their TAF regimen maintained viral suppression, again meeting the criteria for non-inferiority.
Could integrating HIV prevention into contraceptive services reduce infections among African women?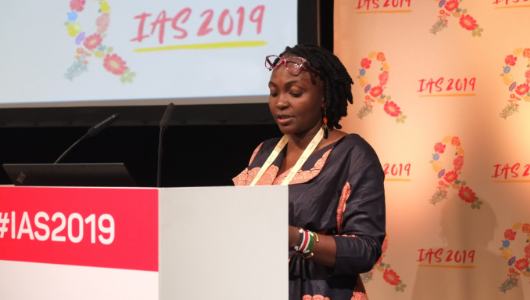 Jacque Wambui of AfroCAB at IAS 2019. Photo by Roger Pebody.
Last month, results from the landmark ECHO (Evidence for Contraceptive Options and HIV Outcomes) trial were published, demonstrating that injectable hormonal contraceptives do not raise women's risk of acquiring HIV. ECHO found no significant differences in the rate of HIV infections among women randomly allocated to use one of three long-acting contraceptive methods: injectable DMPA (depot medroxyprogesterone acetate, also known as Depo Provera); the copper intrauterine device (IUD); or levonorgestrel implant.
While providing reassuring news about contraception, the study revealed high incidence of HIV among participants, despite the prevention services provided. At IAS 2019, researchers, policy makers and advocates discussed the trial's lessons and how to better serve young women in sub-Saharan Africa.  
"The ECHO results are not 'good news'," said advocate Jacque Wambui of AfroCAB. "The women in this trial were recruited and enrolled because they wanted contraception and were sexually active. They did not have the 'risk factors' we hear about in so many other HIV prevention trials."
Advocates and scientists argue that a key lesson of ECHO is that women need support to prevent pregnancies and HIV at the same sites, from the same healthcare providers. Women who do not fall into 'high-risk groups' are more likely to attend reproductive health services than HIV prevention services. However, without specific funding to support it, implementing integration will be challenging in overstretched, understaffed health services.
Same-day initiation of PrEP feasible and safe in Latin America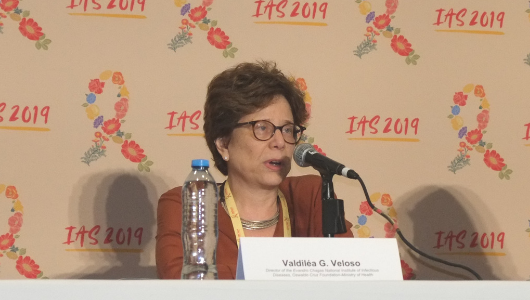 Valdiléa Veloso from the ImPrEP study at IAS 2019. Photo by Roger Pebody.
Over 5000 men who have sex with men and transgender women have been enrolled in an HIV pre-exposure prophylaxis (PrEP) demonstration project in Latin America, with early results showing good levels of adherence.
Marginalised populations in the region, such as men who have sex with men and transgender women, face barriers to accessing HIV prevention tools like PrEP.
The ImPrEP study is looking at same-day PrEP initiation and adherence, enrolling men who have sex with men and transgender women in Brazil (3466 participants), Peru (1149) and Mexico (739).
Results showed that same-day PrEP initiation was feasible and safe, with 80% attending at least two follow-up visits and 97% having used at least 16 days of medication in the past month. However, engagement was poorer for younger participants and for trans women.
A further PrEP demonstration project in Brazil, PrEParadas, is focusing on transgender women. Implementing PrEP roll-out programmes for transgender women has been particularly challenging in Latin America due to structural barriers including violence against trans women. There have also been concerns about interactions between PrEP and hormones, as well as providing PrEP in gender-affirmative settings by trained healthcare providers.
In PrEParadas, 116 out of 130 enrolled women returned at week four and over 60% had taken between four and seven PrEP doses per week. The factors associated with poor PrEP engagement at 12 weeks included unstable housing and stimulant use. The study is ongoing.
Separate research presented at IAS 2019 investigated PrEP knowledge, intention and uptake among an online sample of men who have sex with men in Mexico. A large percentage of men (76%) had heard about PrEP and over a third intended to use PrEP in the next six months, but less than 4% reported currently using PrEP.
Fostemsavir salvage therapy continues to look good at 96 weeks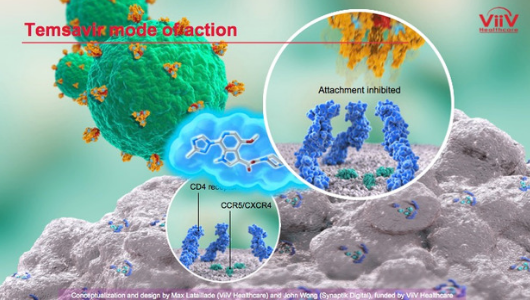 Image credit: ViiV Healthcare
The novel HIV attachment inhibitor fostemsavir continues to maintain viral suppression in more than half of people with extensive prior treatment experience and highly resistant virus, according to 96-week data presented at IAS 2019.
The BRIGHTE study is an ongoing phase III trial evaluating fostemsavir in people with multidrug-resistant HIV who cannot construct an effective antiretroviral regimen using existing drugs.
The randomised part of the study included 272 participants on a failing regimen with unsuppressed virus. All participants had to have one or two remaining antiretroviral drug classes with at least one fully active approved agent; dolutegravir was still fully active for about 65%. They were assigned to either 600mg twice-daily fostemsavir or a placebo along with their failing regimen for eight days. After that, everyone received open-label fostemsavir plus an optimised background regimen. In addition, 99 individuals who had no remaining fully active approved drugs were included in a non-randomised compassionate use cohort.
Last year, 48-week findings from the study showed that 54% of participants randomised to receive fostemsavir and 38% of those in the non-randomised cohort achieved viral suppression (< 40 copies/ml). The 96-week findings presented at IAS 2019 showed the proportion of people with viral suppression in the randomised group rose to 60% and in the non-randomised group the viral suppression rate remained stable at 37%
Study participants, many of whom had advanced immune suppression, also experienced substantial gains in CD4 cells. Treatment continued to be safe and well-tolerated.
13% of HIV-positive Europeans who are cured of hepatitis C are reinfected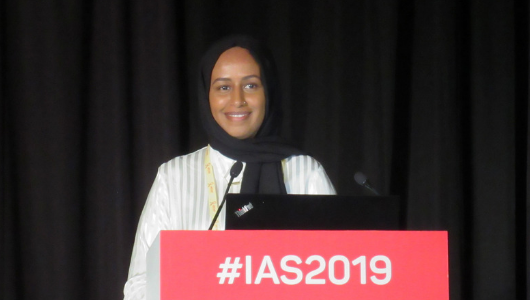 Sarah Amele at IAS 2019. Photo by Liz Highleyman.
More than one in ten HIV-positive people in the large EuroSIDA cohort who were cured of hepatitis C were reinfected within two years, according to a report at IAS 2019.
Almost everyone, regardless of HIV status, can easily be cured of hepatitis C with direct-acting antivirals. However, initial infection does not confer immunity and it is possible to become reinfected if ongoing risk behavior occurs.
The analysis included 585 people who had achieved sustained virologic response after completing hepatitis C treatment (considered a cure). Overall, 78 people, or 13.3%, were reinfected within two years.
Individuals from western and eastern Europe, those with a CD4 count above 500 cells/mm3 and those with advanced liver fibrosis or cirrhosis had increased odds of reinfection.
Sarah Amele, presenting the study, said these findings underscore the need for education and harm reduction services if we are to reach the goal of eliminating hepatitis C as a public health threat.
Dapivirine vaginal ring effective and acceptable with longer use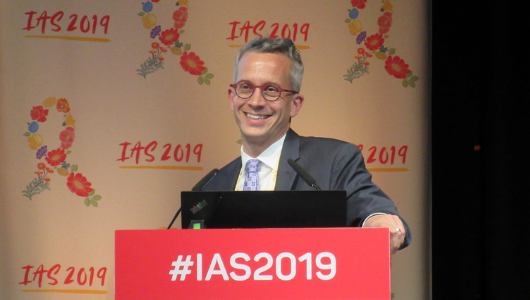 Jared Baeten at IAS 2019. Photo by Liz Highleyman.
A silicone vaginal ring containing the antiretroviral drug dapivirine continued to demonstrate moderate effectiveness in preventing HIV and remained well-tolerated and acceptable to women over a year-long period, according to a report at IAS 2019.
The ring is worn continuously for a month before being replaced and dapivirine diffuses out of it over time. In a previous randomised study, more than 2600 HIV-negative women at 14 sites in Malawi, South Africa, Uganda and Zimbabwe were randomly assigned to use the dapivirine ring or a placebo ring. Analysis of the results showed that effectiveness was associated with age, most likely due to different levels of adherence. While the risk of acquiring HIV was only reduced by 27% overall, women who used the ring consistently had a 65% lower risk of acquiring HIV.
After the randomised trial was completed, participants were invited to join the open-label extension study, in which all women were offered the dapivirine ring and there was no control group. The HOPE study enrolled 1456 women and 73% of the women who remained eligible used the ring for the entire 12 months of the study. A total of 35 women acquired HIV during follow-up. After adjusting for factors including age and sexually transmitted infections, the researchers estimated that the ring reduced HIV incidence by 39%.
Does Descovy have a role as PrEP for people who struggle with adherence?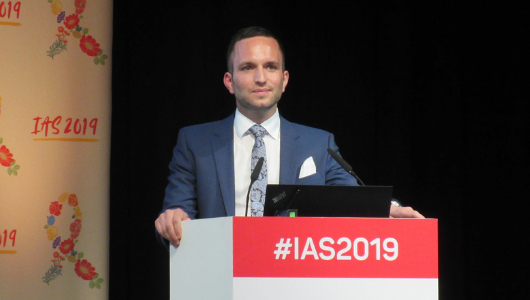 Christoph Spinner at IAS 2019. Photo by Liz Highleyman.
It is possible that pre-exposure prophylaxis (PrEP) using tenofovir alafenamide fumarate (TAF) and emtricitabine (combined in Descovy) might have a role in providing a more 'forgiving' PrEP regimen for people with sub-optimal adherence to PrEP, or who take it intermittently, than the standard regimen of tenofovir disoproxil fumarate (TDF) and emtricitabine (combined in Truvada although increasingly available as a generic formulation). This was the conclusion of a post-hoc analysis of the findings of the DISCOVER study, presented to IAS 2019.
The results of DISCOVER were announced earlier this year, and its main finding was that TAF and emtricitabine was non-inferior to TDF and emtricitabine when used as PrEP.
In fact, fewer people in the group taking TAF acquired HIV and while the result was not conclusive, researchers have investigated why this might be.
They found no difference between the participants who took the two regimens in terms of their sexual behaviour, sexually transmitted infections, or adherence. When they looked at the people who acquired HIV, however, they found that they all had low adherence to their PrEP regimen. But while no-one who acquired HIV while taking TAF was taking more than two pills a week, some people in the TDF group were taking two to four pills a week.
This could be because TAF reaches T-cells more quickly than TDF and TAF stays in cells longer – meaning that the chances of infection rise faster in people who leave gaps in their TDF adherence than in people who do the same with TAF.
However, some in the audience questioned whether the differences between the two study arms were large enough to justify the extra cost of using Descovy for PrEP.
Other news from IAS 2019
First trial results of new immune-modulating drugs presented in Mexico City. Read this news story in full >>
Could a better understanding of inflammation help research towards an HIV cure? Read this news story in full >>
HIV outcomes for transgender women improved by addressing social and structural issues. Read this news story in full >>
Policing practices are consistently associated with HIV and risk behaviours among people who inject drugs. Read this news story in full >>
Without frequent viral load monitoring dolutegravir-based regimens not the best choice for African youth failing ART. Read this news story in full >>
'Mystery shoppers' in Kenyan pharmacies highlight issues with distribution of HIV self-tests. Read this news story in full >>
Starting PrEP does not lead to more STIs, youth survey in Chicago finds. Read this news story in full >>
Scientific analysis from Clinical Care Options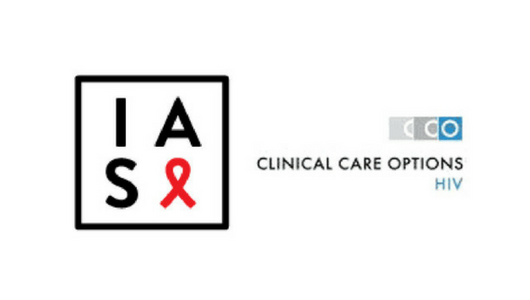 Clinical Care Options is the official provider of online scientific analysis for IAS 2019 through capsule summaries, downloadable slides, rapid expert webinars, and ClinicalThought commentaries.