PrEP services could enhance STI control, says World Health Organization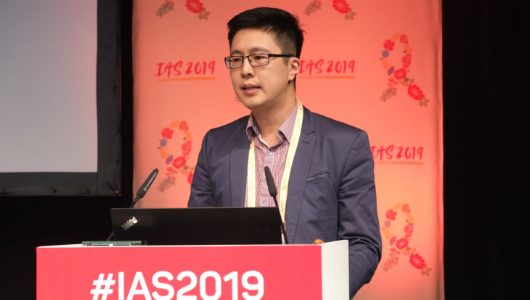 Jason Ong presenting at IAS 2019. Photo by Roger Pebody
The roll-out of pre-exposure prophylaxis (PrEP) provides an opportunity to bring down the incidence of sexually transmitted infections (STIs), provided that PrEP and STI programmes are better co-ordinated and integrated, representatives from the World Health Organization (WHO) told the 10th International AIDS Society Conference on HIV Science (IAS 2019) in Mexico City.
While much of the debate and research on the relationship between PrEP and STIs has focused on gay men in high-income countries, the greatest gains in STI control could be achieved in low- and middle-income countries, the conference heard.
Dr Jason Ong of Monash University conducted a systematic review for WHO on STI incidence and prevalence in PrEP programmes, with 88 studies.
STI prevalence was already high in people seeking PrEP, with 24% having chlamydia, gonorrhoea and/or early syphilis at baseline. And incidence was extremely high while people were on PrEP: for chlamydia, compared to a global average incidence of around 3%, it was 21% in people using PrEP.
PrEP is attracting people with behaviours that put them at high risk for STIs, so providing screening and treatment is a priority. "PrEP programmes can be a gateway for empowering comprehensive sexual health services," said Ong.
However, provision of integrated STI care in PrEP programmes is highly varied. Diagnostic tests for STIs are prohibitively expensive in many countries and many services only treat people with symptoms, leading to massive under-treatment of STIs. The high rates of STIs in people using PrEP should spur policy makers, healthcare providers and activists to create better services, speakers suggested.
UNAIDS outlines progress on HIV, but decries funding cuts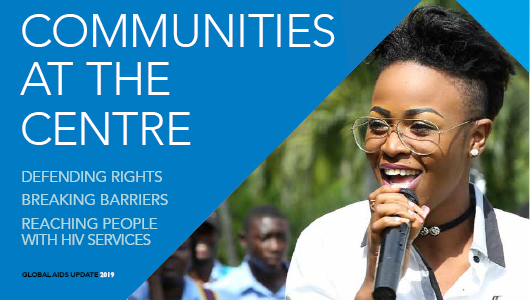 The Joint United Nations Programme on HIV/AIDS (UNAIDS) has released its latest report on the status of the HIV epidemic and the global HIV response, ahead of IAS 2019.
Some countries are meeting or exceeding the UNAIDS 90-90-90 targets – 90% of people living with HIV knowing their status, 90% of those diagnosed being on antiretroviral therapy and 90% of those on treatment having viral suppression by 2020 – while other countries are falling behind.
Globally, new infections and AIDS-related deaths continue to decline, but less steeply than before. At the same time, the number of people on HIV treatment continues to rise and appears on track to meet the 2020 target. According to UNAIDS global estimates, in 2018, 37.9 people worldwide were living with HIV; 23.3 million (62%) had access to antiretroviral therapy; 1.7 million were newly infected; and 770,000 died from AIDS-related illnesses.
The report highlights the impact community programmes have had in successfully expanding access to HIV treatment, supporting adherence and preventing new infections. However, it also shows that progress is slowing and has been uneven, and that global funding for the HIV response has fallen for the first time. Support from international donors declined and while more than half of all funding in low- and middle-income countries came from domestic sources, this was not enough to meet the shortfall
"We urgently need increased political leadership to end AIDS," said UNAIDS interim executive director Gunilla Carlsson. "This starts with investing adequately and smartly and by looking at what's making some countries so successful. Ending AIDS is possible if we focus on people, not diseases, create road maps for the people and locations being left behind, and take a human rights-based approach to reach people most affected by HIV."
Promising HIV vaccine to be tested with gay men and trans people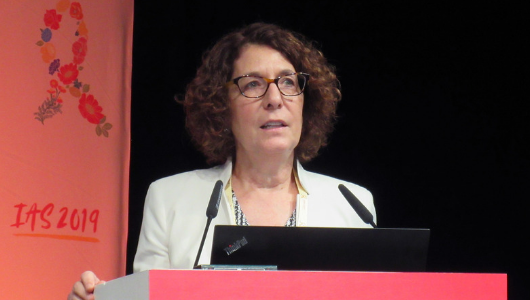 Susan Buchbinder presenting at IAS 2019. Photo by Liz Highleyman.
A new phase III HIV vaccine trial will soon be underway for men who have sex with men and transgender people. The study, called Mosaico, will evaluate a four-shot regimen of a vaccine designed to provide protection against the many different strains of HIV around the world.
"We are committed to ensuring that HIV vaccine trial results are generalisable to the populations that carry the greatest burden of HIV infection," said Dr Susan Buchbinder, Mosaico protocol chair.
The stage was set for Mosaico by a series of earlier monkey and human studies, the first of which began 15 years ago. These studies refined the vaccine's composition and determined the most effective dosing regimen.
A similar vaccine regimen is already being tested with 2600 women living in southern Africa in the phase IIb Imbokodo trial (HVTN 705)
The vaccine to be tested uses an engineered adenovirus vector – a harmless relative of the common cold virus – to deliver a so-called 'mosaic' of optimised HIV immunogens, or antigens that stimulate immune responses. The third and fourth injections will be accompanied by a combination of gp140 proteins.
The Mosaico study will evaluate the vaccine with 3800 cisgender men who have sex with men and transgender people, aged 18 to 60, through 24 study sites in North America, 21 in South America and 12 in Europe. Participants in the trial will be randomly assigned to receive the vaccine or a placebo. All participants will be offered a comprehensive HIV prevention package. Enrolment is expected to start in September.
Conference hears of new molecular tools to kill HIV-infected reservoir cells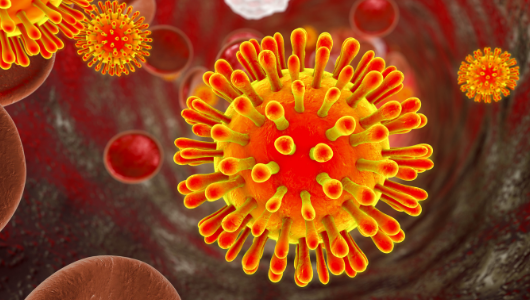 In HIV cure research, a key problem preventing a cure has always been that a minority of HIV-infected cells are long-lived, so-called 'reservoir cells', which the immune system fails to recognise and eliminate. We often hear of research framed as 'kick and kill', meaning one element is to 'kick' the reservoir cells to make them visible, so that a treatment can 'kill' them.
The 2019 HIV and Hepatitis B Cure Forum was held immediately before IAS 2019. Forum delegates were told about some exciting new genetically engineered molecules that have the potential to seek out and kill these cells, without the need for a chemical 'kick' to flush them out of hiding.
One of the most promising was IMMTAV. This high-tech treatment, already used in cancer research, involves remodelling T-cells taken from participants. The receptor proteins on the cells' surface, which normally do the job of detecting all kinds of viruses, are altered so that their response becomes HIV-specific and potent.
This technology needs more development before it can be used in human trials, but may offer the best hope yet of a therapy that detects and kills reservoir cells.
Scientific analysis from Clinical Care Options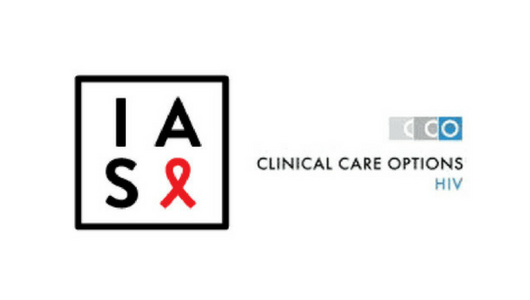 Clinical Care Options is the official provider of online scientific analysis for IAS 2019 through capsule summaries, downloadable slides, rapid expert webinars, and ClinicalThought commentaries.